Kamakura Corporation reported on Thursday that the Kamakura troubled company index ended March at 11.02%, a decrease of 1.94% from February 29th. The index reflects the percentage of the Kamakura 36,000 public firm universe that has a default probability over 1.00%. An increase in the index reflects declining credit quality, while a decrease reflects improving credit quality.
As of the end of March, the percentage of the global corporate universe with default probabilities between 1% and 5% was 8.85%, a decrease of 1.52% from the prior month; the percentage of the universe with default probabilities between 5% and 10% was 1.45%, down 0.23%; the percentage between 10% and 20% was 0.50%, down 0.17%; while the percentage of companies with default probabilities over 20% was 0.22%, down 0.02% from the previous month.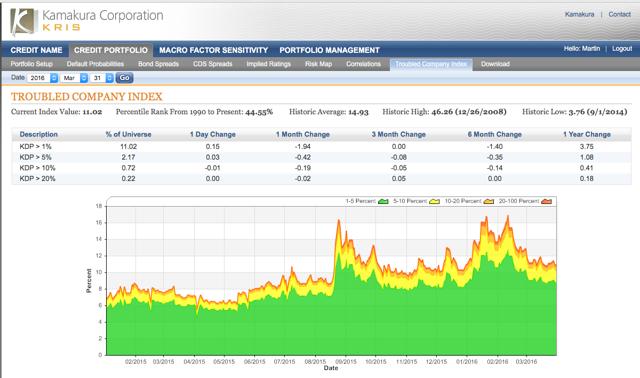 Click to enlarge
At 11.02%, the troubled company index was at the 55th percentile of historical credit quality (with 100 being best of all time) over the period from January 1990 to the present. Among the ten riskiest rated firms in March, seven were from the United States and one each from China, Ireland and Israel. The riskiest company on the current list was BreitBurn Energy Partners LP (NASDAQ:BBEP). During the month of March, there were eight defaults or announced suspension of payments among the KRIS universe.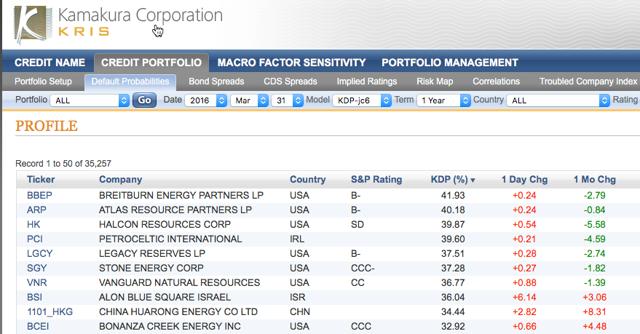 Click to enlarge
The riskiest company, BreitBurn Energy Partners LP, had its 8.625% Notes (US106777AB11) trading at under $10 as of April 6, 2016.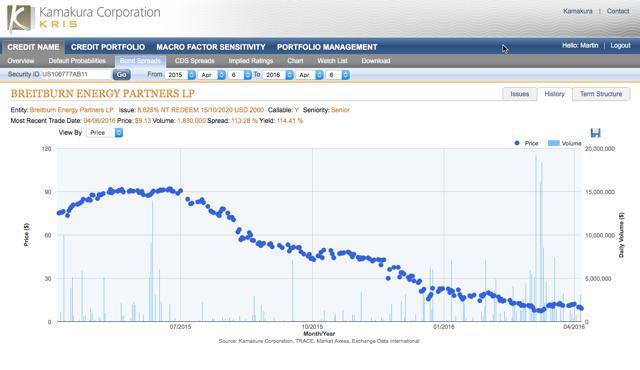 Click to enlarge
Martin Zorn, president and COO for Kamakura Corporation, said on Thursday, "While we have seen an improvement in the composite index we have seen increasing strain in the most troubled sectors. Further we have seen a geographic expansion in the sources of the most severe risk. We have also seen risk extending through the supply chain beyond natural resources to transportation and processing sectors. At this point in the cycle stress testing and intra-industry correlations should be a key focus by risk managers."
The Kamakura troubled company index measures the percentage of more than 36,000 public firms in 61 countries that have annualized 1-month default risk over one percent. The average index value since January 1990 is 14.93%. Beginning in November 2015, the Kamakura index has used the annualized 1-month default probability produced by the KRIS version 6.0 Jarrow-Chava reduced form default probability model, a formula that bases default predictions on a sophisticated combination of financial ratios, stock price history and macroeconomic factors. The KRIS version 6.0 models were developed using a database of more than 2.2 million observations and more than 2,600 corporate failures. A complete technical guide is provided to subscribers, which includes full model test results and parameters. The KRIS service also includes a wide array of other default probability models that can be seamlessly loaded into Kamakura's state-of-the-art enterprise risk management software engine, Kamakura Risk Manager. Models available include the non-public firm default model, the commercial real estate model, the U.S. bank model and the sovereign model. Related data includes credit default swap trading volume by reference name, market implied credit spreads and prices on all traded corporate bonds traded in the United States market. Macro factor parameter subscriptions include Heath, Jarrow and Morton term structure models for government securities in the United States, Germany, the United Kingdom, Canada, Spain, Sweden, Australia, Japan and Singapore. All parameters are derived in a no-arbitrage manner consistent with the seminal papers by Heath, Jarrow, and Morton and Amin and Jarrow. A KRIS Macro Factor Scenario Service subscription includes both risk-neutral and "real-world" empirical scenarios for interest rates and macro factors.
The version 6.0 model was estimated over the period from 1990 to May 2014, which includes the insights of the entirety of the recent credit crisis. The 61 countries currently covered by the index are Argentina, Australia, Austria, Bahrain, Bangladesh, Belgium, Brazil, Canada, Chile, China, Colombia, Cyprus, Denmark, Egypt, Estonia, Finland, France, Germany, Greece, Hong Kong, Iceland, India, Indonesia, Ireland, Israel, Italy, Japan, Jordan, Kuwait, Luxembourg, Malaysia, Malta, Mexico, the Netherlands, New Zealand, Norway, Oman, Pakistan, Peru, the Philippines, Poland, Portugal, Qatar, Russia, Saudi Arabia, Singapore, Slovakia, Slovenia, South Africa, South Korea, Spain, Sri Lanka, Sweden, Switzerland, Taiwan, Thailand, Turkey, the United Arab Emirates, the United Kingdom, the United States and Vietnam.
Disclosure: I/we have no positions in any stocks mentioned, and no plans to initiate any positions within the next 72 hours.
I wrote this article myself, and it expresses my own opinions. I am not receiving compensation for it. I have no business relationship with any company whose stock is mentioned in this article.
Editor's Note: This article covers one or more stocks trading at less than $1 per share and/or with less than a $100 million market cap. Please be aware of the risks associated with these stocks.