Introduction
Bunge (NYSE:BG) is an agricultural company that focuses on oilseeds and grains worldwide. It is involved in transporting these items, crushing oilseeds to make feed and fuel, producing bottled oils and other consumer products like mayo, as well as milling wheat and producing ethanol.
One of Bunge's principal competitors that is in many of the same lines of business is Archer Daniels Midland Co. (NYSE:ADM).
Bunge, despite being listed as a consumer staples company, does not really act or operate in the same way a consumer packaged goods stock would. Its profit margins are impacted by the moves in a host of commodities.
For example, when ethanol prices fall along with corn, it can pressure its margins if the ethanol price drop is steeper than the drop in corn prices or even if the two diverge from one another in opposite directions. The company has little direct impact over these types of moves and cannot simply raise prices the way Coca-Cola (NYSE:KO) or General Mills (NYSE:GIS) does.
It uses hedges and other derivatives to manage currency and commodity swings, but these types of contracts are not free and can only do so much to smooth out cash flows.
Agricultural Commodities
Let's take a look at a 10-year soybean price chart to see what it means to invest in a cyclical stock like this.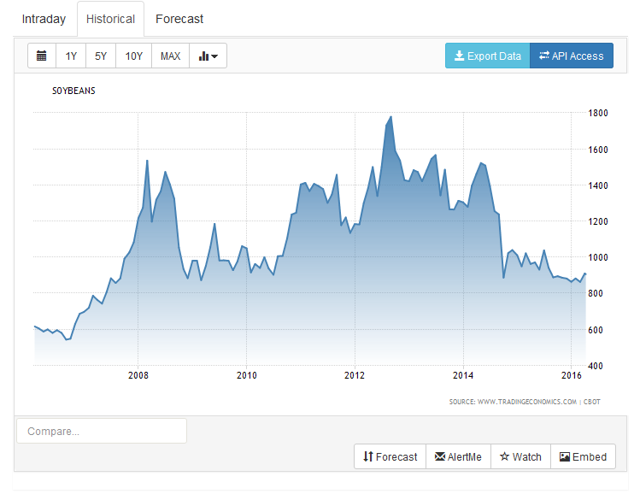 Click to enlarge
As you can see from the chart above, this particular commodity, soybeans, can fluctuate wildly in price, going from 600 all the way up to 1600 and crashing back down, and so forth.
Looking at ethanol prices, we can see they have been trending lower, especially since 2014, as they followed crude and gasoline prices lower. Low gas prices are generally concerned unfavorable for ethanol producers like Bunge because the demand for renewable fuels are less when conventional gasoline is so inexpensive.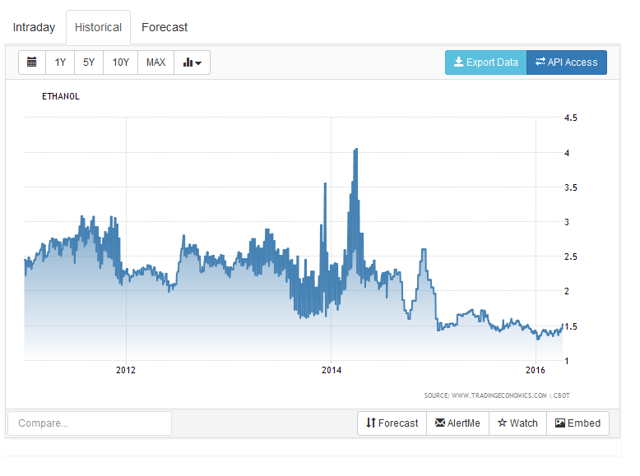 Click to enlarge
With that being said, ethanol is still expected to have a bright future and become a large part of the overall fuel picture going forward, whether that is due to rising oil prices in the next few years after their huge fall or due to governmental regulation and involvement in the climate change movement.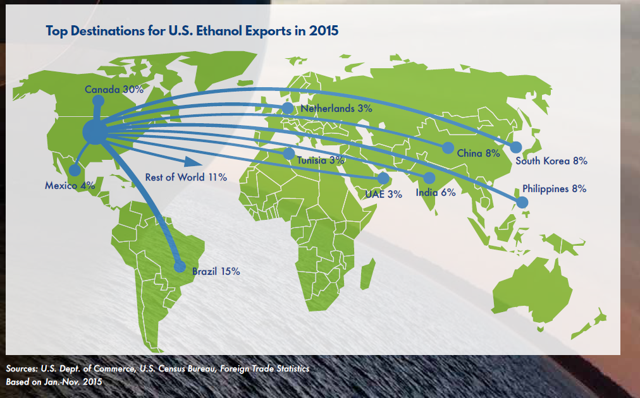 Click to enlarge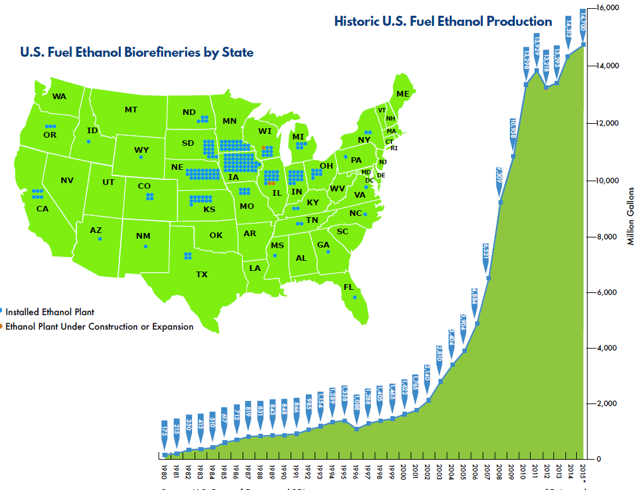 Click to enlarge
I could spend time here extolling about where I think commodity prices are going to go, but ultimately that depends on so many factors, including the wildly unpredictable Mother Nature, that it would not be of much value.
What you need to know is that they are up and down all the time and have had a rough 2 years, which is why Bunge, ADM, and others related to the sector like the equipment maker Deere (NYSE:DE) are trading at low prices and low valuations.
Brazil Problems
As you may or may not know, Brazil has had its fair share of difficulties recently. They are experiencing a recession, corruption scandals at state-owned companies and in their government, are about to impeach their president, and face high inflation along with the devaluation of their currency.
In its most recent quarter, Bunge cited that lower demand and lower margins in Brazil more than offset good results in America for its Milling Products segment. The same reasons were cited for lower results in Edible Oil Products. These two segments are its second and third largest by gross profit and EBITDA. The largest segment of the company, Agribusiness, which includes seeds, grains, etc., did receive a slight boost from Brazil in the latest quarter. The company said:
"In Grains, higher results were primarily driven by our Brazilian grain origination operation which experienced a significant pick-up in volume in the quarter with the devaluation of the Brazilian real."
A turnaround in Brazil, which might be aided but not totally solved by higher oil prices, will help the company take some risk off the table.
While a lower real does help some segments and hurt others, in general, a more stable and prosperous Latin American will be good for Bunge as it also has substantial operations in Argentina, among other places.
Currency Issues
The strong US dollar has certainly hurt Bunge as it has a host of companies. A quick look at its most recent income statement shows the type of impact this can have.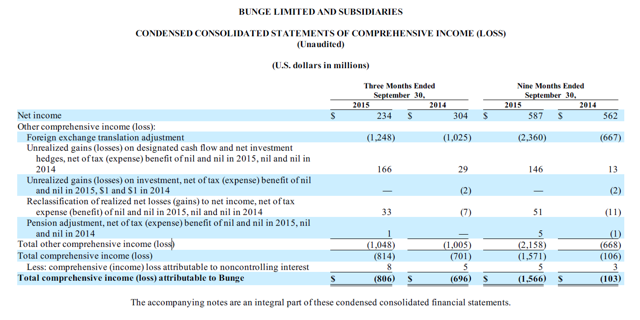 Click to enlarge
The company does try to hedge some of this risk using derivatives, etc., but at the end of the day, the strong dollar makes the company's results look worse on paper than they really are and is something to take into consideration.
Valuation and Recent Results
The company posted 2015 GAAP EPS of $4.84 versus $2.96 in 2014.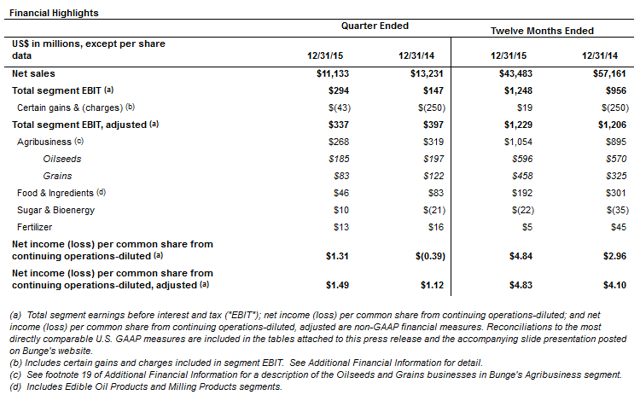 Click to enlarge
The stock currently trades at around $56, good for a P/E of around 11.60 times last year's earnings. The 5-year dividend growth rate is 11.05% and the payout ratio remains low at 31.40%.
Price to cash flow is 6.12 times last year's cash flow and price to book is 1.29 times. Price to sales is not a good metric because of the high volume, low margin nature of most of its business segments.
If it wasn't for an illogically high run-up in 2008 of Bunge's stock, its chart would look much better than you would expect for a cyclical company.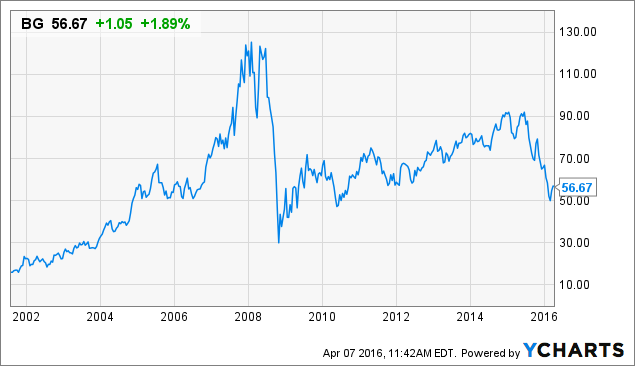 BG data by YCharts
Strong Share Buyback
In May 2015, Bunge launched a new share repurchase program authorized up to $500 million with no time limit. Bunge purchased 1.4 million shares during the third quarter that ended September of 2015.
In total, the company bought back $300 million in 2015 and another $100 million so far in 2016, with most of the year still left to go.
Conclusion
The low price and general negative sentiment around all commodities the past few years gives me confidence that we may be at or near the bottom of another cycle, and even if we are early or wrong, Bunge's discount to its sector and the general market, plus its solid 2.73% yield that is well covered, gives investors little to fear.
Overall, I really like Bunge here. It is hard to find something I can call "cheap" in this market without major problems and everything appears to be going just fine at Bunge.
It is not lighting the world on fire with new technology, but are steadily improving its return on invested capital, managing the challenges in Latin America well, and have kept debt at reasonable levels at around half its market cap, which is well in line with ADM and others in its industry.
An investment in Bunge is not an exciting knock-your-socks-off type move, but it might just be an unturned stone you haven't looked at to find value in this market.
Disclosure: I/we have no positions in any stocks mentioned, and no plans to initiate any positions within the next 72 hours.
I wrote this article myself, and it expresses my own opinions. I am not receiving compensation for it (other than from Seeking Alpha). I have no business relationship with any company whose stock is mentioned in this article.