I wrote a few articles regarding apparel retailers and the difficult times that lay ahead. Today, after the close, investors were confronted with dramatic news.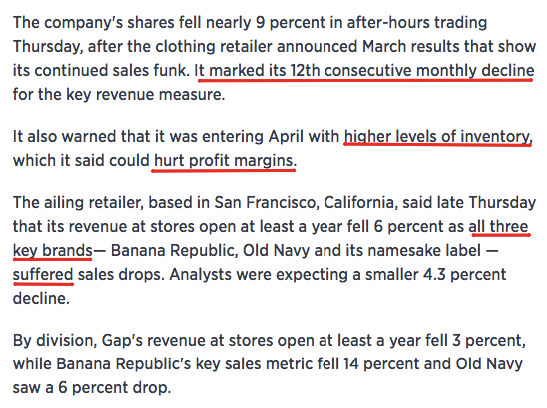 Source: CNBC
Think about it, 12 consecutive months of decline and all brands are suffering.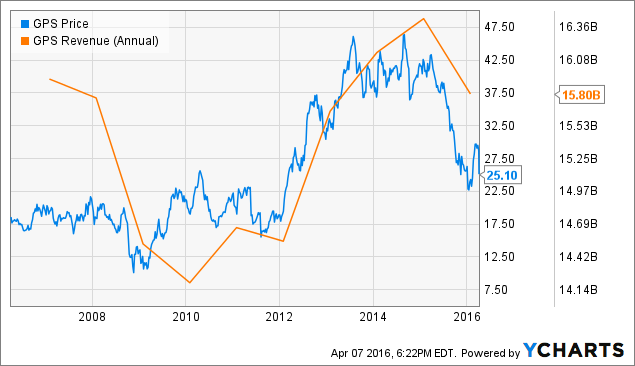 GPS data by YCharts
The main reason is a terrible sentiment for the entire apparel industry. The chart below is absolutely key.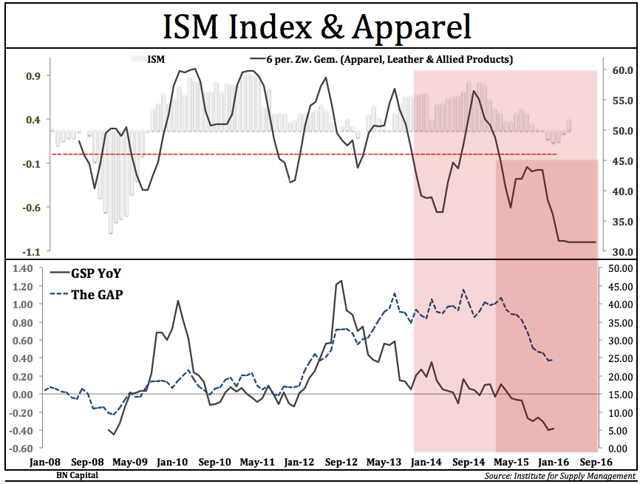 Click to enlarge
Apparel sentiment has been in decline since 24 months. It became really dramatic about 12 months ago; exactly the time when The Gap entered a period of contraction. The apparel industry is the worst performer in the ISM report since a few months. Hence the horizontal line at -1.
The point I want to make is that I don't want you in apparel stocks. Sell them or short them if you are a long/short trader.
As some of my readers know, I am short Michael Kors (NYSE:KORS), American Eagle (NYSE:AEO) and The Gap (NYSE:GPS).
Being in contraction this long and severe means that many companies will start breaking down. The same happened to mining stocks and companies in the leisure industry.
I'm not saying that there are no apparel companies that will perform well, but keep in mind that the pressure is intense and that 'traditional' companies like The Gap get hammered. To me, as a mid-term investor, it looks like a sell.
Disclosure: I am/we are short GPS, KORS, AEO.
I wrote this article myself, and it expresses my own opinions. I am not receiving compensation for it (other than from Seeking Alpha). I have no business relationship with any company whose stock is mentioned in this article.