This is a quick high level update to my September 9, 2015, article: "Is Range Resources A Value Trap?" I am dazed and confused by how well Range (NYSE:RRC) has held up given the weak natural gas price backdrop.
When I wrote the negative sell RRC piece the stock was trading at $36.38. It traded down sharply to as low as $20.45 in mid-January 2016, so readers could have potentially avoided some losses by selling in September, at the time of publication. What surprises me is that since early February 2016, RRC's equity valuation has levitated. It has followed oil's bounce from $26 to $40 driven by the talks of an OPEC freeze and an astonishing short covering rally.
I am reiterating my sell call at $32 as the natural gas fundamentals don't support the current $8 billion enterprise value.
Let me walk the readers through, using empirical data, how I arrive at my reiterated $32 sell recommendation.
The natural gas spot market is stuck under $2 mm/Btu driven by 700 to 1,000 Bcf of excess natural gas inventories sitting in storage. In fact, at this time last year, natural gas inventory levels were 1,008 Bcf lower than where they stand after today's 10:30 am EIA release. Even December 2016 natural gas is trading under $3 mm/Btu. So despite the prospect of solid natural gas demand in 2016 driven by record electric utility burn rates, ever increasing Mexican exports and LNG exports, the market is forecasting ample inventories will offset these positives. What surprises me is how the market is having its cake and eating it too. In my view, the only tangible proof of meaningful and long-lasting production decreases can create a big leg up in natural gas.
If Range and other Marcellus names are trading under the assumption of much higher natural gas prices in the near future, then this disconnect isn't being priced into coal assets. As Alliance Resources (NASDAQ:ARLP), with its modest balance sheet and no prospect of bankruptcy, is reflecting this shadow optimism. Moreover, if natural gas prices do take off, the electric utility power burn would shift from natural gas to coal.
Enclosed below is this morning's natural gas curve and as I said $2.74 mm/Btu is where December 2016 gas is changing hands.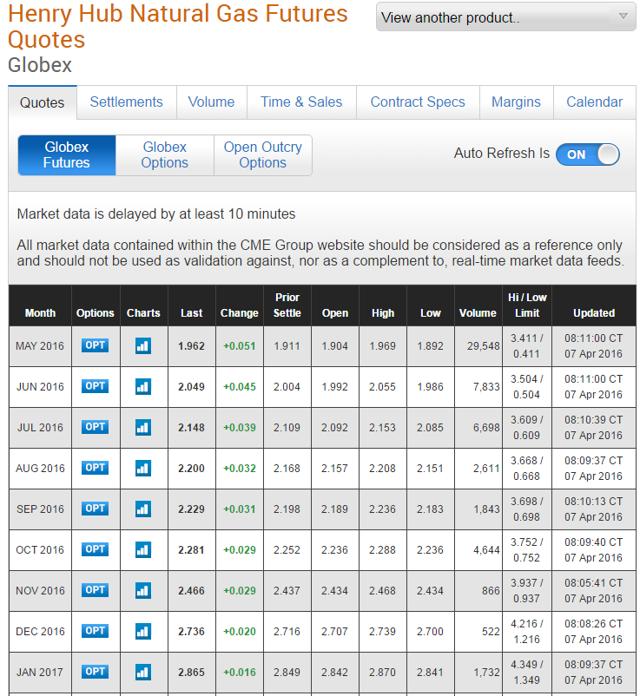 Click to enlarge
Source: CME Group
Enclosed below is the stock performance since the September 9, 2015, piece.

Click to enlarge
Here is RRC's enterprise value. As you can see, it is $8 billion as of April 6, 2016.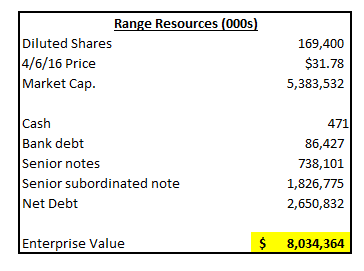 Here is the major disconnect that I can't work out. RRC's PV-10 value was $3.03 billion as of 12/31/2015. Now remember, PV-10 price inputs are using $2.53 mm/Btu natural gas and $50 per barrel oil. Natural gas has averaged less than $2 mm/Btu throughout 2016 and oil has been under $40 throughout 2016. WTI is currently trading at $37 per barrel and natural gas under $2 mm/Btu. So using Q1's 2016 price inputs, the PV-10 would actually be lower than the $3 billion figure.

Click to enlarge
Source: RRC 10-K pg. 7
Next, I modeled RRC's FY14 and FY15 revenues. 70% of FY15's production revenue mix was from natural gas and prices have been consistently less than Henry Hub prices given the lack of take away capacity in the Marcellus resulting in lower differentials. As supply has overwhelmed demand, there are meaningful costs to move the stranded gas to other demand centers. Moreover, given the political leanings in New York and New England, interstate (trunk lines) pipeline projects have been delayed. Just asked Cabot (NYSE:CBT) and Governor Cuomo.
The other item that stands out is so much of RRC's revenues and cash flow are from smart hedging. So on the one hand, the company is ramping up production, yet it has been consistently bearish (and right) on natural gas prices. Why are RRC equity investors more bullish on 2016 natural gas than Range's management? If we look at the past three years of RRC's cash flows, they are unimpressive.
Incidentally, the company had to sell off the Nora assets in November 2015 for $876 million to shore up the balance sheet. So despite having well placed and lucrative hedges in place, it still had to sell off assets.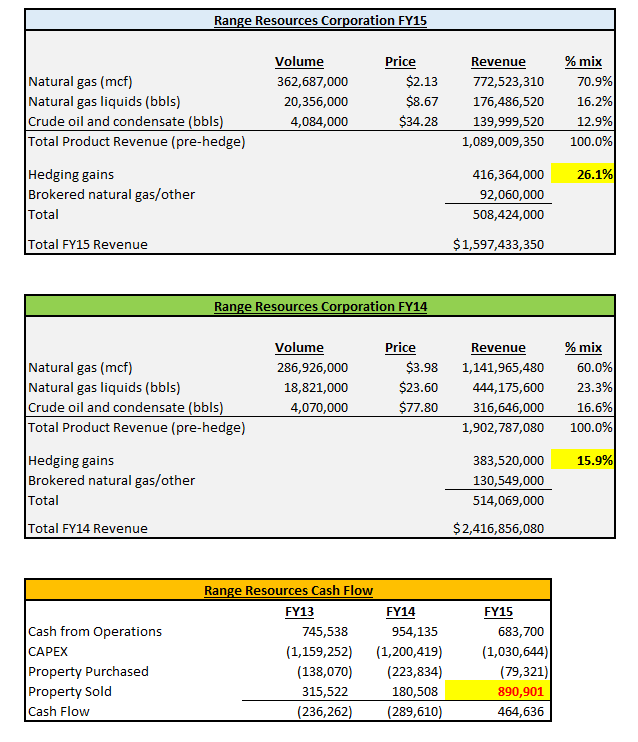 The only positives to the Range story, given this lofty valuation, are the production growth and longer-term prospect of more pipeline capacity getting built that will offer better realized prices to Range. Again, this takeaway capacity isn't coming any time soon and the increased production only adds to the inventory glut.

Click to enlarge
So it is great that RRC has three quarters of its FY16 production hedged at $3.24 mm/Btu, but this will only generate a roughly $300 million positive hedging gain using today's price deck.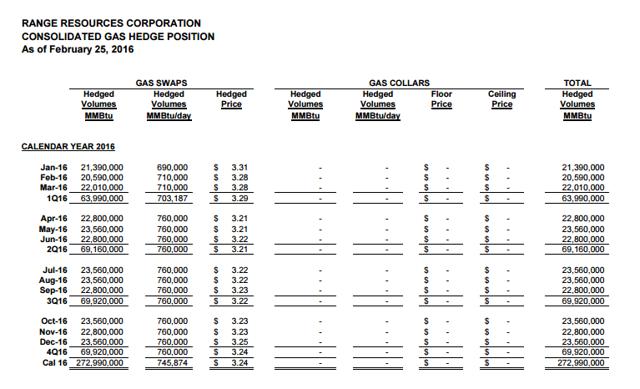 Click to enlarge

Click to enlarge
Source: RRC 10-K pg. F-24
Concluding thoughts: I can't for the life of me work out how RRC is trading at a 2.7 times premium enterprise value to PV-10 asset value. If you strip out the hedging gains, the cash flow generation is uninspiring and not supportive of this $8 billion valuation. Notwithstanding a big leg up in natural gas prices, RRC equity seems to be priced for perfection. Once again, Wall Street has sold a dream and equity investors have financed this adventure.
Disclosure: I/we have no positions in any stocks mentioned, and no plans to initiate any positions within the next 72 hours.
I wrote this article myself, and it expresses my own opinions. I am not receiving compensation for it (other than from Seeking Alpha). I have no business relationship with any company whose stock is mentioned in this article.