Introduction
I'm always interested to find out whether or not a large company could be a useful addition to my stock portfolio. As this is the first time ConAgra Foods (NYSE:CAG) has released its financial statements after it has divested its private-label business, I was keen to see how the cash flow statements and net income statements would hold up if one were to exclude the impact of these private labels. As the company has already filed its quarterly overview with the SEC, I dove right into it and wanted to see how the company is doing.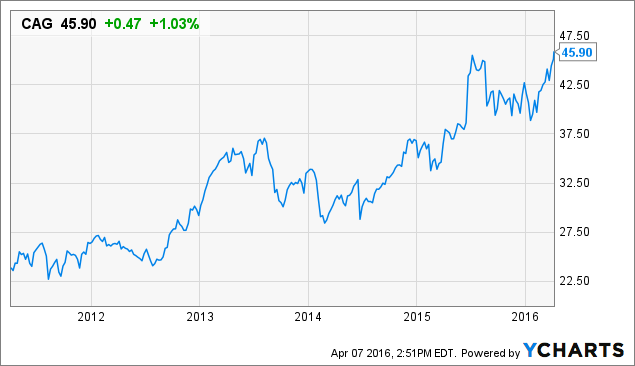 CAG data by YCharts
Will the "new" ConAgra please stand up?
It's pretty clear ConAgra Foods has undergone a real change in the past quarter, as it sold its private-label business for $2.6 billion. This also means investors need to be aware that some of the profits the company has been generating in the financial year to date have now been classified as profits from discontinued operations. That's totally fine with me (and the correct way to do this), but it also means the appropriate free cash flow and operating cash flow will probably be substantially lower going forward.
That being said, both the consumer foods and the commercial foods divisions performed okay-ish in the third quarter of financial year 2016, which ended in February of this year. The total revenue increased by 0.6% to US$2.92 billion, but as the selling, general and administrative (SG&A) expenses increased by setting 36%, the operating income fell by 16% to US$234 million. There is no need to panic just yet, as the majority of these increased expenses are directly correlated with the divestiture of the private-label business. This means that the financial results the next quarter and years should be much better than what we have seen in the past few quarters.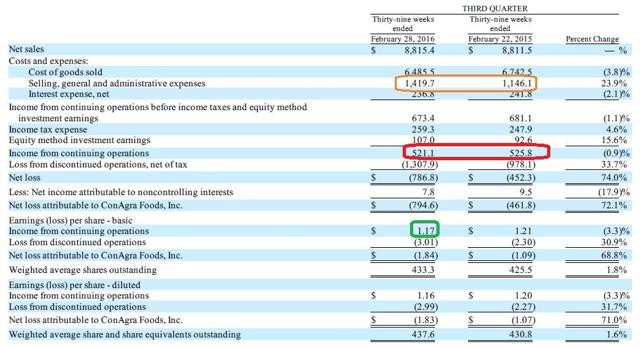 Click to enlarge
Source: SEC Filings
Despite this, and despite the fact that the revenue in the first nine months of the financial year remained stable, the lower cost of goods sold had a huge compensating effect on the higher general and administrative expenses. This allowed the company to keep the reduction in its operating income limited to just 1.1%. The net income from continuing operations was approximately US$521 million, or $1.17 per share. That's all very nice, but I was hoping to see a better result in ConAgra's cash flow statements, as the company's market capitalization has increased (and I would like this increase to be backed by an improvement in the underlying cash flows as well).
Fortunately, ConAgra has provided the cash flow statements from the continuing operations separately from its consolidated cash flows statement. The company's operating cash flow from continuing operations was US$501 million, but this was impacted by changes in its working capital position, which absorbed approximately US$425 million in cash. That's a common phenomenon for ConAgra Foods, as the company usually sees a bump in its inventory levels before the final quarter of its financial year, wherein the situation always normalizes.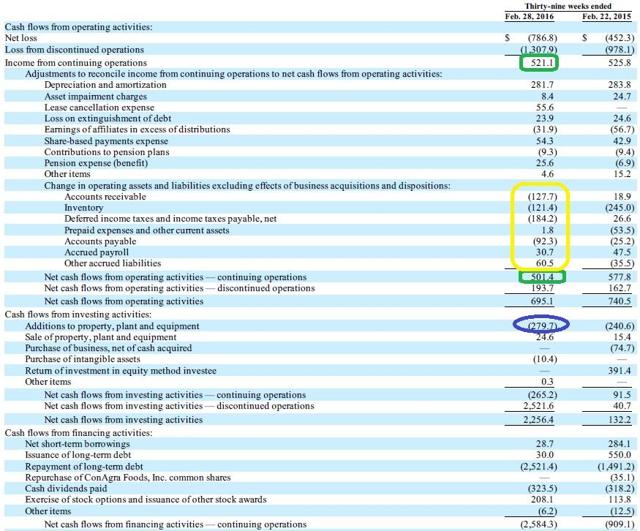 Click to enlarge
Source: SEC Filings
This means the adjusted operating cash flow from continuing operations was approximately US$925 million, and after deducting approximately US$280 million in capital expenditures, the adjusted free cash flow was approximately US$745 million, keeping the company on track to generate an adjusted FCF of $1 billion in the current financial year. That is based on the continuing operations only, and does not take any free cash flow from the discontinued operations into account.
The proceeds from selling the private-label business were used for a noble cause
I was also very pleased to see that the company has a very good idea what its priorities are, and it used a large part of the proceeds from selling the private-label business to reduce its net debt. ConAgra reduced its long-term debt by approximately $2.5 billion, and I think this was the best decision the company could make, as reducing the leverage would also reduce its interest expense, making the balance sheet more robust in the process. Considering the total interest expense in the first nine months of the financial year was US$237 million, it seems to be pretty clear that reducing the net debt by US$2.5 billion will have a very positive impact on the total interest expenses, which could easily fall by in excess of $50 million per year (and very likely even more).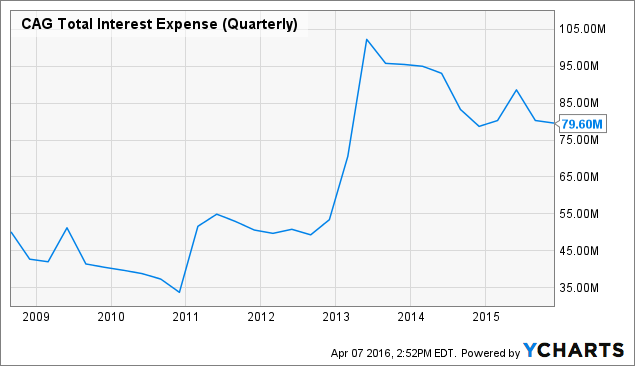 CAG Total Interest Expense (Quarterly) data by YCharts
The net debt has decreased from approximately $7.8 billion to $5 billion, which seems to be indicating the leverage ratio of net debt versus EBITDA has now fallen to approximately 2.5. That's a huge improvement compared to the ratio of almost 5 just a few years ago, and it shows that ConAgra Foods has been very serious about deleveraging its balance sheet and reducing its financial risk. As the company has not spent any cash on share buybacks, and as the total cost of the quarterly dividend of $.25 is just US$440 million per year, it looks like ConAgra will continue to improve its balance sheet by adding more cash to its treasury, which will reduce the net debt even further.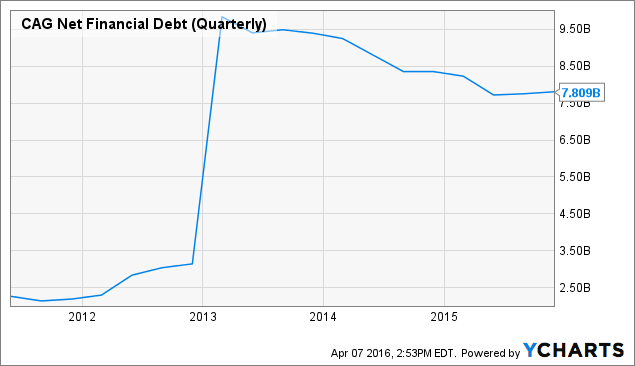 CAG Net Financial Debt (Quarterly) data by YCharts
Investment thesis
Based on the preliminary financial results of the first nine months of the financial 2016, it looks like ConAgra Foods will have approximately US$550 million available (after paying its dividend) to spend on share repurchases or to reduce its net debt. Despite the reduced net debt, I'm still not particularly impressed with ConAgra's valuation, as the company is trading at a free cash flow yield of 5%, and just 4% based on its enterprise value.
The company has been working very hard to improve its balance sheet, but the stock has not entered bargain territory just yet, and even though the market seems to like the financial results of the third quarter, I am standing on the sidelines and have no position in ConAgra Foods.
Disclosure: I/we have no positions in any stocks mentioned, and no plans to initiate any positions within the next 72 hours.
I wrote this article myself, and it expresses my own opinions. I am not receiving compensation for it (other than from Seeking Alpha). I have no business relationship with any company whose stock is mentioned in this article.