Welcome to the April 8th edition of Seeking Alpha's Eye on Tech newsletter.
Eye on Tech Coverage
Facebook Takes On YouTube And Tries To Halt A Sharing Decline
Facebook (NASDAQ:FB) has launched a video hub and video search engine; the moves that put it into more direct competition with Google's YouTube.

YouTube and Facebook have different video strengths in many respects, but there are also video types that are popular on both platforms. And that gives Facebook an opportunity.

Separately, a new report appears to confirm Facebook users (younger ones especially) are sharing less, and the company has announced Messenger has topped 900 million active users.
The 3D Printing Industry Is Still Growing
In spite of the recent woes faced by 3D printer makers, a Wohlers Associates report indicates the 3D printing/additive manufacturing industry saw solid 2015 growth.

Wohlers notes the desktop and metal printing markets grew strongly, as did the number of industrial printer makers.

While many customers are working through excess supply, 3D printing adoption appears to still be growing at a healthy rate.
Noteworthy Tech News
Amazon grants "CEO" titles to consumer and AWS chiefs - Jeff Wilke and Andy Jassy, formerly Amazon's (NASDAQ:AMZN) SVPs of Consumer and Amazon Web Services, are now respectively the CEOs of Worldwide Consumer and AWS. They still report to Jeff Bezos, who retains his CEO title. "This is not a reorganisation, but rather a recognition of the roles they've played for a while," Amazon insists.
Still, the fact Wilke and Jassy were singled out to receive this particular title - Amazon had six SVPs until now - is bound to fuel speculation the execs are the frontrunners to succeed Jeff Bezos as CEO in the event Bezos decides to step down. With Bezos' time now also devoted to other endeavors such as the Washington Post and Blue Origin - a recent Fortune piece provides a good overview - it's not that far-fetched to imagine Bezos one day stepping aside as CEO of the tech/retail giant he founded while remaining chairman.
Jassy has been in charge of AWS since 2006, and was SVP of Web Services for the prior three years. Wilke was named SVP of Consumer in 2012, and has held SVP-level roles at Amazon since 2000.
Samsung forecasts stronger-than-expected Q1 op. profit - A 6.6T won ($5.7B) op. profit is expected, well above a 5.6T consensus. Solid Galaxy S7/S7 Edge sales are helping (reviews have been pretty good, particularly for the body and camera), as is a weaker Korean won. Bloomberg recently observed the S7 has benefited from moderate discounting and early availability. S7 chip suppliers stand to gain.
Meanwhile, the WSJ is out with a piece about Samsung's (OTC:SSNLF) efforts (successful at times) to win back low-end and mid-range phone share from the likes of Xiaomi (Private:XI), Huawei, and Micromax by cutting prices, as well as by offering the kinds of features and hardware designs that were previously reserved for high-end phones. Samsung is hoping to avoid a big margin hit from the price cuts by lowering production costs and reducing the size of its phone lineup.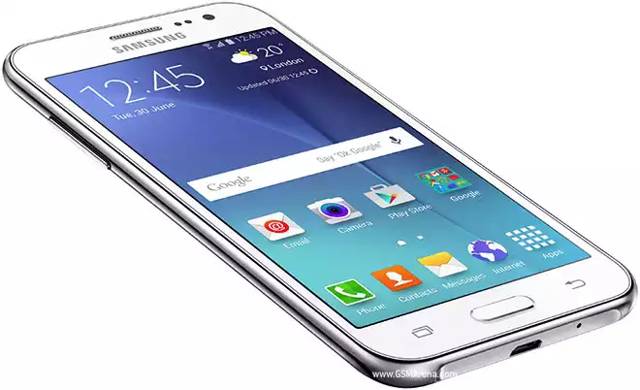 Click to enlarge
Samsung's Galaxy J2. $130 in India.
There's naturally a risk of cannibalizing high-end phone sales with such a strategy. But as both Samsung and Apple's (NASDAQ:AAPL) high-end sales have shown, the number of consumers willing to pay (one way or another) for $500+ phones is as high as ever, even though the quality of cheaper devices has steadily improved. Chalk it up to the popularity of installment/early upgrade plans, the status-symbol value of high-end phones for some buyers, and a willingness by relatively affluent buyers to pay up for ever-present devices that account for a huge share of their total computing time.
FBI confirms it can't use iPhone hack method on iPhone 5S or newer devices - This battle appears set to shift to the political realm (and maybe not just in the U.S.), given the strength of encryption features such as Apple's Secure Enclave on newer products. A Senate committee is weighing legislation that would require tech companies to work with law enforcement on breaking encryption features, but the White House reportedly isn't backing the effort.
WSJ: Verizon pushing ahead with Yahoo bid, and Google considering one - The drama continues. Looking at the list of potential "strategic" suitors for Yahoo (NASDAQ:YHOO), Verizon (NYSE:VZ) and (if it covets Yahoo's Alibaba/Yahoo Japan stakes) SoftBank might make the most sense. Verizon appears bent on increasing its digital media and advertising scale - the WSJ previously reported AOL chief Tim Armstrong wants his company (now part of Verizon) to have $10B-$20B in revenue by 2020 - and thus reducing its reliance on U.S. telecom markets seeing slow or negative growth. Acquiring Yahoo (2016 GAAP revenue guidance of $4.4B-$4.6B) would do much to further that effort.
As for Google (NASDAQ:GOOG) (NASDAQ:GOOGL), the FTC and EU would likely have field days if it tried to acquire Yahoo's search business in full. Also, Google, which prides itself on its engineer-driven culture, hasn't shown much interest to date in running online media properties responsible for their own content.
Google starts warning site owners if their sites aren't mobile-friendly - Google continues pulling out all the stops to improve the quality of mobile search/browsing experiences, with the hope that doing so will keep users from relying solely on mobile apps (and avoiding Google search). See also Now on Tap and Google's Accelerated Mobile Pages ("AMP") initiative - the latter results in mobile pages from publisher partners loading almost immediately when clicked on within Google search results.
Chinese print cartridge chipmaker Apex Technology reportedly in talks to buy Lexmark - Another day, another attempt by a Chinese firm to acquire a struggling U.S. tech hardware business. Lexmark's (NYSE:LXK) core ISS unit (printing hardware, supplies, and services) saw sales drop 13% Y/Y in Q4, and considering the long-term headwinds facing the printing industry, there's no guarantee things will get much better.
On the other hand, Lexmark's software ops, which (among other things) provide businesses with tools for managing documents and business processes, have grown considerably in recent years with the help of M&A. Given recent CFIUS scrutiny of planned Chinese purchases of American firms, it's a safe bet an Apex purchase of Lexmark's software business would also be closely vetted.
Corning spending $305M to buy optical component maker Alliance Fiber - The purchase brings Corning (NYSE:GLW), a top supplier of optical fiber and related cables/housings, into an optical component market expected to see healthy (though not massive) growth on the back of rising 100G component demand. It also increases the company's cloud data center exposure - Alliance Fiber's biggest customer is believed to be Google.
The Optical Communications segment was a strong point for Corning in 2015: Sales rose 12% Y/Y to $2.98B, helping offset declining sales in the company's Display Technologies (LCD glass) unit, which was hurt by a weak yen and soft TV demand.
Noteworthy Tech Commentary And Reports
Brean starts coverage on Intel with an Overweight rating - Brean's Mike Burton makes some interesting arguments while spelling out his bull case. Among them: 1) Windows 10's inclusion of security features only available on PCs running Intel's (NASDAQ:INTC) Skylake CPUs (launched last summer/fall) could drive enterprise PC upgrades. 2) Mobile losses are set to narrow considerably with the help of partnerships with low-cost Chinese chipmakers such Spreadtrum and Rockchip. 3) Recently-acquired FPGA developer Altera will benefit from share gains against rival Xilinx (NASDAQ:XLNX), and from FPGAs delivering a better value proposition than ASICs for a larger number of markets. 4) Intel's market-leading enterprise SSD business (though a small % of revenue for now) is an overlooked asset likely to see strong growth.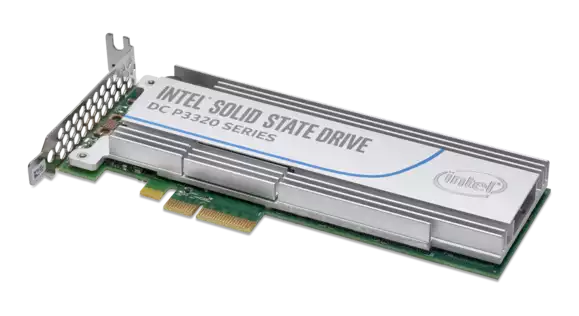 Intel's just-launched P3320 enterprise SSD. It uses 3D NAND flash memory.
IBM Watson CTO Rob High on what's ahead for cognitive computing - High asserts the goal of IBM's (NYSE:IBM) Watson A.I. platform isn't replacing human intelligence, but "augmenting it, making humans better at what they do." As an example, he cites the potential of Watson to find new patterns and treatments in the mountains of medical research constantly published, and provide those insights to doctors who can use them to improve patient treatment. IBM made a $1B healthcare analytics acquisition last year, and is due to close a $2.6B acquisition this year.
Also mentioned: The potential to decipher "personality" within text, and for robots to account for the emotions of the people they're interacting with when providing answers to them. If done effectively, that could enable some interesting third-party apps via the Watson Developer Cloud. Google is looking to compete against IBM via its Cloud Machine Learning service.
Kantar Worldpanel's latest smartphone share data - On a Y/Y basis, Android took share against the iPhone for the three months ending February in most of the markets covered by Kantar. Not incredibly surprising, given Apple's calendar Q1 guidance and the fact the iPhone 6S/6S+ is seen as a smaller upgrade than the 6/6+.
In the U.S., Android had an estimated 58.9% unit share and the iPhone 38.3%. The figures were 76.4% and 22.2% in Urban China, 48.2% and 50.2% in Japan, 71.8% and 19.9% in France, and 55.5% and 37.8%. Given the delta between Android and iPhone ASPs, it would be great if a firm could deliver quality revenue share estimates.
Disclosure: I/we have no positions in any stocks mentioned, and no plans to initiate any positions within the next 72 hours.
I wrote this article myself, and it expresses my own opinions. I am not receiving compensation for it. I have no business relationship with any company whose stock is mentioned in this article.
Editor's Note: This article discusses one or more securities that do not trade on a major U.S. exchange. Please be aware of the risks associated with these stocks.