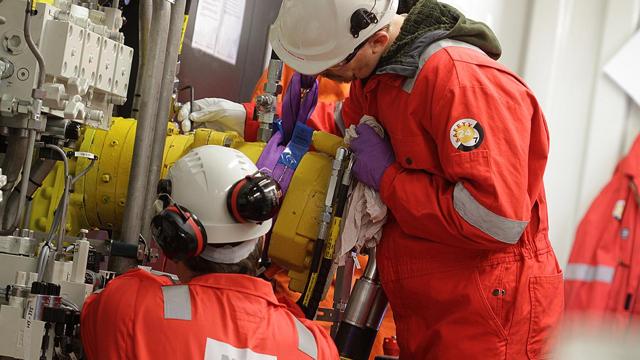 Click to enlarge
Source: nov.com
National Oilwell Varco (NYSE:NOV) is oftentimes mentioned in the same breath with Schlumberger (NYSE:SLB), Halliburton (NYSE:HAL) and Baker Hughes (NYSE:BHI) as the cream of the crop in oil services. Its portfolio of products - rig systems, rig after-market sales and well completion services - seems to complement one another. Nonetheless, the rout in oil prices has taken a toll.
Q4 2015 revenue and EBITDA were down sequentially by 18% and 39%, respectively. Revenue from Rig Systems, the company's largest operating segment, was off 32%. New orders in the offshore market have dried up; in certain instances, National Oilwell has delayed delivery of existing orders to help customers stem cash burn. Its pristine balance sheet has also been weakened due to $3 billion in share buybacks over the past two years. Its cash balance has fallen from $3.5 billion in 2014 to $2.1 billion in 2015. I believe the company will have to cut the dividend to maintain cash flow going forward.
National Oilwell Is Worth $18
Based on a bottoms up analysis, NOV is worth $18 or 35% below the $28.58 it traded for on mid-day Thursday. Below are the details.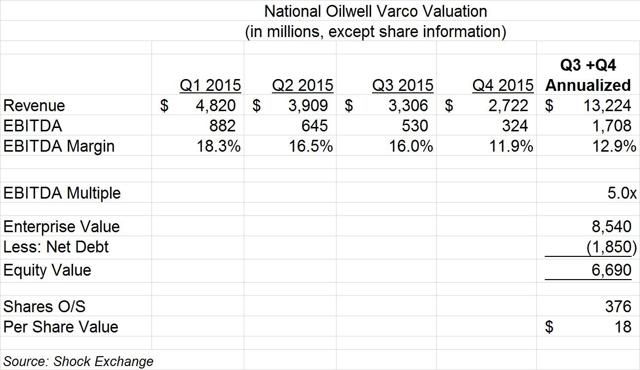 Click to enlarge
Run-Rate Revenue
Run-rate revenue of just over $13 billion is Q3 and Q4 revenue annualized. This is probably optimistic since quarterly revenue is in decline.
EBITDA
Run-rate EBITDA is Q3 EBITDA plus Q4 EBITDA annualized. It equates to a 12.9% margin. This again optimistic case since cost reductions will likely not keep pace with future revenue declines.
EBITDA Multiple
A multiple of 5.0x to 7.0x is appropriate for an industry leader in a cyclical industry in decline. I chose the lower end of the range for NOV due to the fact that its revenue and earnings have fallen much faster than Schlumberger's and Halliburton's; this is partly due to NOV's deferral of orders for certain customers. Its backlog has also been diminished due to its heavy exposure to Petrobras (NYSE:PBR) which is cutting capex in an effort to service its debt load.
Enterprise Value
The company's enterprise value (equity and debt) is $8.5 billion.
Equity Value
After subtracting net debt (debt less cash and equivalents) of $1.9 billion, I derived an equity value of $6.7 billion.
Per Share Price
I assumed 376 million shares outstanding to derive a share price of $18. The share count was sourced from Yahoo.
Conclusion
Given the company's free fall in revenue and declining EBITDA margin, National Oilwell Varco should be valued at the lower end of the valuation range. The company is worth 5x EBITDA which equates to $18 per share. I expect the first half of 2016 to be painful for the company. Once its dividend is cut -removing an important catalyst - NOV will likely trade closer to its intrinsic value.
Disclosure: The author is short NOV.
The author wrote this article themselves, and it expresses their own opinions. The author is not receiving compensation for it (other than from Seeking Alpha). The author has no business relationship with any company whose stock is mentioned in this article.
Disclosure: I am/we are short NOV.
I wrote this article myself, and it expresses my own opinions. I am not receiving compensation for it. I have no business relationship with any company whose stock is mentioned in this article.