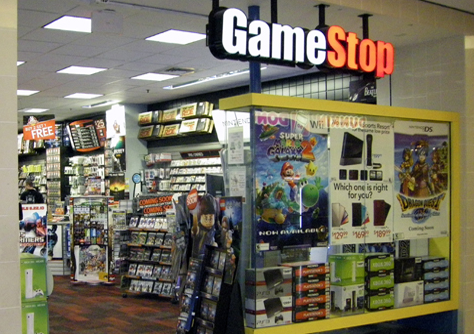 GameStop (NYSE:GME) has certainly been a battleground stock in the retail space for a long time now as the company's results have been erratic to say the least. The choppiness in the company's earnings and guidance over the past couple of years has created situations where GME experiences boom/bust cycles and for that reason - despite the fact that I like GME's model - I've flipped a few times between bull and bear. These calls were based upon valuation as GME shares tend to overshoot on both sides and before Q4 earnings came out, we had another situation where GME overshot to the downside. Shares are now stuck in a tight range after the report but I think some constructive action has taken place.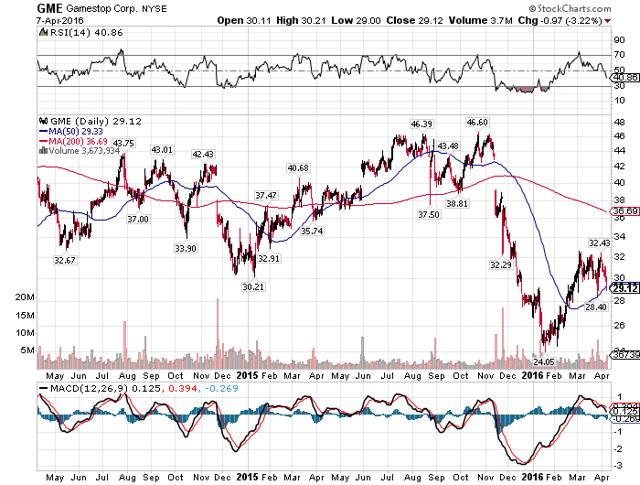 Click to enlarge
The top line rose slightly in Q4 as GME posted comp sales growth in excess of 3% globally. That is a marked departure from the 1.1% loss in the previous quarter and highlights once more the volatility in GME's SSS numbers. There really is no telling what GME will do from one quarter to another and certainly, that hurts the ultimate valuation of the stock. However, despite all of that, Q4 was mostly strong from a revenue perspective. The one caveat to that statement is that pre-owned game sales were flat while new games and other sales including hardware were up. The pre-owned segment is the bread and butter of GME's model so relative weakness there will not be taken well by investors.
Despite the flat pre-owned sales number, GME's gross margins rose a solid 150bps during Q4 to 29.6%. While that level is low on an absolute basis, GME's cost structure is also lower than many other retailers so while I'd prefer gross margins were higher, GME can afford sub-30% product margins and still make lots of money due to its low costs. And the fact that margins were up without the benefit of higher pre-owned sales is very encouraging as well.
A negative was that the company's operating margins were impacted by higher SG&A spending as that number rose 160bps to 17.4% of revenue. That deleveraging wiped out the gains of the company's higher product margins so operating margins were roughly in-line with the prior year's comparable quarter. Still, at 17% of revenue, GME's SG&A costs are at rock-bottom levels as far as a retailer goes and that gives me hope for the future and indeed, is one reason why I've been so bullish in the past.
GME also offered up pretty detailed guidance for our consumption in this fiscal year and to say it is interesting is an understatement. GME's first quarter guidance is horrendous by any measure as sales and margins are expected to tank but I'm not particularly concerned with one quarter; full-year guidance is what's really important.
GME forecast that it will see total sales up from 0% to 3% as comp sales are between negative 3% and flat. That's an interesting dynamic but GME's business has been weak at times in the past so the fact that management thinks more weakness is ahead isn't surprising. What's better about the weak guidance is that GME threw out low numbers at a time when its share price was already reflecting weak guidance, minimizing the impact. In addition, if GME can beat these numbers, there is tremendous upside potential.
Apart from the revenue guidance calling for positive sales growth, the company's operating margins are expected to hit 7% to 7.3% this year. That would compare to 6.9% last year and obviously implies improving profitability. If GME can deliver on this - even more so than the revenue picture - investors will respond positively. GME's weak gross margins allow for some upside potential so if it can keep SG&A under control, we should see higher operating margins and that is very bullish. GME's operating margin level is low by mature retailer standards so this is where I'd like to see GME focus its efforts; not necessarily on growing sales because the runway there is much shorter than it is with margins, potentially.
But GME isn't just a growth story, it also returns a lot of capital to shareholders. GME just raised its dividend to $1.48, good for a yield of 5.1%, something you'd be hard-pressed to find in another retailer. That is a monster yield in this market with the 10 Year Treasury at 1.8% or less and is a big reason why I like GME. The dividend is safe so even if you don't believe in the GME story, that yield is hard to pass up.
But there is a buyback component as well and it is also substantial with GME buying back $202 million in stock during last fiscal year. There is another $245 million left on the current authorization, good for just over 8% of the float and given the company's cash position and its improving profitability, I expect we'll see GME work through that money in this fiscal year. That's a significant positive for EPS growth not only this year but in the coming years as fewer and fewer shares are outstanding.
GME is now trading for just 7.2 times this year's recently-reduced earnings estimates as analysts have scrambled for the exits following GME's Q4 report and guidance. However, that kind of multiple suggests that GME is experiencing diminishing profitability and/or a material impairment in its revenue base; neither of those things is occurring. That means that GME is still very cheap despite its nice rally off of the lows. There is nothing more to say on GME's valuation other than it is very cheap at these levels and does not deserve to trade like it is going out of business.
The stock is also currently sitting right on top of its 50DMA, a critical time for buyers to step in and take control. The fundamental picture is there for bulls to gain momentum as the combination of the company's improving operating margins, sizable buyback and huge dividend yield should draw some interest. I'm very bullish here as I think the bottom is in and that GME's prospects as well as its 5% yield are just too good to pass up.
Disclosure: I am/we are long GME.
I wrote this article myself, and it expresses my own opinions. I am not receiving compensation for it (other than from Seeking Alpha). I have no business relationship with any company whose stock is mentioned in this article.