This is an article I should have written months ago since JB Hunt (NASDAQ:JBHT) is one of my favorite transportation stocks. Not only because it is an amazing investment tool to trade transportation but it is also a fascinating company.
JB Hunt started in 1961 with five trucks and seven trailers and has grown to over 12.000 trucks and 47.000 trailers. Quite the American dream for an entrepreneur in my opinion.
Nowadays, the part of truck logistics is a mere 6% of JB Hunt's revenue stream. The biggest part, almost 60%, comes from intermodal transportation (JBI). DCS (dedicated contract services) contributes about 23%.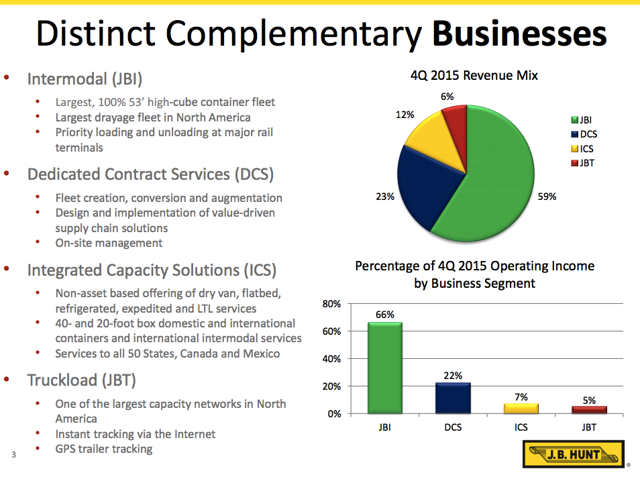 Click to enlarge Source: JB Hunt presentation
In 2015 JB Hunt saw a decrease of 1% of its intermodal revenues. Intermodal operating income however soared 4%.
Dedicated contract service revenues increased 4% while DCS operating results jumped 40% (!).
Truckload revenues did not increase and haven't increased since 2013. Revenue growth topped in 2011 as seen in the picture below.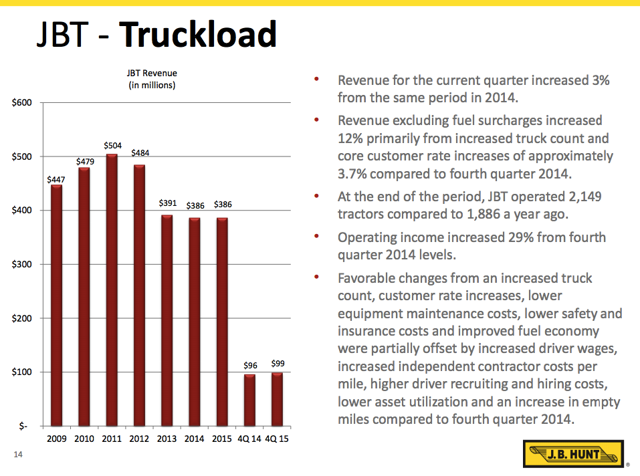 Click to enlarge Source: JB Hunt presentation
JB Hunt is currently trading at 22.7 times earnings. Growth estimates are moderate and expect earnings to grow about 13.7% over the coming five years. This gives the company a PEG ratio of 1.66, which is not as 'expensive' as other companies that are around for decades. It is actually a great figure if you ignore mid-term sentiment which is displayed in the graph below.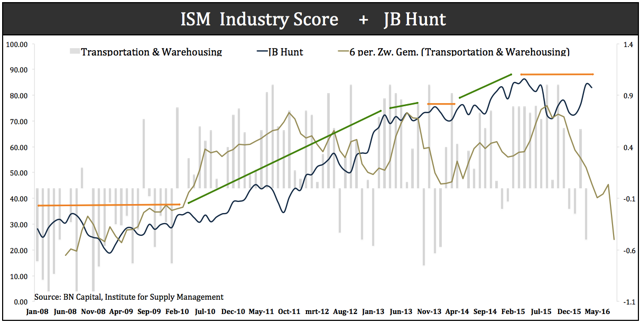 Click to enlargeJB Hunt's stock has had an amazing performance since the financial crisis. The only times when the stock went sideways were during the euro crisis in 2011 (it went down) or during periods of bad transportation sentiment. And that is the point that spoils the party. The company has a fair valuation but industry sentiment became worse. In my opinion the downward pressure is strong enough to push the stock down at least 10 dollars. However, the stock is a great buy if sentiment shows signs of growth.
If this article were only for mid-term portfolio managers like myself I would be finished at this point but I add a few things for the long-term investors amongst us.
JB Hunt has a current ratio of 1.6 which means that there is no problem to service short term liabilities. The company's balance sheet looks healthy. The current ratio increased significantly during compared to last year, mainly because of the debt maturity, which has put some pressure on 2014's current ratio.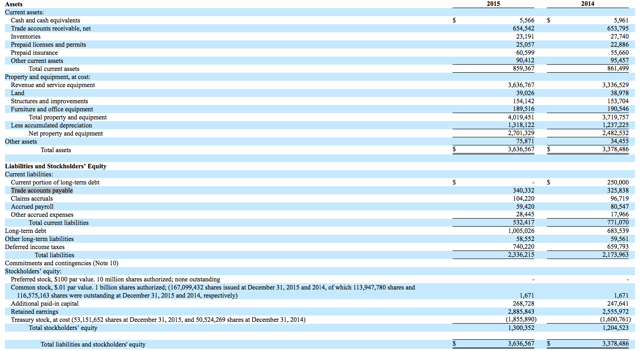 Click to enlarge
Source: JBHT 10-K
JBHT's bonds are all trading at a premium. Even during the sell-offs they managed to keep yields low.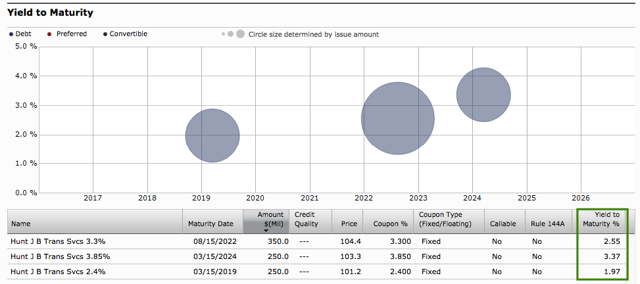 Click to enlarge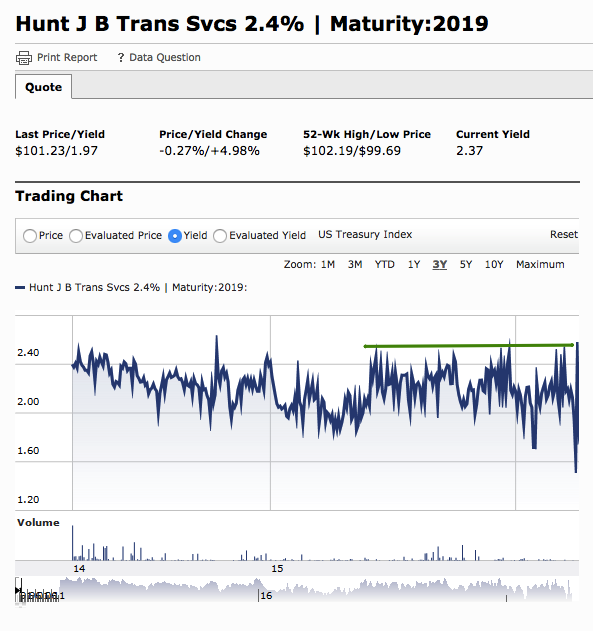 Sources: Morningstar
I like JB Hunt not only because they are well diversified in an industry that will always be with us (transport & logistics) but also because they are have a solid balance sheet and don't take too much risk in order to achieve growth (leverage). However, for me as a mid-term long/short investor I have to say that I would pass on this one for the coming weeks/months. Stocks like this are only interesting for me if there is a strong mid-term bull case. Which is unfortunately not the case right now. However, long-term investors have made a smart move by buying this transportation company.
Disclosure: I/we have no positions in any stocks mentioned, and no plans to initiate any positions within the next 72 hours.
I wrote this article myself, and it expresses my own opinions. I am not receiving compensation for it (other than from Seeking Alpha). I have no business relationship with any company whose stock is mentioned in this article.