By Parke Shall
Since we started covering Macy's (NYSE:M), it has basically been a move up from $36 to about $44. But over the last two weeks, in line with poor performance from several retail companies and the market stalling on its rise back up towards all-time highs, Macy's has once again pulled back, giving investors what we believe to be a very attractive entry point for those looking a relatively safe investment with a call option for larger gains.
M data by YCharts
Macy's has had a terrible last two years. After Starboard Value came out and described what it thought was billions of dollars in unlocked value in the company's real estate, the share price spent most of last year climbing toward all time highs near $73 per share.
When the market started to turn and it became clear that the company was not embracing this real estate strategy immediately, shares promptly fell from $73 to a low almost 50% lower around $36. It was around this time that we started to cover the company and, citing the company's consistent dividend and buyback along with the continued real estate potential, suggested that Macy's maybe worth a buy for those looking for longer-term investments.
For the first time since Starboard's original presentation, Macy's is seriously looking like they are moving in the direction of monetizing the real estate. In addition to comments made by CEO Terry Lundgren on last quarter's conference call and CNBC interview, where he stated he had deals on his desk ready to get done, the company has also went out and hired several real estate executives, appointing one REIT expert to the company's Board of Directors. This says to us that something is in the process of getting done and as we approach what we have been calling the "sweet spot" from the time the price fell to the time it would take to announce a material strategic deal, we think this pullback to $40 represents a great opportunity for those looking to get into the Macy story for the first time.
Here are the latest hires from the company, according to MarketWatch,
Macy's Inc. said Monday that it has hired Douglas Sesler as executive vice president for real estate, starting Tuesday. The announcement comes amid calls from activist investors for greater returns on the retailer's real estate holdings.

Despite the move, Macy's M, -2.29% shares are down 1% in Monday trading.

Sesler will lead initiatives such as creating joint ventures and other partnerships involving Macy's flagships and mall-based locations, working closely with Macy's banking advisers and other executives. He was most recently president of True Square Capital LLC, a real-estate investment and advisory firm.

The appointment comes just a couple of weeks after William Lenehan, an expert in real estate trusts, was appointed to the company's board.
Over the last couple of months we have watched Macy's pull itself out of the cellar and break higher from $36 to about $44, but we have consistently stated that our price target for the company is around $52 per share without real estate being involved; and higher than that should the company find a way to monetize its real estate.
But it's not just the real estate that helps the bull case. The company is working on a larger initiative to eliminate costs and eliminate $400 million of SG&A by the end of the coming year. The company's web business also continues to grow in double digits. Creating a model that is hybrid between in-store and online can be approached from both angles.
We saw a perfect example of this last night when Best Buy announced it was going to start its own delivery service. Best Buy and Amazon are trying to both reach the same point: they are trying to get to a point where consumers can order something and have it for filled same day to their house.
Amazon (NASDAQ:AMZN) is going the extra steps now to build a distributor warehouse in retail locations and Best Buy (NYSE:BBY) is working to incorporate shipping into their model. Each of these companies holds one half of the puzzle that is necessary to create the hybrid that we have often talked about as the future of retail. Along the same lines, Macy's seems to be in good shape and well-positioned for this. Their online sales continue to look strong while the company reorganizes and slims down its brick and mortar offering in order to cut costs. The sooner any retail company can take advantage of both the benefits of in-store and the benefits of online, the better off they are going to do. Companies that have adopted this model poorly or not at all, we have seen, are going out of business.
But aside from real sales and real earnings which Macy's has, reiterating their $3.70 to $3.80 estimate for this year in the recent 10-K, Macy's is also buying back a significant amount of stock, as you can see in the following chart,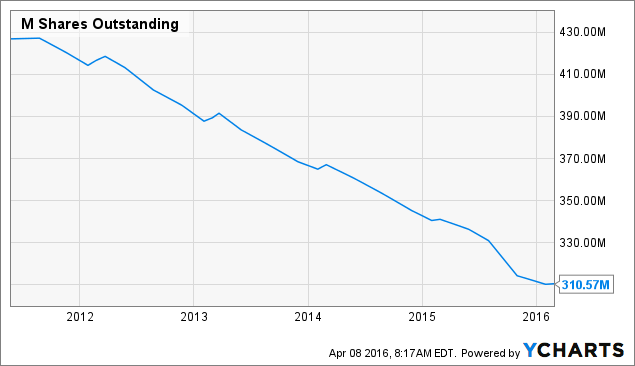 M Shares Outstanding data by YCharts
We think that these continued buybacks will help cushion and provide a foundation for the bottom line, going even further to help benefit shareholders. The company's consistent dividend also continues to help it be an easy choice for those looking for yield.
Macy's gets an unfair shake in terms of their multiple compared to peers. As we pointed out in previous articles, if Macy's were to be assigned a multiple like companies like Nordstrom (NYSE:JWN) or TJ Maxx, it would already be in the $50 region at this point.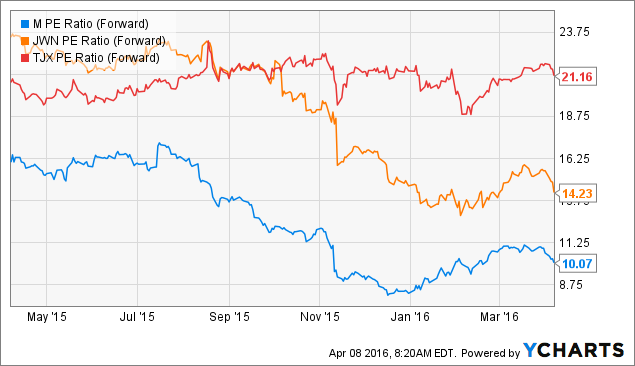 M PE Ratio (Forward) data by YCharts
We think there is immense opportunity for the company to expand its multiple and we think the overwhelming tranche of negative news in the retail sector makes it so that any positive news will likely create a large buying interest.
Again, this does not take into account the company's proposed real estate transactions which, if undertaken in the best manner possible, we think can create an additional $20-$30 per-share in value, at least (real estate has been valued at as much as $10-$15B on its own).
We know the company is serious about doing this, we know their turnaround effort is in place, we know Terry Lundgren is actively addressing the shortfalls with his company and we know that there is a major activist investor now involved in Mr. David Einhorn. We think that for those who have familiarized themselves with Macy's and the bull case and are looking for a chance to stake a position, prices here around $40, and certainly anything lower, are a great opportunity.
Disclosure: I am/we are long M.
I wrote this article myself, and it expresses my own opinions. I am not receiving compensation for it (other than from Seeking Alpha). I have no business relationship with any company whose stock is mentioned in this article.