This is another article that is going to dig a little further into iShares S&P US Pref Stock Idx Fnd (NYSEARCA:PFF). The recent sell-off in European financials may not hurt the preferred stocks at all, but it is definitely worth pointing out the risks. Before we start let's look at some charts: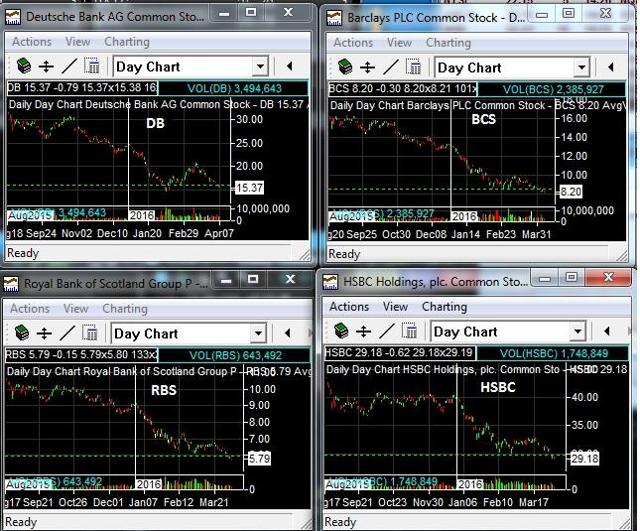 Click to enlarge
Source: author's trading platform
This is a really strong downtrend in those stocks. This is not a reason for preferred stock holders to panic or immediately sell their stocks. If a company is financially sound and this is just a market reaction of "re-pricing" the common stock, preferred stock holders have nothing to worry about. The danger comes once the holders realize that this is a credit-related event and their preferred stocks are not as safe as the rating agencies state. On the next chart you can see how a portfolio of European financial stocks performed against the S&P 500 ETF (NYSEARCA:SPY) for the last year: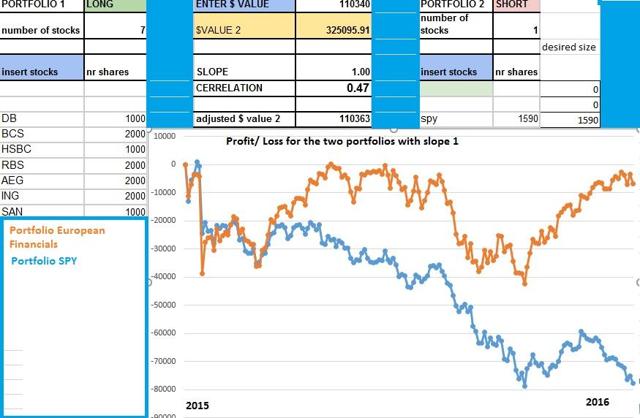 Click to enlarge
Source: author's future software
The European financial stocks are losing a lot of market capitalization. Financial analysis for such large institutions is impossible in such a small article and I definitely doubt my conclusions, so I prefer to concentrate on the chart with the simple conclusion: Price is falling so it is possible that these companies are experiencing some problems.
How does this bother PFF?
15% of PFF holdings are preferred stocks issued from European financials: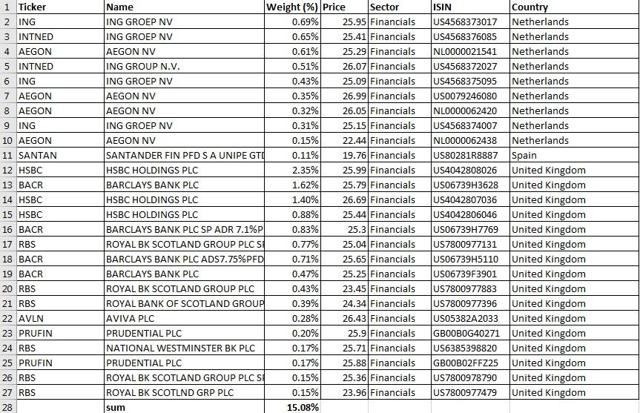 Click to enlarge
Source: PFF's website
These are some of the European preferred stocks with some basic metrics: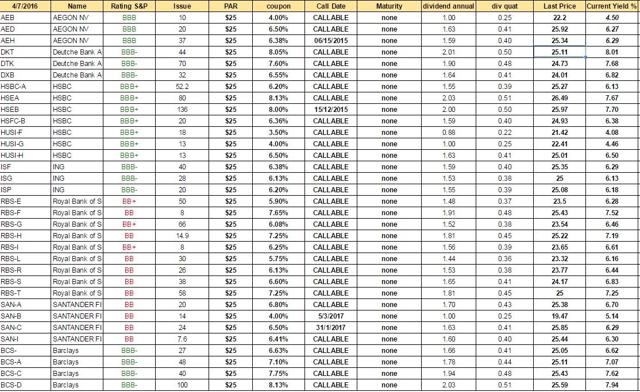 Click to enlarge
Source: author's database
All of these stocks trade close to par and have passed their call dates. Capital appreciation is not really a possibility here. The two risks for PFF are:
Fundamental: What if all these financial companies have an issue that will lower their credibility? As stated above, one should really have a very high self-esteem to make arguments here so I will concentrate on the second risk.
Technical risk: This is something that I have experience with. Such a large selling in common stocks always triggers some selling in preferred stocks. The problem with PFF is that when it starts selling it is trying to sell everything liquid (Preferred stocks are very hard to trade if you are a big holder). This starts the downward spiral of prices where the PFF falls because of its holdings and its holdings fall because of PFF selling. This was clearly seen in the last PFF sell-off: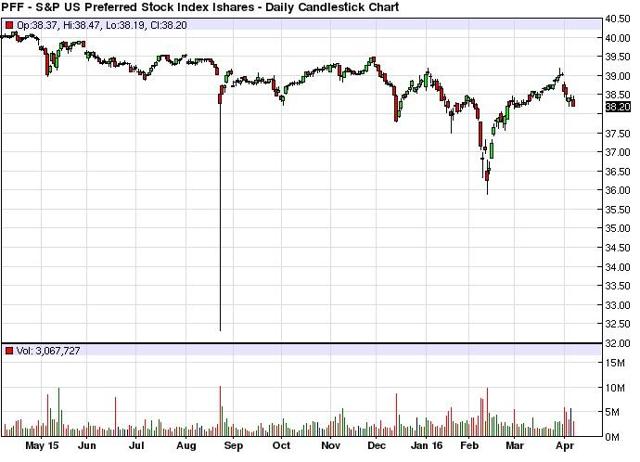 Click to enlarge
Source: barchart.com
This last sell-off in PFF in February was driven by some panic selling after Deutsche Bank (NYSE:DB) coco bonds brought uncertainty for DB preferred stocks [Deutsche Bk Contingent Cap Tr V Tr Pfd Secs (NYSE:DKT)] in the example:
Click to enlarge
The DKT effect spread to all European preferred stocks, this triggered a sharp sell-off in all the US financial preferreds, in effect a lot of selling in PFF and the downward spiral was activated. We are talking about moves of more than 10%. This will eat your "safely" generated 5% dividend in 2 days, just because there is some panic out there. When I look at the common stock prices, I'm not surprised to find a new round of selling in preferred stocks that will trigger a new round of panic. As a trader I can point one really simple fact: most of the common stocks have just made new lows while the preferred stocks are far away from their lows.
How I trade the current situation?
I am trying to get rid of my long positions in financial preferreds and starting to build a portfolio of short positions in this sector. This is a "just if" trade that has a really limited risk. Hard to borrow rates are on extreme levels so this is actually my biggest risk when shorting preferred stocks.
Conclusion
When I see a common stock losing almost 50% of its capitalization I prefer to sell my preferred stock. Common stock valuations can be totally irrelevant to the safety of preferred stock, but I lose nothing by selling a particular preferred stock that has limited appreciation potential. There are currently more than 700 exchange traded income securities and an investor is free to choose only the best ones. Selling in a situation like this is a must for me, shorting is a trader's thing.
Disclosure: I am/we are short PFF.
I wrote this article myself, and it expresses my own opinions. I am not receiving compensation for it (other than from Seeking Alpha). I have no business relationship with any company whose stock is mentioned in this article.
Additional disclosure: I am short most of the European preferred stocks listed in the article and intend to increase my position on any further sell of in the common stocks