Structural changes and unresolved issues resulting from the Great Recession, in combination with monetary policy as seen over the past seven years, enabled a low-demand economic environment that opened more doors for deflationary than inflationary pressures. Despite recent enthusiasm that inflation and economic growth appear to finally pick up, hopes are only based on single indicators. Unfortunately the risk of deflation is greater than ever.
Since the Federal Reserve started monitoring inflation expectations on a daily base, the lowest Treasury market forecast (yield spread between conventional Treasury bonds and TIPS) for 5-year inflation outside the Great Recession was 1.19% in August 2010, followed by 1.23% in May 2003. In 2015, the low end of the long-term range was broken in January when expectations fell to 1.05%; after a recovery in the first half, expectations dropped again to a new low of 1.02% in September, rebounded slightly and broke down to another low of 0.93% on February 9 this year, driven by ongoing concerns over the U.S. and global economy and further plunging commodity prices. Over the last few weeks, however, optimists once again expressed their hopes that inflation (and economic growth) is finally picking up as market participants (including the Fed) took notice of core inflation apparently moving higher in January and February. Consequently, projected 5-year inflation recovered to 1.43% on April 5, 2016; still, it remains at the very bottom of a 13-year range and well within a downtrend that started in April 2011 and steepened in 2013.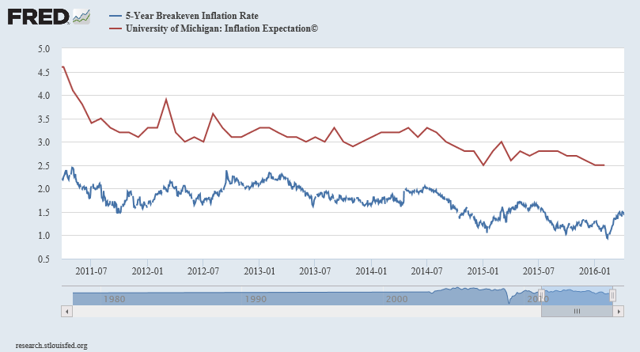 The Fed's "transitory factors" have long become permanent:
Over the last years the Fed perpetually "expected inflation to return to the Committee's 2 percent longer-run objective" and after dis-inflationary trends continued, it "expected inflation to remain low in the near term…but to rise to 2 percent over the medium term". Every time when economic growth or inflation appeared to turn higher, "transitory factors" (i.e. winter weather, global economic and financial developments, collapsing commodity prices or falling import prices, recession concerns, geopolitical events) reversed each short-term uptrend. Since commodity prices fell again earlier this year, the positive effect from favorable annual comparisons has to be pushed out again, further converting "transitory" into "long-term/permanent" factors. Surprisingly, now Fed Chair Janet Yellen cautions - among other dovish comments - that the uptick in inflation data might also be "transitory". Since the Fed's own projections have been off reality for a long time, it is not surprising that officials are confused and recent flip-flopping between dovish and hawkish just reflects the impossible task the Fed has to deal with.
But are we talking about "real" inflation - rising prices for goods and services due to real strong demand that exceeds supply? From a strictly quantitative point of view, inflation picked up over the last few months. Yet, considering the current economic environment in the U.S. with contradicting trends that reflect underlying weakness in many areas, a look behind the quantitative picture might be warranted.
A tale of two inflation measures - cost of living and "real" inflation (a tricky topic):
The recent "pick-up" of core inflation has been primarily driven by higher prices in the healthcare category as prices for 'medical services' rose 0.5% in each, January and February (now 3.9% YOY) and 'medical care commodities' rose 0.4% and 0.6%, respectively (2.2% YOY).
This gets added to the current 3.3% annual price increase for the biggest expenditure item, 'shelter' (33% of the total CPI Index and 42% of the CPI Index less food and energy), which automatically keeps the broad index "elevated".
Healthcare and housing are mandatory living cost where consumers have little to no choice whether they should pay for it or not. When more people aren't able to afford or get a mortgage to buy a home and are forced to rent, average rents naturally increase; and when healthcare insurers reduce coverage for the same monthly premium or raise it in order to maintain their profitability and when millions of people receive basic coverage through the 'Patient Protection and Affordable Care Act (PPACA)', undoubtedly, healthcare cost proportionally rise a lot. Inflation is picking up but again, this didn't happen due to higher real, healthy, discretionary demand.
More specifically, with the exception of 'tobacco and smoking products' (3.55% annual inflation), all price trends in the discretionary segment currently sit either below 1% or slightly above, which is at least a partial reflection of low consumer demand. [Even a 0.6% price increase for 'apparel' in January, followed by a suspicious 1.6% increase in February (seasonal adjustments?) only lifted the annual rate in this segment from minus 0.84% to +0.86%.] In other words, inflation is not picking up on a broad base; it is a two-way picture with prices for most discretionary items staying in a long-term downtrend and remaining flat at low levels over the last few months.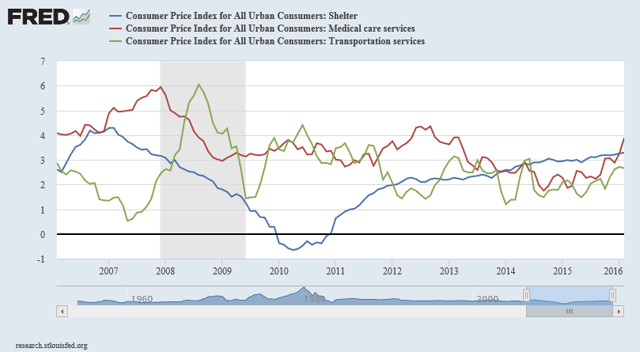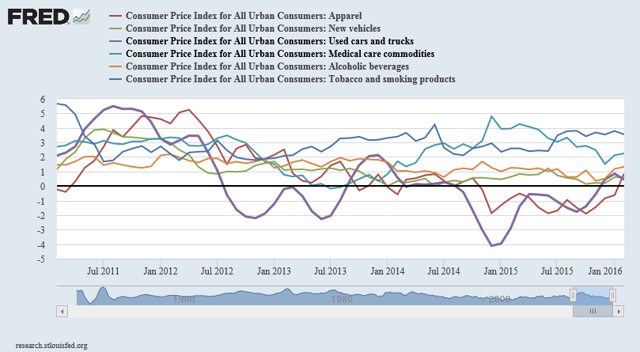 The PriceStats/State Street Inflation Index offers an interesting and possibly more updated view. Observing prices in real-time as well as monitoring online prices in the 'Food & Beverages', 'Furnishing & Household Equipment', 'Health & Beauty', "Energy & Transportation', and 'Recreation & Electronics' sectors, the index aims to anticipate major shifts in inflation trends. The index shows negative price changes since August 2015 and currently stands at minus 0.328%.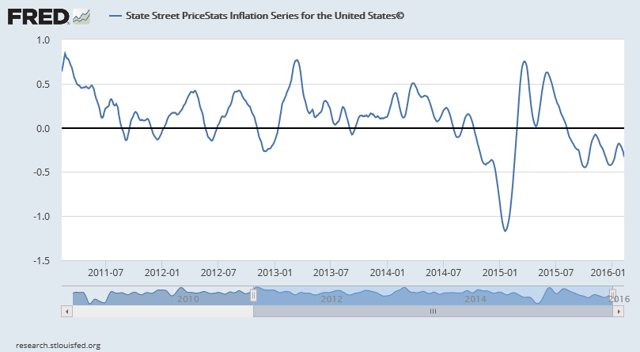 The case for deflation:
Low demand, high supply - the big picture
Domestic and global economic trends are weak! We have already seen the "improvement" in sentiment, some economic statistics and a recovery in asset prices across the board many times in the past - a short-term reaction after months of dismal data points and concerns about the global economy (interestingly here, the topic is always China, never do weak domestic trends get mentioned) but everything takes place within a long-term downtrend that started in Q3 2014 (coincidentally market inflation expectations also turned south from that point on!). At that time, most economic indicators (i.e. business sales, retail sales, industrial production, factory orders) reached a high in their annual growth rate and over the course of last year many of the same indicators displayed negative year-over-year growth rates (that currently suggest an artificial "recovery" due to very favorable yearly comparisons thanks to a weak first quarter 2015), further supporting dis-inflationary or even deflationary pressures!
Relatively stronger fundamentals, a comparatively more "hawkish" monetary policy and widening interest rates spreads drove the Dollar higher from July 2014 until January this year, which appeared to be in both, the U.S. and its trade partners' intention - in other words, most likely the ECB and BOJ will not allow their currencies to markedly appreciate further versus the Dollar since this would undercut the cornerstone of their monetary policies. So even if the Dollar doesn't reach new highs, it will probably remain strong. Dependent on that, commodity prices move higher when the Dollar shows short-term weakness (as it did over the last few weeks) but the upside potential becomes limited driven weak demand, oversupply and record inventory levels. Consequently, commodity price weakness and imported deflation will probably continue, further supporting dis-inflationary or even deflationary pressures!
The long-term downtrend in fundamentals doesn't come from nowhere. As stated previously, structural changes and unresolved issues resulting from the Great Recession in combination with monetary policy as we have seen it over the past years enabled a low-demand economic environment with subpar annual growth.
Low demand, high supply - high salaried jobs
Taking this picture into account, it should not surprise anybody that wages are barely growing. With wages being the most relevant driver of inflation and hourly earnings for all (and also for the often neglected 'production and non-supervisory') employees in the private industry stuck around 2% since 2010 (2.3% in March 2016), it is hard to imagine that price pressure will come from the salary segment.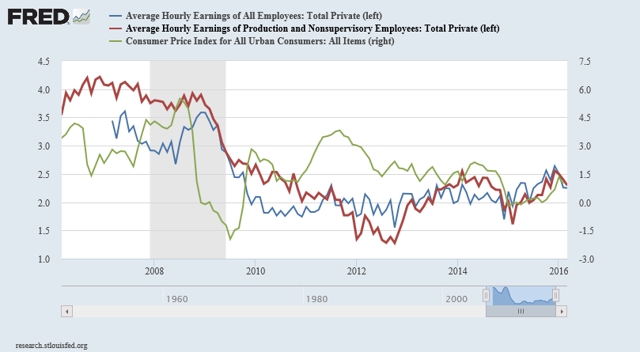 Low demand, high supply - commodities
The collapse in commodity prices due to weak demand, oversupply and record high inventory levels in combination with a strong Dollar has been well documented and doesn't need to be evaluated again, particularly for the energy sector. However, one particular industry often gets overlooked as it usually, along with energy, gets excluded from inflation statistics: food. Yet, food is a large discretionary expenditure that needs to be taken into consideration when analyzing consumer price trends. The United Nations 'Global Food Price Index' (an index with 73 components) peaked in April 2011, lost 31.8% since then and ended 2015 with an annual deflation rate of minus 16.3%. In the U.S., prices in the overall food increased 0.84% (annual rate) in February (food & beverages 0.87%), which is divided into 'food at home' (-0.38%) and 'food away from home' (+2.6%). It is obvious that the trend of "going out for dinner" or "ordering some take-out" keeps changes in overall food prices in positive territory but the question is if this truly discretionary spending will continue on back of ongoing weakness in the economy. Either way, food as a commodity remains in deflation territory.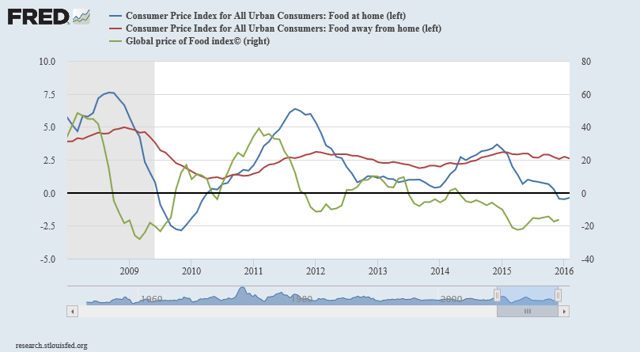 Low demand, high supply - global trade
Global GDP growth dropped from 5% in 2010 to 2.7% at the end of last year. Emerging markets have been identified as the main driver for the slow-down but growth in the U.S., Europe and Japan also disappointed and forecasts were continuously reduced. World trade (total value of exports and imports for goods and services) dipped into negative last year, as did U.S. trade where exports of goods and services declined at a 7.5% annual rate (minus 4.2% in February), while imports dropped 6.5% (plus 0.3% in February). Many major central banks, led by the ECB and BOJ, provided more accommodation in the shape of negative interest rates and more QE in an attempt to further devalue their currencies and support export activity, which apparently didn't go anywhere: Despite the ongoing currency war, trade continued to weaken! U.S. import prices dropped along with the stronger Dollar and remained in deflation territory since August 2014 (in February 2016, all import prices excluding petroleum dropped by 2.89% annually and import prices for all commodities by 6.13%). As mentioned above, it is hard to imagine that the ECB and BOJ will allow their currencies to appreciate a lot more versus the Dollar since this would undercut the cornerstone of their monetary policies. Unless the Fed officially reverses its current policy and joins the currency war, the Dollar may stay relatively strong over the medium-term. Apart from that, with disinflationary / deflationary trends in Europe, Japan and many parts of Asia prevailing, U.S. import prices may well remain depressed.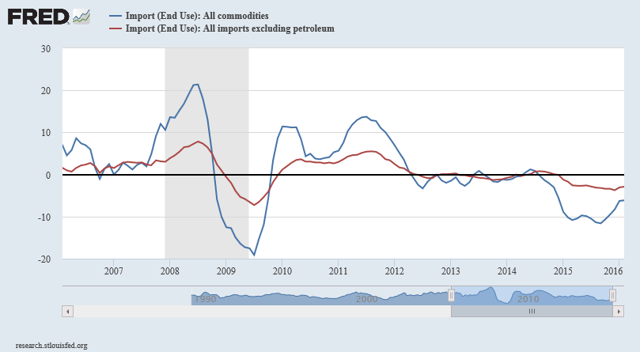 Low demand, high supply - money
Money is a complex subject and is difficult to cover in one paragraph. Nevertheless, in the inflation/deflation discussion, bringing up the topic about money velocity only makes sense. Velocity on all money measures fell sharply during and after the Great Recession and kept on declining to new all-time lows every quarter, with the broadest measure, MZM ('Money with Zero Maturity' - or money, which is immediately available to spend), where velocity peaked in Q1 1980! Measuring the ratio between nominal GDP and money supply, historically, money velocity has been used as a predictor for inflation. Since price levels and the purchasing power of money are not directly related, forecasting inflation by only using money velocity turns out to be difficult. Still, the topic gained importance after the Fed attempted to lift inflation and support economic growth by dramatically increasing the money supply. Following the monetarist view, the theory was that by increasing money supply, prices would rise, given that economic output (nominal GDP) and the velocity of money remained unchanged. But, as the Fed admitted in a research paper from September 2014, the central bank didn't expect velocity to drop sharply and with that, literally to offset the increase in money supply. One of the reasons mentioned for that development has been the private sector's "willingness to hoard money instead of spending it". The point of "hoarding" money is subject for discussion, but the point of "[not] spending" money plays exactly into the argumentation of this article: low demand, high supply!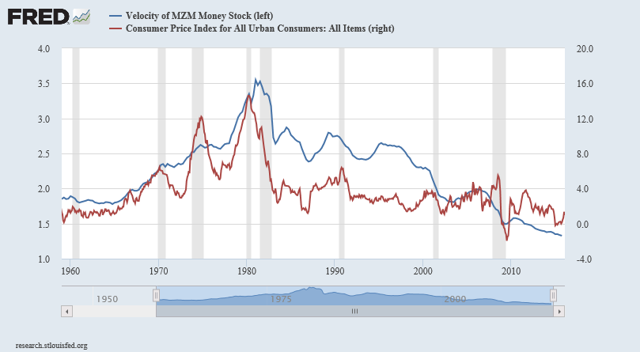 After the Fed raised interest rates in December and tried hard to convince markets that multiple more hikes would follow this year, the liquidity situation also extended to credit markets, where corporate bond spreads widened and yields jumped at the beginning of this year as investor's appetite for risky high-yield offerings in particular came to a stand-still.
How do corporations react to soft demand and weakening trends?
First come discounts and promotions; what used to be retail sales events around certain holidays became mark-downs that last the whole year as there is no longer a single day when retailers don't offer "the entire store 50-75% off". The same applies to wholesale. Once sales remain weak despite lower prices (as witnessed in the current revenue recession that takes over more and more sectors) and inventories build, corporations move to cost-cutting, reorganizations and lay-offs. A lower cost base then allows them to further cut prices as it needs to at least defend its market share in a highly competitive no-growth environment. This spiral keeps on spinning and prices keep on falling.
The Fed's tied hands:
By shifting capital allocation and risk assessment, it is documented and now obvious that the Fed's highly accommodative policy (i.e. ZIRP, QE) along with unresolved structural issues contributed to the current low-demand environment and with that sluggish economic growth that has been predominant since the end of the Great Recession. Keeping interest rates at zero would further allow these negative trends to develop, only that the economy reached a point from which further weakening would be equivalent to entering a recession. At the same time, raising interest rates would put even more pressure on fragile economic activity and risk that, in an immediate reaction, low demand trend will accelerate to the downside, bringing the U.S. economy to the edge of recession as well. So there is a high probability that whatever the Fed decides, the effects of its policy might be negative for the economy, no matter what, making its job nearly impossible to perform successfully (although the Fed's main concern continues to be to avoid deflation in asset prices!)
Conclusion:
The general perception remains unchanged: keep on ignoring negative trends and developments and keep on hoping that time will solve all problems. Despite that, a discussion about recession was unthinkable about a year ago but over the course of last year and going into this year, the "R" word reluctantly made it into many research papers. Deflation gets treated the same way but it might only be a matter of time until the "D" word creeps into the daily conversation as the current low demand, high supply and high inventory environment bears more deflation risk than market participants anticipate. In this setting, a continuation of the rally in precious metals and the bull market in government bonds makes a lot of sense! In a kind of 'statement', Treasuries rallied after the Fed raised interest rates in December and showed only little reaction to the inflation and economic growth story that rallied equities and some commodities last month.
Disclosure: I/we have no positions in any stocks mentioned, and no plans to initiate any positions within the next 72 hours.
I wrote this article myself, and it expresses my own opinions. I am not receiving compensation for it (other than from Seeking Alpha). I have no business relationship with any company whose stock is mentioned in this article.