Thesis
O'Reilly Automotive (NASDAQ:ORLY) ("O'Reilly", "ORLY", or the "Company") has been a slam-dunk investment for shareholders so far. Once market participants figured out that selling aftermarket auto parts was a distinctly superior activity in a sector which is known for its high cyclicality, capital intensity, and low margins, longs piled on and never looked back.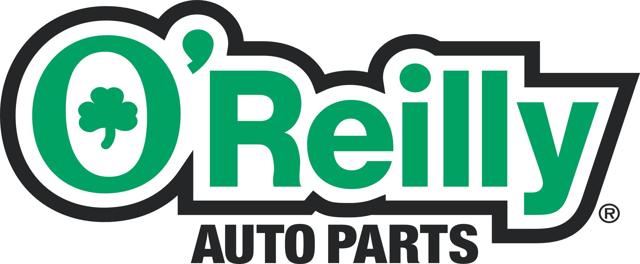 Click to enlarge
Yet, the tailwinds that drove ORLY to these great heights appear to be waning, despite industry headlines suggesting otherwise. Bulls point to a potentially-peaking new auto sales cycle and an increasing average vehicle age as justification for being long. However, longs appear to be missing a couple of nuances such as the contention that new auto sales is unlikely to be anywhere near the peak of the cycle (i.e. it still has room to climb), and that the increasing average vehicle age is misleading on the surface and actually signals a slowdown. There is also a case to be made for long-term pricing pressure due to customer consolidation in the professional segment.
Moreover, channel checks (specifically, CarMax's quarterly commentary) suggest that the slowdown could surface in the Company's financials within the next few quarters. Although Texas may seem to be a potential problem given the continued oil depression, a closer look suggests that although there is a bear case to be made for O'Reilly, Texas is not part of it.
Judging by the current ~30x earnings multiple that ORLY is priced at, it appears that the market has not taken into account a potential slowdown that may be just around the corner. In my view, longs might want to exit their positions in light of this information. Shorting would be inadvisable, given the low visibility on timing, despite the presence of clear catalysts - y/y comp weakness and margin pressure.
Quick Background
As a reminder, ORLY sells aftermarket automotive parts. Sales are spread 60/40 between DIY customers and professional service providers (i.e. independent body shops, multi-shop operators, etc). Demand for aftermarket parts is largely driven by three main factors - 1) vehicle miles driven, 2) average age and quality of vehicles, and 3) unemployment levels. Management intends to drive the top-line through same-store sales growth, opening new stores, and selectively pursuing acquisitions.
Texas Isn't The Problem
Given the market's unsurprising fascination with everything oil-related in these recent months, it seems appropriate to get the Texas issue out of the way first.
The concern that potential longs may have is rather straightforward - O'Reilly has 639 stores in Texas as of December 31, 2015. These 639 stores account for ~14% of the total store count - the Company's largest single-state exposure. Given the oil price depression, negative commentary from oil majors, and general market sentiment, market participants are clearly frightened about Texas.
The theory is that the depression in black gold would lead to increasing unemployment in the state. And if unemployment heads north, people are unlikely to drive their vehicles that much - after all, driving to work is probably the most common activity which requires the use of a car. With less driving, miles driven would experience a slowdown and vehicles would not wear and tear as much, decreasing the demand for aftermarket auto parts - i.e. O'Reilly's bread-and-butter.
However, this theory makes the assumption that Texas is all about energy. This may be true in the 1980s, but it is certainly not true in 2016. While many energy companies may have a presence in the state, there are other industries that are also situated here. Moreover, only a small percentage of them are downstream oil businesses, which are certainly not immediately affected by the oil price depression; Exxon's refining business is possibly the lone bright spot amongst its operating segments in recent quarters.
As seen on page 2 of this trade publication, extraction of oil and natural gases contribute to ~3% of Texas employment, while petroleum refineries contribute to ~2.6%. The bottom line is that Texas unemployment may see some pressure, but it is unlikely to be as striking as market participants seem to think it is. As evidence, although Texas unemployment has edged higher, it is not as bad as compared to the 2008 crisis and appears to be recovering, as seen below. Certainly nothing to go crazy about.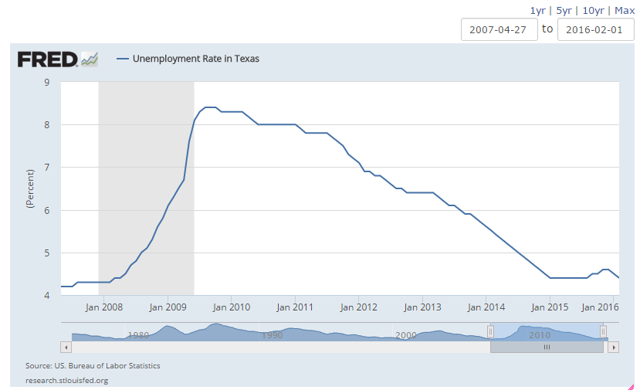 Source: St Louis Fed
Stated simply, there is a bear case to be made for O'Reilly, but Texas deterioration is certainly not central to that thesis. Despite generally negative sentiment for the state, said sentiment appears overblown.
New auto sales cycle is unlikely to be anywhere near its peak
Bulls point to the 5+ years of recovery in new auto sales and suggest that this is unsustainable and that the cycle has to peak in the near future. If the cycle peaks and new auto sales slow substantially, this implies that consumers would be utilizing their older vehicles, which tend to require more aftermarket maintenance. Put simply, increases in new auto sales are an inverse indicator of ORLY's business. The following chart drawn up by the Wall Street Journal certainly supports the assertion that the cycle might be near its peak.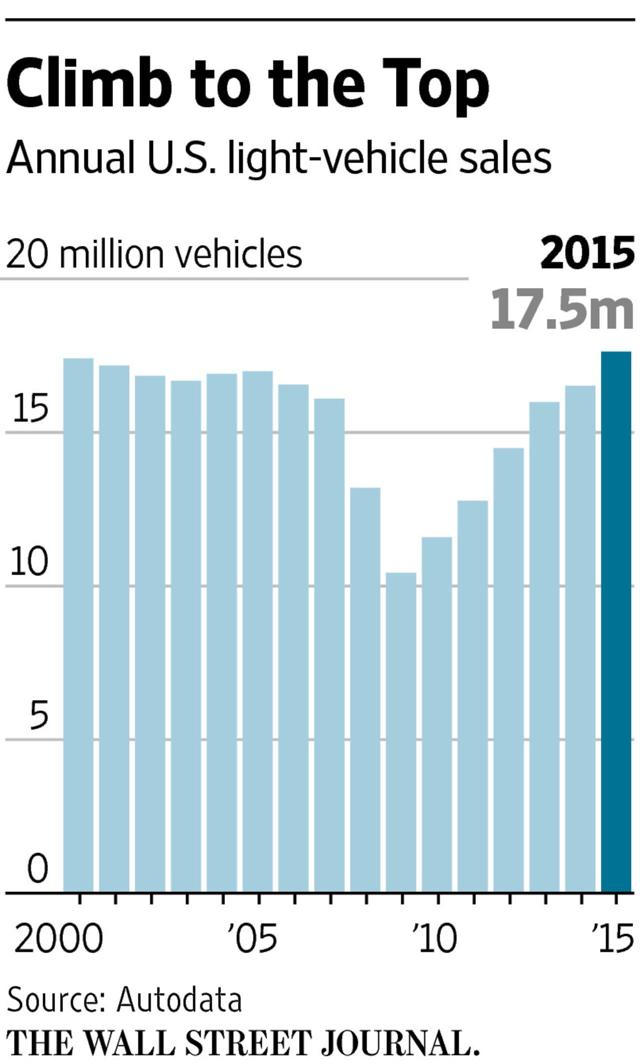 Click to enlarge
Source: Wall Street Journal
However, that thesis neglects to consider the effects of the 2008 crisis. The financial crisis led to consumers having to hold off new/replacement car purchases for obvious reasons, leading to a build-up in demand.
| SAAR | | Annual pent-up demand |
| --- | --- | --- |
| Assuming 15m replacement rate | | |
| 2008 | 13.2 | 1.8 |
| 2009 | 10.4 | 4.6 |
| 2010 | 11.5 | 3.5 |
| 2011 | 12.7 | 2.3 |
| 2012 | 14.4 | 0.6 |
| 2013 | 15.5 | -0.5 |
| 2014 | 16.4 | -1.4 |
| 2015 | 17.3 | -2.3 |
| | | |
| Cumulative pent-up demand | | 8.6 |
Source: FRED, author's calculations
By my math, cumulative pent-up demand was ~12.8m vehicles at the end of 2012, assuming an annual replacement rate of 15m units. Since 2012, new auto sales have picked up drastically and have fulfilled a portion of pent-up demand. However, ~8.6m units in pent-up demand still remains.
While some may argue that consumers may simply be choosing not to own a car, this argument holds no water, in my view. In the U.S., vehicle ownership is more of a necessity - consumers need a car to drive to work, and so on. While there are substitutes to owning a car in the U.S., the subsitutes are insufficient to serve the needs of the consumer, as I explain below.
If we were talking about my homeland, Singapore, it would be a very different story. Singapore is a very small country and it has one of the best public transportation systems in the world. In my country, owning a car is simply not required (though most of my peers who are in their early 20s are looking to own a car as a status symbol, in stark contrast to me) as the public transportation system (trains & buses) covers the near-entirety of the country.
The same cannot be said for the U.S. Therefore, absent some fairly dramatic changes in infrastructure (i.e. an affordable, reliable public transportation system covering the entirety of the U.S.), American consumers will always need cars, in my view.
The gist of my rough analysis on pent-up demand is simple - it means that new auto sales could possibly continue growing towards 17m-18m in 2017/2018 as the pent-up demand is worked through before retiring by a small clip to the long-term average. If we are more upbeat and assume a 16m replacement rate, the current pent-up demand would be just south of 17m, signifying that SAAR could hover around 18-19m for a couple of years.
Essentially, while headline numbers may lead you to conclude that we new auto sales may be potentially peaking, this is unlikely to be true. Further analysis suggests that the current SAAR does not appear to be at a hugely worrying point of the cycle. Low oil may also be helping prolong the cycle by freeing up a substantial portion of consumer budgets.
Investors should not mistake the strong recovery in new auto sales as the reason for the robust performance of ORLY's shares, thinking that there is a direct relationship between the two, as this could not be further from the truth. As I explore in a subsequent section, new auto sales is an inverse indicator of ORLY's business, and the larger driver of the Company's business is the substantial acceleration in average vehicle age.
Finally, while some may point to a potential increase in interest rates, rate increases look to be increasingly unlikely this year - if Yellen's comments are any indicator; the Fed Chair appears to have been halted by the weak non-U.S. economies. Also, rates are at multi-decade lows, implying that even if rates go up 25bps or 50bps, it is not like an increase would make vehicles unaffordable.
Increasing average vehicle age is misleading on the surface and actually signals a slowdown
The next point that bulls would raise in argument would be the increasing average vehicle age. By all accounts, average vehicle age is at all-time highs - currently the metric is at ~11.5 years. Longs contend that with the metric at its highs, aftermarket growth is pretty well-supported. After all, older cars generally experience more wear and tear compared to newer ones and would thus require more frequent maintenance.
Now, I am not disputing the above thesis; arguing against that would result in me trying to argue that the laws of physics do not apply. In my view, market participants should focus on the nuances of the metric instead, as it actually signals a slowdown in the aftermarket.
| Average Age of Light Vehicles in Operation in the United States | | |
| --- | --- | --- |
| Year | All Light Vehicles | Y/Y % increase |
| 2007 | 10.0 | |
| 2008 | 10.1 | 1.0% |
| 2009 | 10.3 | 2.0% |
| 2010 | 10.6 | 2.9% |
| 2011 | 10.9 | 2.8% |
| 2012 | 11.2 | 2.8% |
| 2013 | 11.4 | 1.8% |
| 2014 | 11.4 | 0.0% |
| 2015 | 11.5 | 0.9% |
| | | |
Source: Bureau of Transportation (2007-2014 data), IHS Automotive (2015 data), author's calculations
As seen above, the average age of light vehicles have seen substantial acceleration in the years following the financial crisis. This acceleration was driven by a slowdown in new auto sales; lesser new auto sales brings the average age up. However, the acceleration has slowed substantially since the economy recovered, as new auto sales begun rising strongly. Average vehicle age is likely to continue to slow or even decrease as new auto sales remain strong, as discussed above.
To make matters worse, a slowdown in average vehicle age is not the entire story. While difficult to quantify, I submit that I am not alone in concluding that technology has substantially improved the quality of new cars, thus allowing said cars to last longer and require less aftermarket maintenance. Essentially, a car developed in 2010 is unlikely to require the same amount of maintenance as one developed in 2000, assuming the same vehicle age. Thus, future growth in average vehicle age might not directly translate to growth in aftermarket auto parts.
Moreover, the data for average vehicle age does not differentiate between vehicles that are actively in use (and thus its owners would be required to maintain it and replace parts when they wear out) and vehicles that are not actively in use. Once again, it is difficult to conclude just how large this number (inactive cars) is, given that the data tracked by the government and IHS do not have visibility to that extent.
Finally, channel checks also suggest that new car sales will continue to rise in the near-term. Specifically, CarMax reported slowing overall used car sales growth (from high single-digits to low single-digits) in its fiscal 3Q '16 results. Comparable-stores used car sales experienced a ~1% decline. Inventories had also increased ~10% y/y. These numbers sent the stock down ~6% on the day of the press release.
Note that CarMax has a policy of allowing consumers to sell them their used cars without requiring a simultaneous purchase. These metrics suggest two things - 1) demand for used cars is slowing and 2) more consumers are trading in their used cars, presumably to purchase a newer vehicle - both of which support continued strength in new car sales.
The case for long-term pricing pressure
Within the Company's professional segment, ORLY has historically sold to a rather fragmented base of customers which mainly comprised of independent body-shops. This allowed the Company to easily pass on price increases due to a rise in commodity costs as negotiating leverage is tipped in its favor.
However, multi-shop operators ("MSOs") have been experiencing rapid consolidation in recent years. ORLY does not, to the best of my knowledge, offer a breakdown of customer categories, making it impossible to judge what percentage of its revenues are derived from MSOs. Therefore, I will be using Axalta's (NYSE:AXTA) U.S. refinish business - which has #1 market share in the country - as a proxy to portray this trend.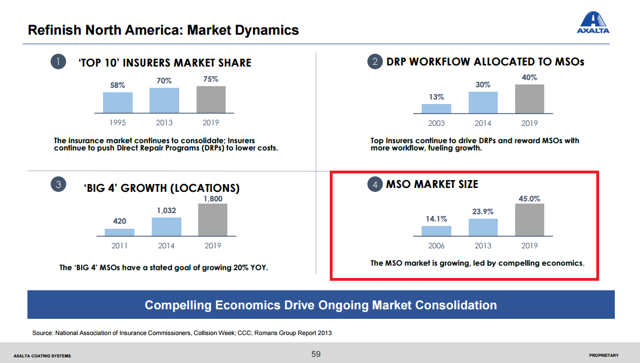 Click to enlarge
Source: Axalta's December 4 Investor Day
As seen above, MSOs made up ~14% of the U.S. refinish market In 2006 and has grown to ~24% in 2013. AXTA's management expects this figure to hit ~45% by 2017. The rationale for consolidation in MSOs is largely predicated on realizing economies of scale through a denser network which reduces procurement costs per unit (through volume discounts) and increases savings on inbound logistics, thus the trend is likely secular in nature.
In my view, MSO consolidation could result in pricing pressure for the Company's professional segment. I note that Axalta's light vehicle segment which supplies coatings to auto OEMs, has decent, but not great pricing power due to OEM push-back. Further, coatings are generally <5% of MSO costs. Aftermarket parts which ORLY supplies are likely to comprise of a greater proportion of the MSO cost structure and hence would probably be a prime target for MSOs to negotiate better pricing.
Potential mitigants to slowdown in the near-term does not seem sufficient
To be fair, ORLY does have several levers to pull to offset a potential slowdown. The very first of these levers would be new store growth. The Company opened 205 net new stores in 2015 and is looking for this number to hit 210 in 2016. However, continued new store openings is unlikely to boost top-line growth by much for a few reasons.
One, ORLY is already in well-penetrated in 44 states, suggesting that most of the low-hanging fruit has been plucked already. Sure, the Company could expand to a new state, but it would take time for stores to ramp up and for scale efficiencies (distribution, logistics, marketing, etc) to be realized in the new state. Two, the potential for a near-term slowdown would prolong the time taken for new stores to reach maturity. Three, management might re-focus their attention on the comp store base in the event of a decline in comps, pushing new store openings to later years.
Share repurchases could help, but at the current authorization it would barely move the needle. The Company currently has a $6.25b (cumulatively) share repurchase program outstanding, of which ~$5.56b has already been spent, leaving ~$700m. At current prices, this would only be sufficient to retire ~2.5m shares, or ~2.4% of the float. While the Company is likely to further increase authorization of the share buyback program - it increased the program by $500m each in February and May of 2015, and $750m in February 2016 - its cash balance has decreased to ~$100m, suggesting that any increase in authorization would funded out of free cash flow.
Free cash flow is clocking in at ~$800m per annum, so current cash-flow generation capacity is sufficient to fund the latest increase in the buyback authorization. Any incremental buyback authorization would likely have to be given the green light next year, or have to be funded with borrowings. Net debt/EBITDA is currently at ~0.9x, suggesting substantial borrowing capacity. However, management has historically kept debt at minimal levels, almost never going past 1x net debt/EBITDA - which seems fair given the cyclicality of the business. Moreover, the logic of funding a buyback at ~3% free cash flow yields with debt at rates in excess of 5% is questionable at best.
What about inorganic growth? This seems quite unlikely to move the needle by much. The Company operates in a largely fragmented industry - most players are very small and would do little to add to ORLY's top- and bottom-lines. An acquisition of a huge player such as Advance Auto Parts (NYSE:AAP) and AutoZone (NYSE:AZO) seems dubious as the high valuation multiples ascribed to these peers would make the economics of an acquisition difficult to reconcile.
Conclusion
While ORLY has been an absolutely slam-dunk investment so far, I am skeptical as to whether this would continue. Longs seem to be assuming that the tailwinds which drove the Company's top-line (subdued new auto sales, substantial acceleration in average vehicle age, etc) for many years are still as strong as ever, while in actuality they are waning, at least in the near-term. Long-term pricing pressure in the professional segment seems likely, given the trend of MSO consolidation. Potential mitigants to a possible slowdown are available, but they simply do not have the capacity to offset a downtrend by much.
As a result, bulls should consider trimming or exiting their position in ORLY given the potential for near-term weakness, unless they have a time horizon that is measured in the decades. While the catalyst for a short is pretty clear - y/y comp weakness and margin pressure - the right timing is difficult to ascertain. After all, getting the thesis right is worthless if you get the timing wrong as a short-seller. Hence, shorting is inadvisable here, in my view.
Disclosure: I/we have no positions in any stocks mentioned, and no plans to initiate any positions within the next 72 hours.
I wrote this article myself, and it expresses my own opinions. I am not receiving compensation for it (other than from Seeking Alpha). I have no business relationship with any company whose stock is mentioned in this article.
Additional disclosure: The author's reports contain factual statements and opinions. He derives factual statements from sources which he believes are accurate, but neither they nor the author represent that the facts presented are accurate or complete. Opinions are those of the the author and are subject to change without notice. His reports are for informational purposes only and do not offer securities or solicit the offer of securities of any company. Mr. Goh ("Lester") accepts no liability whatsoever for any direct or consequential loss or damage arising from any use of his reports or their content. Lester advises readers to conduct their own due diligence before investing in any companies covered by him. He does not know of each individual's investment objectives, risk appetite, and time horizon. His reports do not constitute as investment advice and are meant for general public consumption. Past performance is not indicative of future performance.