"If you want to make God laugh, tell him about your plans."
- Woody Allen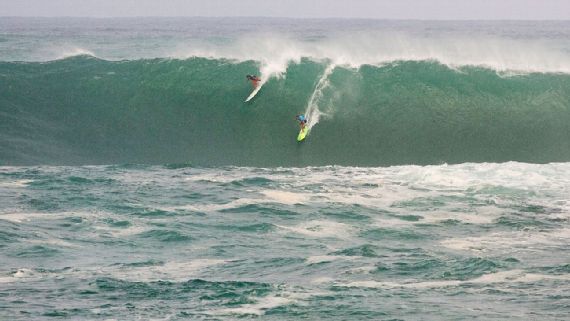 Introduction
In the first two months of 2016, it looked like the global bear market would overwhelm the last holdouts, large capitalization U.S. equities, as a deflationary wave gathered momentum, after building for five years. Abruptly, however, the storm ended, at least temporarily, and the strongest inflationary pulse in years surprised many market participants. Now, the tug-of-war between inflationary and deflationary assets has taken center stage, and the winner of this epic battle will set the course for the investment markets.
Thesis
Bond yields and stock prices are telling two different stories, with sovereign bond prices anticipating deflation and stock prices anticipating inflation. This cannot continue, and either bond prices will move down (i.e. yields up), or stock prices will move down.
U.S. Stocks Remain Near Their All-Time Highs
As the famous quote says, a picture can tell a thousand words, so simply looking at the stock chart of the S&P 500 Index, as measured by the SPDR S&P 500 Index ETF (NYSEARCA:SPY), would illustrate that everything is okay with the investment world.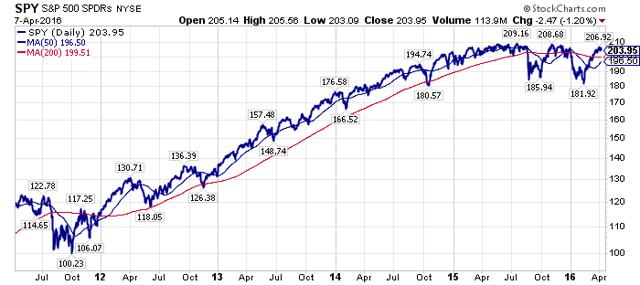 Click to enlarge
U.S. large-cap stock prices remain within shouting distance of their all-time highs. Yet, as we highlighted last week, earnings estimates for the S&P 500 Index continue to deteriorate.
U.S. smaller capitalization stocks, as measured by the iShares Russell 2000 ETF (NYSEARCA:IWM), have been impacted more heavily by the declining earnings environment.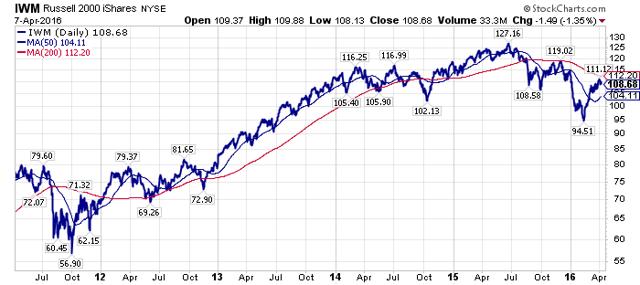 Click to enlarge
A bear market officially took hold in U.S. small-cap stocks earlier this year, yet from that juncture, small-cap stocks have rallied strongly. Is the small-cap bear market already over?
U.S. Bond Yields Remain Near Their All-Time Lows
While U.S. stock prices are saying everything is sanguine, the U.S. Treasury market remains unconvinced.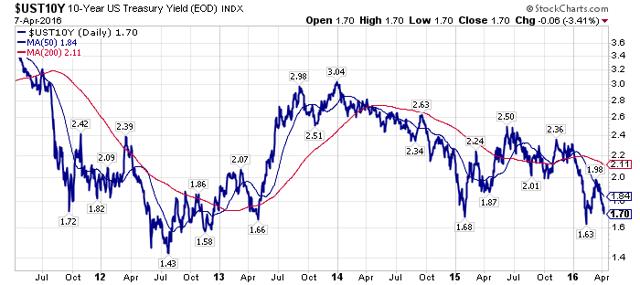 Click to enlarge
Observing the chart above, the 10-Year US Treasury Yield is approaching its 2016 lows, and it is a whisker away from its all-time lows, reached in 2012.
Intrepid investors, who think the U.S. longer duration Treasury market has gotten ahead of itself with deflationary concerns, could short the iShares Barclays 20+ Year Treasury Bond ETF (NYSEARCA:TLT), which closed just shy of its all-time high on Thursday.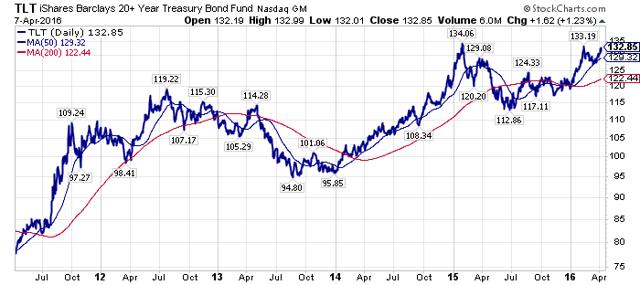 Click to enlarge
Global Sovereign Bond Yields Confirm
Paltry ten-year U.S. Treasury yields below 2% are actually robust on a relative basis. Ten-year sovereign bond yields in Germany and Japan are near zero, and negative, respectively.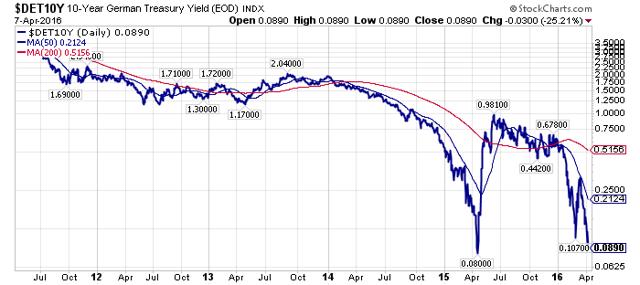 Click to enlarge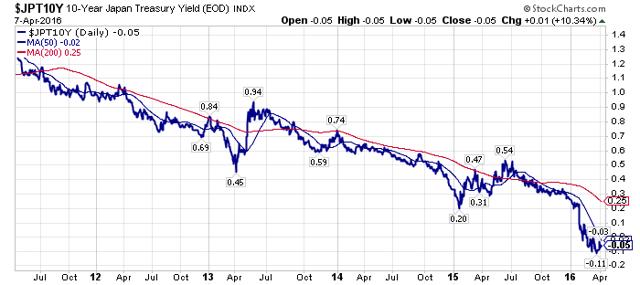 Click to enlarge
Not surprisingly, the German and Japanese stock markets have not fared as well as their U.S. counterparts. The charts of the iShares MSCI Germany ETF (NYSEARCA:EWG) and the iShares MSCI Japan ETF (NYSEARCA:EWJ), both show losses in 2016 and material declines from their highs (2014 for Germany and 2015 for Japan).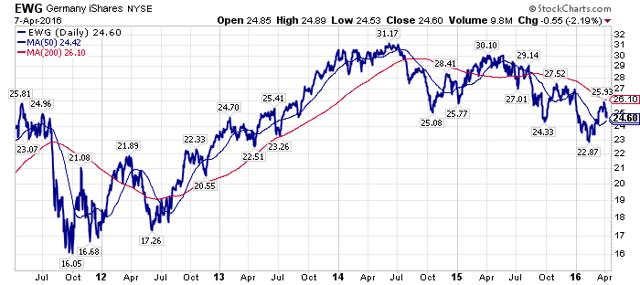 Click to enlarge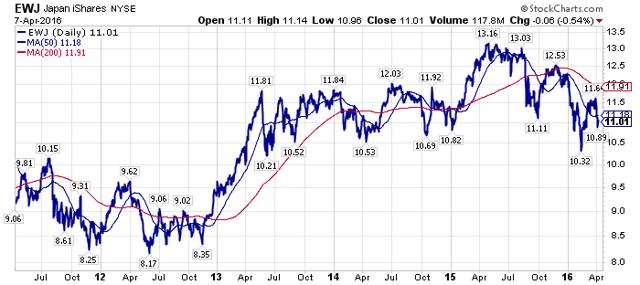 Click to enlarge
More alarmingly, key stocks in Germany and Japan show substantial declines, as illustrated by Deutsche Bank (NYSE:DB) and Toyota Motors (NYSE:TM) below.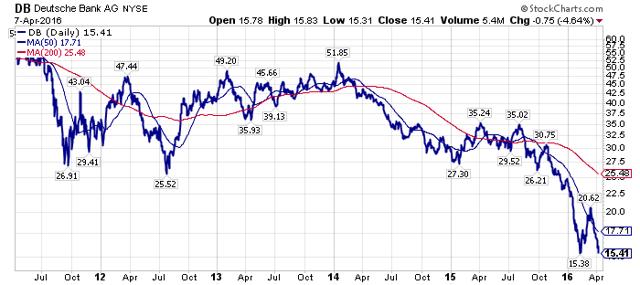 Click to enlarge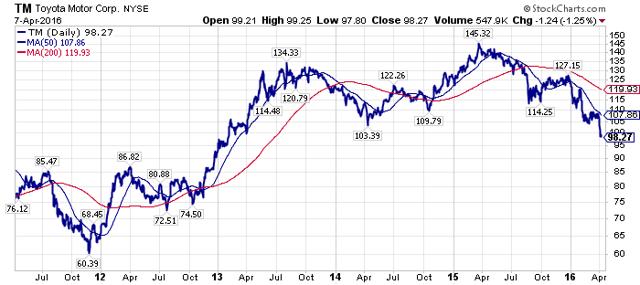 Click to enlarge
Emerging Markets To The Rescue
With the Vanguard FTSE All-World ex-US ETF (NYSEARCA:VEU) mirroring the declines in Germany and Japan, it should not be a surprise that a majority of the world is discussing negative interest rates, as the global stock market, outside of the United States, peaked in 2014.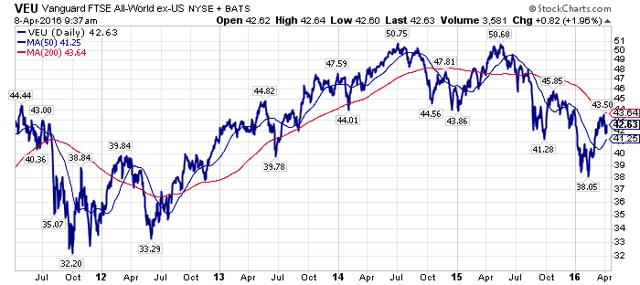 Click to enlarge
Deflationary fears have recently reached all-time highs, as shown by the graphic below.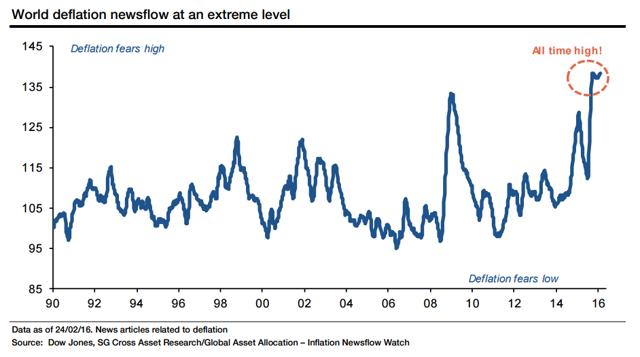 Click to enlarge
Yet, with this dismal backdrop in developed global bond and stock markets, emerging market stocks, as measured by the iShares MSCI Emerging Markets ETF (NYSEARCA:EEM), have rallied sharply, after underperforming for five years.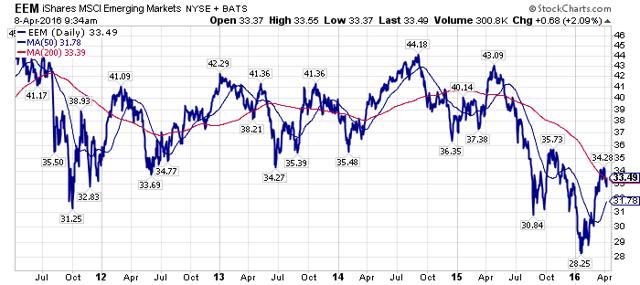 Click to enlarge
The reversal is even more evident when looking at Brazil, one of the most out-of-favor emerging markets.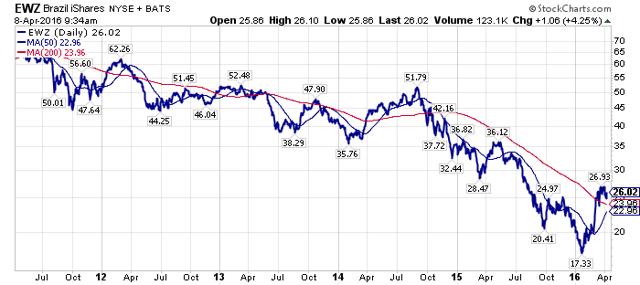 Click to enlarge
Amid a parade of detractors, who have perfectly legitimate fundamental and macro reasons for taking a negative position on Brazil, the iShares MSCI Brazil Capped ETF (NYSEARCA:EWZ), has risen to become one of the top performing global markets on a 2016 year-to-date basis. Perhaps the five years of underperformance is coming to an end?
All Roads Lead To China
China led global growth in the decade from 2000-2010, and it has negatively impacted global growth since 2011, as the world had positioned itself for a faster rate of Chinese growth. Like their counterparts at the Fed, Chinese monetary authorities have embarked on an easing cycle for the past year and a half, and it is showing results, as a recent Bloomberg article communicated.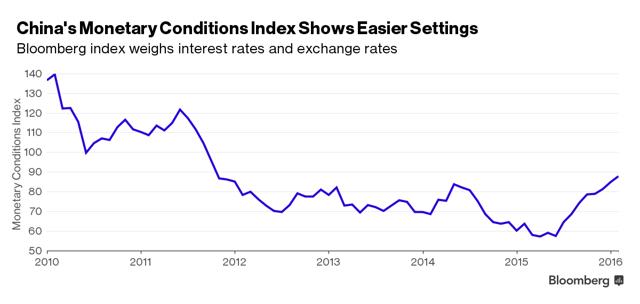 Click to enlarge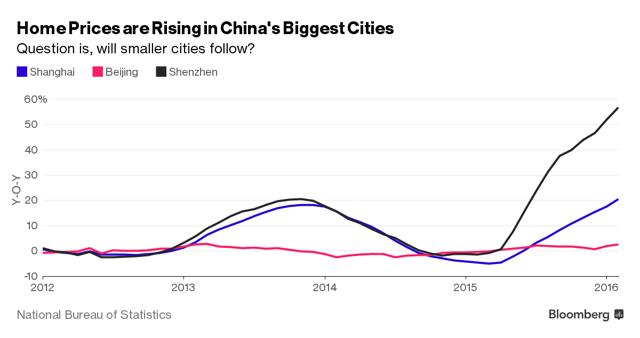 Click to enlarge
With Chinese Tier-1 property prices rising at an exponential rate, and commodity prices rebounding, look for money to flow into the Chinese stock market. The iShares China Large-Cap ETF (NYSEARCA:FXI) remains attractively priced from my perspective.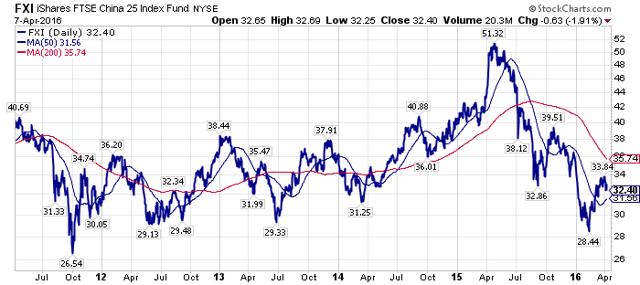 Click to enlarge
Building on the theme of a cyclical China upturn, U.S. companies with significant Chinese exposure, like Apple (NASDAQ:AAPL), General Electric (NYSE:GE), General Motors (NYSE:GM) and International Business Machines (NYSE:IBM), appear poised to outperform. Meanwhile, companies that do very little business in China, like Alphabet (NASDAQ:GOOG), (NASDAQ:GOOGL), Amazon (NASDAQ:AMZN), Facebook (NASDAQ:FB) and Netflix (NASDAQ:NFLX), could struggle on a relative basis.
The biggest winners are likely to be out-of-favor commodity stocks. The largest of these companies, BHP Billiton (NYSE:BHP) and Rio Tinto (NYSE:RIO), epitomize the struggles of the entire sector.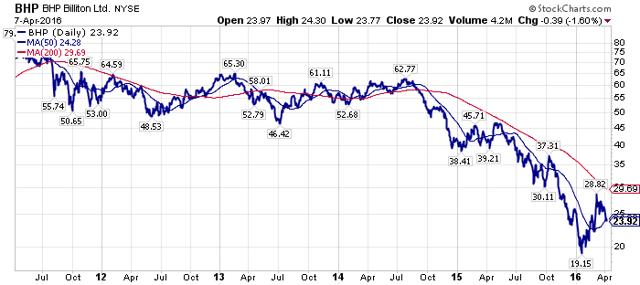 Click to enlarge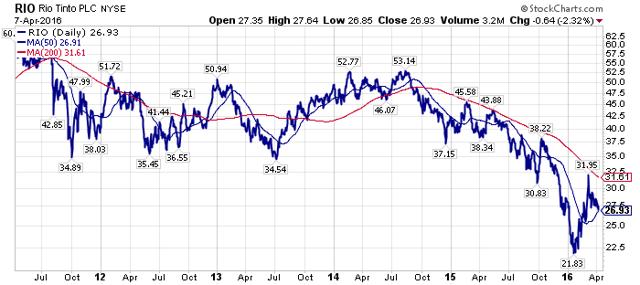 Click to enlarge
With commodity prices rising, and many under-covered, undervalued commodity stocks exhibiting significant price gains in 2016, a change in trend appears to be taking place.
Conclusion - 2016 Is An Inflection Point
The tug-of-war between inflationary and deflationary assets is likely to be resolved in 2016. Either U.S. stock prices, which have been an outlier to the upside, are wrong, and a significant correction awaits stock investors, or U.S. bond prices, and global sovereign bond yields, which have priced in a significant deflationary headwind, are wrong, and safe-haven bond holders are set for losses. With both asset classes simultaneously priced for extremes, investors would be well served, in my opinion, to consider out-of-favor assets, including commodity and emerging market equities and alternative investment approaches.
Disclosure: I am/we are long IBM, RIO, SHORT AMZN, AND SPY.
I wrote this article myself, and it expresses my own opinions. I am not receiving compensation for it (other than from Seeking Alpha). I have no business relationship with any company whose stock is mentioned in this article.
Additional disclosure: Every investor's situation is different. Positions can change at any time without warning. Please do your own due diligence and consult with your financial advisor, if you have one, before making any investment decisions. The author is not acting in an investment adviser capacity. The author's opinions expressed herein address only select aspects of potential investment in securities of the companies mentioned and cannot be a substitute for comprehensive investment analysis. The author recommends that potential and existing investors conduct thorough investment research of their own, including detailed review of the companies' SEC filings. Any opinions or estimates constitute the author's best judgment as of the date of publication, and are subject to change without notice.