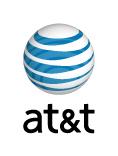 I was taken aback when a recent article from a well-known author here on Seeking Alpha suggested selling AT&T (NYSE:T) (see AT&T: Major Sell Signal Just Flashed, by David Alton Clark). The article noted that the stock was trading at "nosebleed" levels after its YTD 15% rally and would face tough comps from 2015.
As a long-term investor, this seemed like quite a shortsighted view on one of the best-performing income names out there. In my opinion, AT&T should be held for the long term.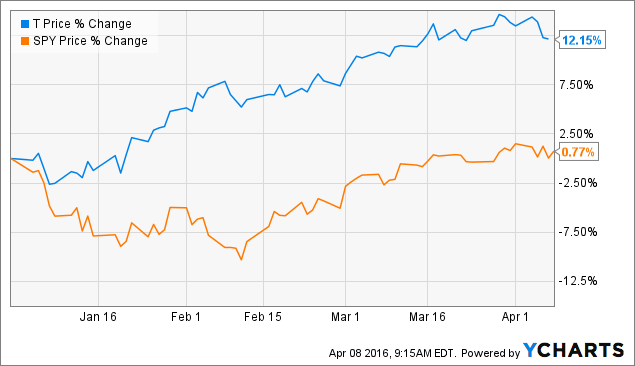 Core wireless segment has rebounded
After facing a rough 2014 where it saw earnings and free cash flow decline sharply, AT&T's fortunes rebounded in 2015. The main reason has to do with success at its core wireless segment.
In 2014, in response to pressure from T-Mobile (NASDAQ:TMUS) and Sprint (NYSE:S), AT&T moved away from two-year contracts and unveiled AT&T Next. This initially hit in wireless margins as revenues dropped and costs stayed flat.
Though, by late 2015, a full 80% of smartphone sales were on the Next plans. This resulted in considerable declines in operating costs as the costly device subsidies were no longer being paid.
What was once a headwind has turned into a tailwind. Operating income from this segment climbed 15% in 2015. Thanks to this and DTV, AT&T saw FCF per share at 30% in 2015. This trend is likely to continue in 2016.
Free cash flow to accelerate thanks to DTV
Not only is AT&T growing FCF from its core wireless holdings, but it is also benefiting from the addition of DTV assets to the fold. The company completed the merger in mid-2015 and the synergies are only now just starting to roll in. This includes things such as cost cutting and renegotiating programming contracts which are still in the works.
From its recent guidance, FCF for 2016 is slated to reach over $17 billion. This is an increase of 12% from 2015 levels. On a per share basis, AT&T's FCF is slated to hit ~$2.75 in 2016, up from ~$2.44 in 2015. I estimate that addition of the DTV assets will boost AT&T's FCF per share by $0.25 per share after the first full year.
At this level of FCF, AT&T is trading at a 14x multiple and an FCF yield of 7.12%, hardly expensive. The dividend payout ratio is also a modest 70% of FCF, indicating plenty of room for growth.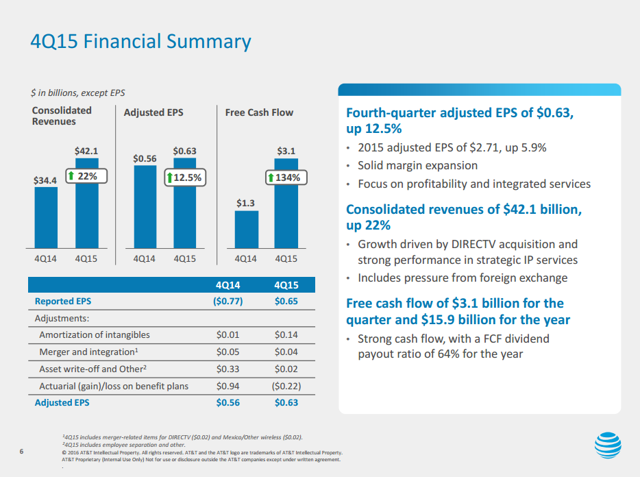 Click to enlarge
Mexico is growing fast
Another thing AT&T has going for it is growth in Mexico. After buying Iusacell and Nextel Mexico a few years back, AT&T is pouring as much as $3 billion in that nation building out a 4G network. The company just announced it had added 1M Mexican 4G customers in Q1 2016. Mexico is expected to be one of the primary revenue growth drivers for AT&T going forward.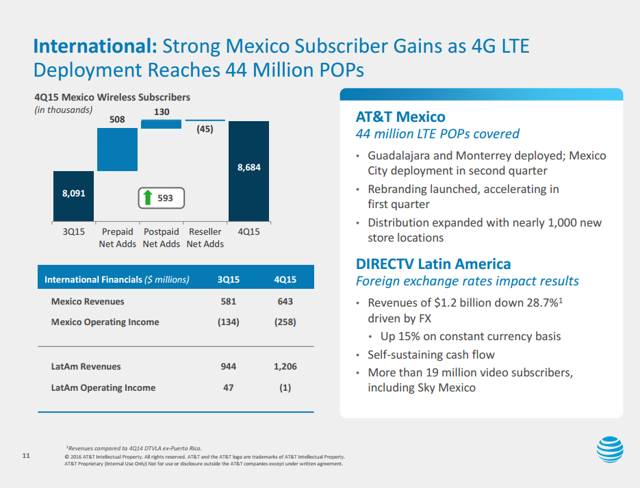 Click to enlarge
Strong dividend rewards holding for the long-term
Lastly, why would anyone want to sell a stock with a 5% dividend yield and improving fundamentals? This yield is well above treasuries and at one of the lowest payout levels in years.
Furthermore, AT&T has been no slouch when it comes to total returns. The stock has easily beaten the market over the past 10 years, posting a total return of 150% versus 95% for the S&P 500 in that period, most of which has come from the sizable dividend.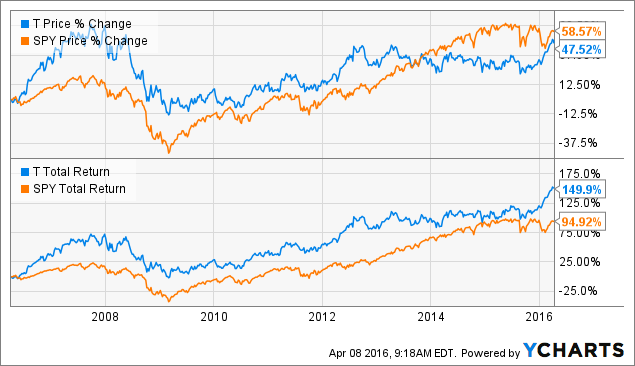 Conclusion
The worst thing a long-term investor can do is to sell a core holding just because it is slightly overvalued. Trying to time the market is a sure-fire way to underperform it.
Sure, AT&T is no longer as cheap as it was earlier in the year. But, it is hardly expensive either. Furthermore, there are plenty of growth catalysts coming online, and soon.
In my opinion, holding AT&T not only locks in considerable income, but as shown above, also results in a market beating total returns. Selling the stock just to lock in a ~10% profit seems very shortsighted.
Disclaimer: The opinions in this article are for informational purposes only and should not be construed as a recommendation to buy or sell the stocks mentioned. Please do your own due diligence before making any investment decision.
Disclosure: I am/we are long T.
I wrote this article myself, and it expresses my own opinions. I am not receiving compensation for it (other than from Seeking Alpha). I have no business relationship with any company whose stock is mentioned in this article.