Winnebago Industries (NYSE:WGO) is one of those companies in the consumer discretionary sector that could be bought for a song seven years ago when everyone thought the world was ending. On March 6th 2009 the shares closed at $3.23, which made the stock a remarkable ten-bagger by late 2013.
In markets where fear is rampant, not a lot seems more superfluous than RVs. I remember asking myself in September 2008,when the market started crashing but oil was still $100, who would ever buy one of these things? Having one sit in your driveway would be the biggest white elephant ever. Yet Winnebago survived and thrived, and RV culture remains alive and well to this day, a staple to a select fan base like motorcycles, fly fishing, and old seasons of Buffy The Vampire Slayer.
The company did struggle to maintain the momentum after the spectacular US bull market year that was 2015 and has slowly moved down about 30% from those highs the last two years. The last 6 months have been quite volatile: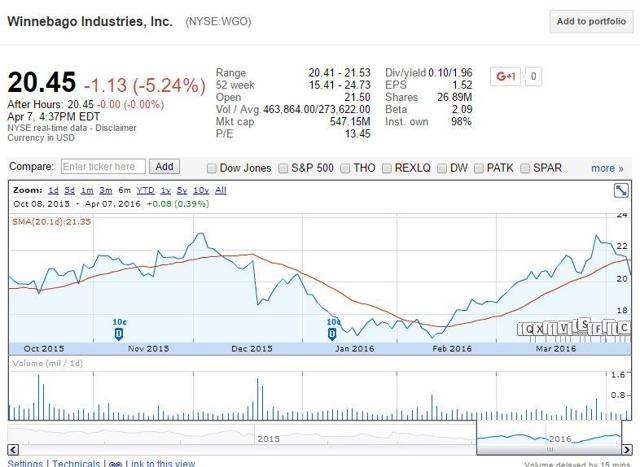 Click to enlarge
(source: googlefinance.com)
The company reported fourth quarter results on Thursday March 24th at the market open, and the market clearly liked what it saw as the stock steadily moved up throughout the day closing 3.65% in the positive and adding another 1.03% the following Monday. The stock sported a 14.63% one month gain from February 28th to March 28th. In the last two trading days it has given much of that back.
This is clearly not a "buy and hold" dividend champion. With a beta of 2.07, it is currently twice as volatile as the broader market. And this is a company whose long term performance is worth looking at. There are many companies that are cyclical in nature because of the "discretionary" nature of their sector but WGO is right on the mark of economic cycle shifts. I note that if we look at the long term chart a dividend was initiated following a terrible recession (beginning of 1980s), suspended during the next bad recession (beginning of 1990s), reinstated during a period of sustained economic growth (1994-2007), and cut in the wake of the 2008-2009 financial crisis. Lo and behold, at the end of 2014, as QE is withdrawn and the US economy finally seems to be achieving escape velocity, Winnebago reintroduces a 9 cent dividend which was raised to 10 cents this year.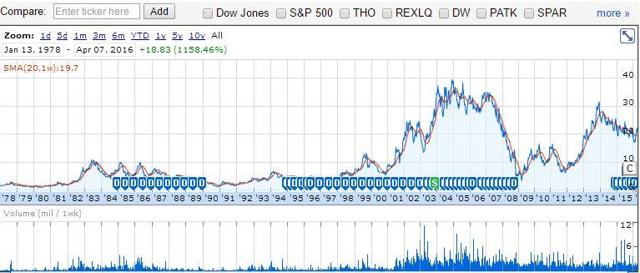 Click to enlarge
When we look at the "dividend deserts" that correspond with bad recessions, we can surmise that we are just beginning a new period of sustained growth. But even if that is true, you can buy the stock now for what you could in 2001. Not exactly explosive growth in the company, even if there was in certain sectors of the economy. And with central bankers constantly massaging the markets with their messaging and their actions, it could just as easily be true that the old rules don't apply anymore.
Operationally, management is doing some interesting things to try and sustain the momentum, which is what they called it on the Q1 earnings conference call. There is no doubt this company awhile occupies an interesting niche and has a strong organizational culture. Founded in 1958 in Iowa, Winnebago has achieved exceptional staying power and brand recognition in its market, so much so that the name of the company is synonymous with the type of vehicle itself. This kind of monopoly power without a monopoly cannot be bought; it must be earned over decades. I remember being a kid and hearing RVs referred to as "Winnebagos" by adults, and 20 something years later, the company is going stronger than ever.
When we look at the long term trend of Winnebago, two things stand out that are impressive. One is that the company has been publicly traded without interruption since at least the mid 1970s and has no long term debt. Two is that the company's fortunes in the market are directly tied to the US macroeconomic picture. Makes sense, right? RVing and keeping your RV tends not to top the household priority list during economic downturns and periods of high unemployment, especially with models that range from the low 20s to the high 180s. These are simply out of reach for the vast majority of people in North America: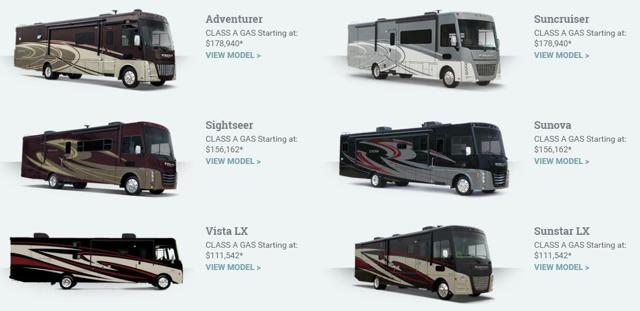 Click to enlarge
Source: company website
What makes it difficult to develop a thesis on this criteria alone is that within the SA contributor base and the broader community of market commentators, the health of the US economy and where we currently located in the economic cycle is a polarizing topic and a continued source of debate. There are those who believe we are in a secular bull market and stocks are the "only game in town" and those who believe this is a zombie recovery fueled by monetary policy, cheap money, and no credible organic forces. The only thing I feel comfortable agreeing with is that the old rules no longer apply. The longer we go without a meaningful correction (although we have had two meaningful dips in August and at the beginning of the year, as well as the oil crash), the more we have to prepare for a big one. At the prices above, I would argue that Winnebagos are luxury goods and validated this by comparing their performance with the DJIA Global Luxury index, with which there seems to be a positive correlation: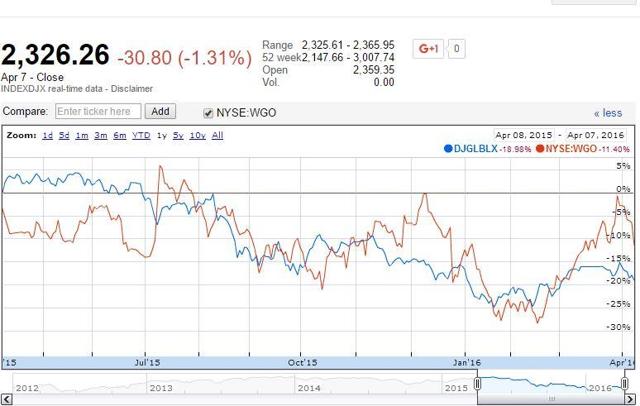 Click to enlarge
But just as the economy may no longer be following its traditional expansion/peak/contraction/recession model, the demographic triangle has turned into a bulge with millions of boomers hitting retirement over the next ten years. Health care is one example of an increasingly crowded trade in response to this. And if you're big on trying to get where the market is going based on demographic trends, and you figure that restless retired boomers flush with cash are going to be hitting the open road, Winnebago would seem like a logical "play" on that view. The CEO said as much in his remarks on the Q4 earnings conference call. I'm sure the idea is appealing to a certain segment of the boomer population but before thinking they are all going to take off like Jack Nicholson in About Schmidt, I would caution that not all boomers are retired insurance executives as his character was in that movie.
On the Q1 earnings conference call, new CEO Michael Happe talked about how he had spent much of his first few months on the job on the road visiting dealers. They, like him, feel optimistic about "demographic momentum" and report, for the most part, healthy amounts of traffic. The company is earnest about not letting what I call incumbent complacency set in, meaning that just because they are an old company based in a rural area they are not resting on their laurels. Process improvement and expense limiting initiatives are underway or in the works, and the company has hired a bunch of workers and opened a new plant in Oregon showing that there is indeed wind in the sails.
The company has grown its revenues nearly 100% (500M in 2011 to almost $1B in 2015) over the past few years and boasts a 98% institutional ownership. With a beta of 2.05 and a market cap of 566M, this is a stock that will experience volatility in both directions. 1.88% as a dividend does not qualify as "getting paid while you wait" and is hardly enough to cushion any downside; however, the 10% increase last year does signal confidence from management going forward.
Because of a relentless focus on the market in relation to fed policy, and traditional economic models continuing to show cracks worldwide due to demographics, I expect a lot of angst to continue around fed announcements and the length of the bull market. If things go well in the market, I think this stock will have momentum on its side going into the summer. A forward P/E of 11.2, Price to Sales, Price to Revenue Growth and Return on Assets all above its peers according to Morningstar. If things do not go well all bets are off. The stock has given back all of the post earning gains and today, in a rough day in the market, was down over 5% on twice the average volume.
If you believe the market is going to trend strongly one way or another for the rest of the year, I think Winnebago is a good way to express either thesis. They have two earnings to get through between now and October, but despite the wild year the market has had so far volatility pricing is very low in options right now. If you buy October calls and puts you are mostly paying for time value because the Implied Volatility is only in the 27th percentile. That means the market will most likely price in more potential of a move, and therefore more risk, 73% of the time or the majority of the time compared to now.

Click to enlarge
Since I am neutral to moderately bearish on my market outlook, I am going to approach this with a straddle. Even though Winnebago is a small cap stock with $557M market cap and not a lot of option volume (which many option traders will tell you to stay away from), I can see that even at the other end of the bid ask (remember to always use limit orders) a July $20 straddle can be put on right now for less than $3.

Click to enlarge
In my opinion this represents the best risk/reward on this security right now, because my main conviction for the next few months is that there will be a move. I'm leaning toward down, but why leave it to chance. The straddle will allow us to be profitable at either $16 or $24, and with more than 90 days until expiration, I think the stock has a good chance of re-testing either its recent highs or lows. Just like an inexperienced driver probably shouldn't drive one of these bus-like contraptions, I'm not willing to endure the bumpy ride a conventional long position promises into this summer.
Disclosure: I/we have no positions in any stocks mentioned, but may initiate a long position in WGO over the next 72 hours.
I wrote this article myself, and it expresses my own opinions. I am not receiving compensation for it (other than from Seeking Alpha). I have no business relationship with any company whose stock is mentioned in this article.