Introduction
The world needs to know where it is going and how to get there - now more than ever.
Garmin (NASDAQ:GRMN) is one of the leaders in making this a reality. Can the company guide your portfolio to new heights?

Company Overview
Before I dove in deep to research Garmin for this article, I assumed they were a dying company still trying to hawk bulky GPS devices for your car that no one wanted because their cell phone comes with that built right in.
I remember having a Garmin before the iPhone took off and it was handy but a pain to update because you had to plug it into your computer. After a few years of not updating it became suicidal and had you trying to drive on roads that no longer existed.
The reality of Garmin is much more complex and interesting than that, though.
In reality, Garmin has a wide selection of products in different areas like fitness, outdoors, auto, aviation and marine.
While the automotive segment is still their largest, about 45% of the company, the other segments combined have grown to make up the other 65% and look to continue growing at a good clip.
I will touch briefly on each segment, the products that make up it, and the recent results then move on to the company as a whole.
Auto
The auto segment consists of standalone GPS devices for cars, trucks, motorcycles, built in-dash GPD devices that come built into new cars, as well as cameras and a few other care accessories.
Up until 2013 many analysts and investors focused only on this segment, and for good reason. Before 2013 this segment was more than half of the company sales and its results wagged the dog, as they say. As I pointed out above, this is starting to move in the right direction and is now 45% and shrinking.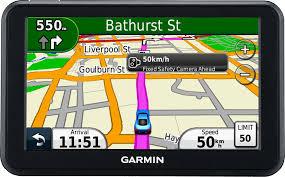 Results for this division recently have not been great. Sales in the most recent quarter were down 21% year-over-year and down 15% for the full year.
While I wish I could say that this was a cyclical decline and there is a catalyst around the corner that could stabilize this segment I just don't see anything that fits the criteria. While in-dash sales are likely to continue to bolster this segment, without an acquisition of some sort I expect continued pain ahead as sales have tumbled for the last three fiscal years.
Fitness
And now we get to the exciting part, one of the main reasons to consider Garmin. The fitness segment includes activity and health trackers. They also have a small lineup of action cameras similar to what you might find from GoPro.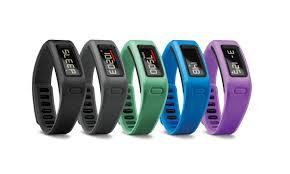 Fitness segment sales are up 14% in the latest quarter year-over-year and up 16% on a full year-over-year basis. Someday in the not too distant future this segment might well become the workhorse of Garmin as it surpasses the Auto segment.
Industry projections for the fitness band/wearable industry are upwards of $5.8 billion of sales in 2018, almost triple 2015 sales.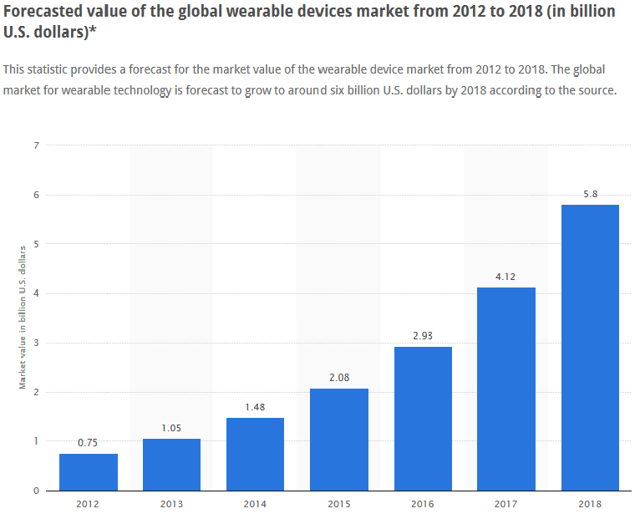 (Source)
Capturing more and more of this growth is critical for the long-term success of this segment and Garmin as a whole.
Some might worry about competition from Apple (NASDAQ:AAPL) in this space, but considering the Apple Watch seems to have just sold "okay," considering Apple won't even mention the bloody thing on their conference call snor break out the sales, I'm no longer buying that thesis.
Outdoor
Garmin's outdoor segment includes dog walking/monitoring devices, wearables for hiking, biking, swimming and golf. This is a smaller part of Garmin's business that has been going at a steady clip but the company is looking to accelerate growth here with a concentrated R&D investment as well as some acquisitions.
Recent acquisitions include DeLorme, maker of enterprise GPS and two-way satellite communication devices that are popular with pilots, hunters, boaters and other outdoor professions.
Another recent acquisition was Pulsedlight, a maker of optical distance measuring technology.
The Pulsedlight acquisition also has applications outside of the outdoor segment and might help Garmin expand their capabilities in smart traffic and blind spot detection for automobiles.
Sales for this segment were down 1% for the year but up 6% in the latest quarter.

Aviation
This is one of the more intriguing segments of the Garmin story because I see the potential here for steady long-term growth over the next 10-15 years.
Airbus (OTCPK:EADSF), a European-based plane manufacturer, despite their bias, projects air traffic to double over the next 15 years.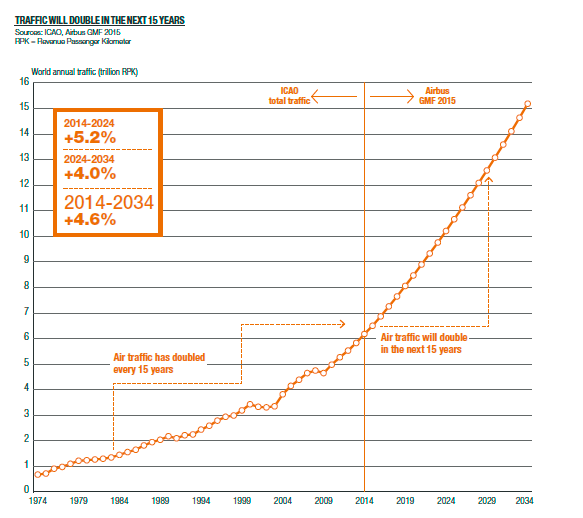 (Source)
Sales here increased 12% in the latest quarter year-over-year and 3% for the full year. This is the fourth largest division out of five total.

Marine
The Marine segment produces cameras, autopilot systems, fish locations, navigation, wind sensors and other technology for a variety of marine uses both recreational and professional.
This is the smallest segment at Garmin but also one of the fastest growing with 8% sales growth in the recent quarter year-over-year and 15% growth for the full year. It is about 1/4th the size, sales wise, of the auto segment.
One study has US recreational boating sales growing 6.1 percent by 2018 to a total of $13.1 billion. I expect this to remain a small but growing part of Garmin's overall business.
Valuation
Garmin's stock price has come down a fair bit since the middle of 2014 when it reached a peak around $60 per share. The company trades at 16.8 times last years earnings and sports a suprisingly big 5%-plus yield.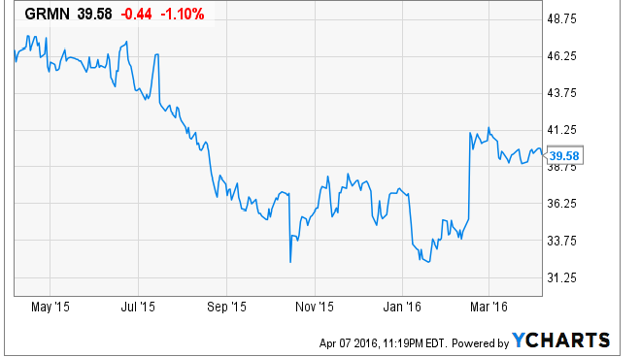 This high of a yield on a stock that is not a utility, MLP or REIT may be a red flag for investors but hopefully this article will give you a clearer picture of the state of Garmin and you can decide that for yourself. The five-year dividend growth rate is 6.34% and the payout ratio is a bit high at 85.36%.
One of the unique things about Garmin is their balance sheet is absolutely world class. They have zero long-term debt and in most of the past years/quarters they have had more cash on the balance sheet than they had TOTAL liabilities.
An argument could be made that the company is holding too much cash and could use some of that along with some cheap debt to go on a shopping spree and you could be right. But Garmin has done its fair share of acquisitions over the years and they have mostly stuck to acquisitions that fit their core strengths and portfolio.
They could have gone bananas and started buying up random technology companies left and rights but they are taking a conservative approach it would seem.
Conclusion
So is Garmin a sinking ship, a value trap or a turnaround story in the making?
I believe that Garmin has more to show us still and prefer to wait until I see that the auto revenues have truly flatlined so that total company revenue is headed in the right direction aided by their fast growing fitness segment, among others.
Until that happens it is uncertain what the company will look like in few years. I compare Garmin to IBM (NYSE:IBM), despite the fact that they are radically different in size and sector, as they have a similar story.
IBM is trying to grow its new revenue sources to offset their old, forever declining ones and it appears a similar story is at work here at Garmin.
Adventurous investors who are starved for yield could initiate a small position while they wait for definitive signs of the turn, but I'm going to stay on the sidelines and watch from a distance, but with a close eye trained on Garmin's performance going forward.
Disclosure: I/we have no positions in any stocks mentioned, and no plans to initiate any positions within the next 72 hours.
I wrote this article myself, and it expresses my own opinions. I am not receiving compensation for it (other than from Seeking Alpha). I have no business relationship with any company whose stock is mentioned in this article.