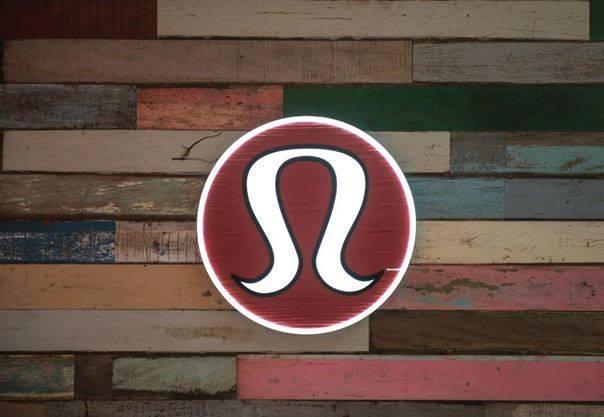 In December 2015, I outlined my thesis why one should buy Lululemon Athletica (NASDAQ:LULU) to take advantage of the sale that was occurring in its stock price. In that piece, it was my feeling that even if one assumed that the company's growth rate was half of its historical rate, the stock was selling for half of its intrinsic value. At that time, I valued the company to be worth at least $55 with a potential annual profit rate of 11.8% over the next five years. That was my conservative take. Here is how it has performed since I bought it on November 16, 2015. As one can see the stock price has appreciated 43% since my initial call.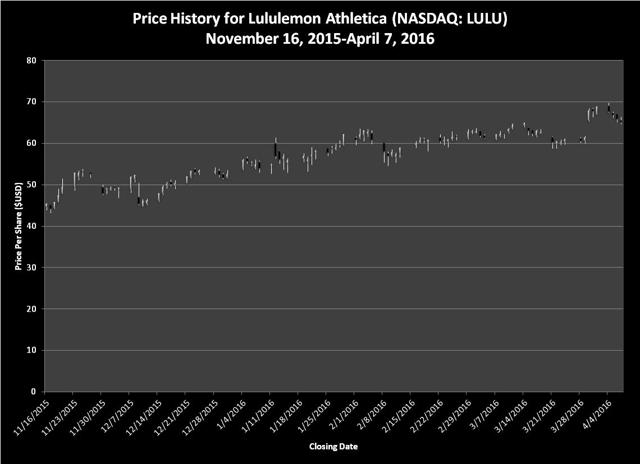 Click to enlarge
Figure 1
It appears the market recognized these facts, and the gains were helped last month when an "earnings beat" was announced on March 30. The market showed its appreciation when the stock climbed 10.7% in one day. Based on a year-over-year basis, earnings grew 13.9%, and revenues grew 15%. The real driver for the investor confidence, however, was the holiday quarter outperformed expectations ($0.85 v. $0.80). This was not originally expected because of the inventory issues stemming from the recent dockworker strikes in California. According to CFO Stuart Haselden, " we're pleased with the progress that we've made on the inventory balances."
At the end of the day, it really is about the numbers. According to the updated outlook from the company,"Diluted earnings per share are expected to be in the range of $2.05 to $2.15 for the full year." If one performs the simple math, that projects an earnings growth rate of 11.11% for the next fiscal year. This growth in earnings will be supported by a predicted 10% increase in revenues. With earnings growth outpacing revenue growth, the company is assuming that net margins will improve in the coming months. This is more optimistic than the 10.45% annual growth the company has enjoyed over the last five years, and certainly more robust than the regressed 7.11% over the same time period.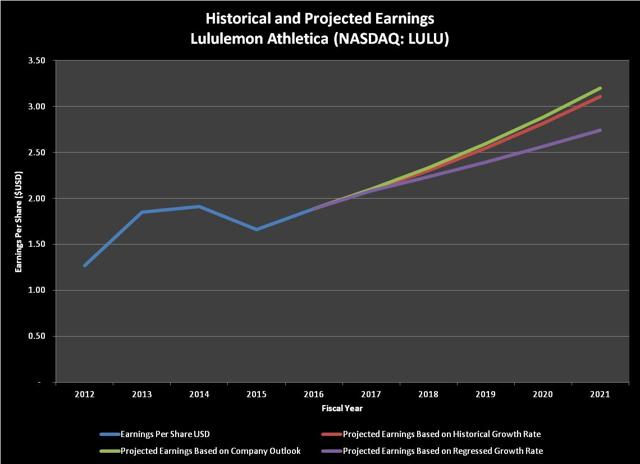 Click to enlarge
Figure 2
I am not comfortable using the company's projections, especially when they are greater than what their recent history shows a different story. I fully understand that LULU continues to unload their excess inventory in a controlled fashion, but that still means there is going to be a margin squeeze in the near future. I am much more comfortable using the more conservative historical growth rate. If that is true, their future earnings will look like this in the coming years:
| | | | |
| --- | --- | --- | --- |
| Fiscal Year | Projected Earnings Per Share Based on Exponential Regression ± 0.15 ($USD) | Projected Earnings Per Share Based on Historical Growth ($USD) | Projected Earnings Based on Company Outlook ($USD) |
| January 2017 | 2.09 | 2.09 | 2.10 |
| January 2018 | 2.23 | 2.31 | 2.33 |
| January 2019 | 2.39 | 2.55 | 2.59 |
| January 2020 | 2.56 | 2.81 | 2.88 |
| January 2021 | 2.74 | 3.11 | 3.20 |
Table 1
Coupled with this is the issue of finding a reliable multiple for a future target price. Currently, LULU's P/E ratio is a frothy 35.3 and its five year average is almost 37.9. If one wants to assume the more moderate 10.45% growth rate, the future target price is $109.78 or a 10.47% annual price appreciation. Is any of this is worth the risk? Using the historical growth rates and current P/E, I assumed a Required Rate of Return of 8.5% (β = 0.89). That gives LULU a current present value no more than $73.00; and that assumes a best case scenario. Even though the historical numbers indicate that LULU is undervalued, it is still not a stock I want to add additional shares to my portfolio. Why? I always throw in an additional standard where the stock price has to double in five years for it to be worth my investment. That is my personal margin of safety, and I just don't see that happening now with the recent run up that has occurred.
Here is where I have real concerns, though. The current P/E ratio is too high for a company whose earnings could potentially settle into a 7.11% growth rate. Given that, I will assume the more mundane industry average of 27.1. If that holds true, then LULU's five year target price will be $74.25 for a 2.2% annual gain. Additionally, that places LULU's present value at $49.40. That means the yoga apparel maker is potentially overvalued.
My advice is simple. If you already own LULU, then hold and watch the earnings reports as they roll out. If you do not own it, then simply walk away.
This is what other are saying about Lululemon:
Morningstar (3 Stars)
The Street (BUY)
Thomson Reuters (Neutral)
Market Edge (NASDAQ:LONG)
Wolf Research (Peer Perform)
UBS (Neutral)
Telsey Advisory Group (Outperform)
Nomura (Buy)
MKM Partners (Buy)
Mizuho (Neutral)
Deutsche Bank (NYSEARCA:HOLD)
Happy Investing!
Disclosure: I am/we are long LULU.
I wrote this article myself, and it expresses my own opinions. I am not receiving compensation for it (other than from Seeking Alpha). I have no business relationship with any company whose stock is mentioned in this article.
Additional disclosure: All historical earnings data from Morningstar.com