Cheniere Energy (NYSEMKT:LNG) confronts a dilemma it helped create: a new worldwide market in liquefied natural gas so robust it's erasing the arbitrage that birthed it. Cheniere is a tale of two businesses, both built inside a corporate structure the market seems to have turned against.
Background
There's been a worldwide market in crude oil since the launch of the first oceangoing tanker in 1885. Natural gas had to wait 75 years for vessel technology to catch up, because natural gas must be cooled to -262°F -- liquefying it and reducing its volume by 99.8% -- to justify the shipping cost.
Before LNG, all natural gas moved by pipeline. Pipeline networks created several closed markets -- the largest were North America, Middle East-Southern Europe, and USSR-Northern Europe. These markets didn't interact, and large basins of natural gas were stranded from the world market -- particularly in Nigeria, Australia, the Persian Gulf, and the northwestern coast of North America.
LNG began to change the shape of the market in the 1970s and 1980s. Qatar, Nigeria, and Australia began work on large scale LNG exports. These projects were expensive: They involved massive construction in areas empty of both large scale logistical networks and skilled workforces. Exporters demanded decades-long take-or-pay contracts to offset their investment. Because there was no worldwide price for natural gas, and because one MMBtu of gas is the thermal equivalent of 16.6% of a barrel of crude oil, the contracts were priced around 16.6% of Brent.
Of course, natural gas and crude oil are different commodities with different end markets, and their prices do not naturally correlate.
In the middle 2000s, the U.S. natural gas market had a bull run, with prices more than doubling the historical average. Natural gas consumption was growing, domestic production forecasts were grim, and "peak oil" hysteria passed for common wisdom. Because the price of U.S. natural gas was trading consistently above 16.6% of Brent crude, a new arbitrage presented itself.
The First Cheniere
Charif Souki, the enigmatic and sometimes infuriating former CEO of Cheniere, had an idea. The western Gulf of Mexico, where he had tried to launch an exploration and production business, is rich in sheltered harbors and holds Erath, La. -- home of the Henry Hub, the largest physical trading center of natural gas in the Americas. He decided that his firm would enter the LNG importing business.
Starting in early 2006, Cheniere raised financing in the high yield and convertible markets. It signed up Chevron and Total for 20 year contracts that covered 50% of its capacity, and started building North America's largest LNG import terminal. Sabine Pass LNG was finished on time in 2009.
During the construction, the price of natural gas tumbled to historic lows. Part of the fall was due to regulators investigating trading in natural gas futures. Part was due to the world financial crisis. But mostly, natural gas fell due to the combination of two old energy production methods -- horizontal drilling and hydraulic fracturing. This powerful new technique for domestic energy production started the "shale revolution."
And the US LNG import business was strangled in its cradle.
The Second Cheniere
Despite the disappointment, Mr. Souki and his team recognized fracking had made the U.S. one of the lowest cost producers of gas in the world -- but the gas was still stranded in North America. Cheniere also knew that if the U.S. became an exporter it could be a different kind of exporter.
Australian, Qatari, and Nigerian projects owned individual gas plays, they did all their drilling and production themselves, they had to build new roads and railways and ports and gas processing plants and storage tanks, and they had to recruit thousands of skilled laborers from abroad to do it.
But the Gulf Coast was full of producers willing to sell Cheniere already processed natural gas at market prices, it already had many highways and railroads and ports, and it was teeming with armies of skilled workers who lived within driving distance. In Australia it cost $3,000 per metric ton of capacity and took five years to build a liquefaction train -- but Cheniere's trains price below $800/MT with a three-year build.
Because of these advantages, Cheniere was able to make customers an attractive offer. Instead of offering an artificial price linked to Brent, Cheniere offered them a market price in U.S. natural gas and allowed them to either take the gas if they liked the price, or pay a fixed reservation fee if they didn't. Because Cheniere is a middleman, it didn't have to take on the risk of owning the commodity, and so -- unlike Australia, Nigeria, or Qatar -- it didn't have to force its customers to absorb that risk. Cheniere quickly filled up seven and a half of its nine planned liquefaction trains -- 83% of its planned capacity.
The Corporate Structure
Another advantage Cheniere had -- because it was purely a midstream business and not a producer -- was the tax benefit of the master limited partnership "MLP" structure that the US offers. Cheniere Energy is the general partner of Cheniere Energy Partners (NYSEMKT:CQP), an MLP.
Cheniere Energy owns 100% of the controlling general partner of CQP, and also a fully diluted 40% interest in the limited partnership. Above a certain threshold, the general partner is entitled to 50% of CQP's distributable cash. This means Cheniere will capture approximately 66% of CQP's cash flow.
CQP owns the import business and six of the nine trains of the export business. The import business matters because it holds import contracts that pay $250mm through 2029, and because it owns the storage assets that the export business uses. The import business (SPLNG) has its own $2.1B of debt financing at a cost of 7.3%, most of which matures this November.
Cheniere has two export projects, one built next to the import project in Cameron Parish, Louisiana and another in Corpus Christi, Texas. CQP owns the six trains in Louisiana, five of which are fully debt financed and contracted. Those trains carry $9.4B of debt at a cost of 5.5% with long-term maturities.
The Texas project is owned directly by Cheniere Energy, outside of its stake in CQP. Two of its three trains are fully debt financed and contracted. The Texas trains have $5.4B in debt financing. Cheniere will receive all of that project's cash flow.
The End of the MLP Golden Age
In theory, MLPs take low risk energy infrastructure assets (pipelines, compressors, storage tanks, etc.) which have long-term cash flow visibility because of supply or reservation contracts, and pass through the stable cash flow untrammeled by corporate tax.
The stable cash flows allowed holding companies of MLPs to use debt to purchase more and more midstream assets, enhancing their cash yield through leverage. At the peak, MLP holding companies traded at nearly forty times free cash flow (or below 3% cash yield) and the MLP subsidiaries at twenty times free cash flow or higher. The multiples were supported not only by the REIT-like structure, but also by low borrowing costs and rapid growth in infrastructure from the "shale revolution."
When falling oil prices dried up debt financing for oil producers, MLPs saw their future growth prospects falter, and their customers' survival questioned. Confidence in growth had kept their yields low, but fear made their cost of capital skyrocket. MLPs are a disrupted asset class for now.
The Cheniere Opportunity
Once again, Cheniere started a project as the commodity market heated up, and finished it just in time to watch it cool down. One factor has changed, however. Only half of their capacity was filled last time, but today that number is over 90%.
Cheniere is different from other MLPs. Most MLPs have contracts averaging less than five years -- Cheniere's contracts average twenty. Most MLPs are already collecting 90% of the cash they expect to generate over the next three years -- but more than 90% of Cheniere's contracted cash flow just begins in the next three years. Cheniere has both stability and growth kicking in now, just as the rest of the MLP group weakens.
In 2020, Cheniere's projects should produce $3.9B of contracted EBITDA, with 4.5 turns of total leverage -- but interest coverage of 4.3 times. The current valuation of the firm implies a forward enterprise value of 8.25 times EBITDA, discounted at 10%.
Cheniere's 4.25% holding company converts currently yield 8.7% - seemingly reflecting two exaggerated views of the bonds' risk. One is fear of default and the other is fear of negative carry. The two are interrelated. Because of the length and the consistency of the cash payments from Cheniere's customers, the high level of leverage will be accompanied by a high level of interest coverage. Because the market no longer values MLP holding companies on an implied cash dividend yield, but on a multiple of cash flow, Cheniere has incentive to use that cash flow to pay down debt rather than pay out a dividend.
Strong coverage and a motive to delever should lower fear of default and improve the chances of credit tightening, while a weaker incentive to pay a dividend should lower hedged investors' fears of having to pay out a chunky dividend.
Historically, coal enjoyed a large price advantage over natural gas in those markets. But that price advantage is fading, and coal has two large drawbacks: It is dirty and it is unwieldy. Its dirtiness worsens urban living, hurts compliance with international treaties, and stokes environmentalist anger. Coal only works well at baseload dispatch: It pours the same amount of power into the grid day and night. This is good for powering factories, but wasteful for matching the daily rhythms of households and offices. Natural gas is cleaner than coal, and while its flexible power output already makes it superior by itself, it also boosts the value of renewable power sources like solar and wind.
Because the world price of natural gas has fallen, because natural gas receiving terminals are much cheaper and faster to build than just five years ago, and because LNG carriers are much more plentiful than they were just two years ago, the LNG market could rebound more quickly than most observers seem to be anticipating. Growth does not need to come from new energy demand in key end markets like the Pacific Rim, Europe, and Latin America. It could come from substitution alone.
If this growth comes, Cheniere's expertise and preparation would give it the drop on its competitors.
Credit Waterfall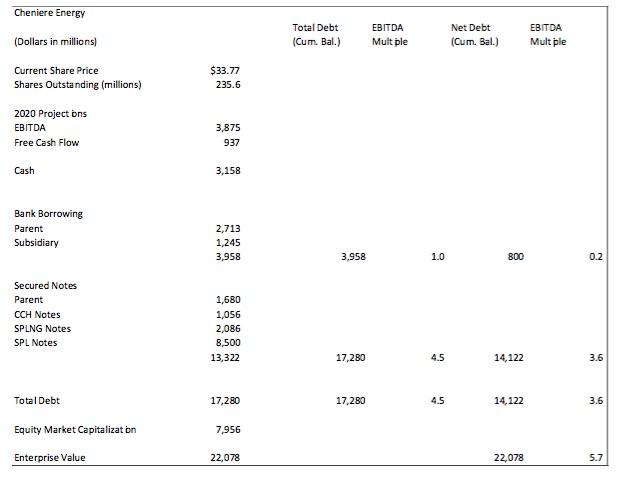 Sources: Bloomberg, Company Data
Disclosure: I am/we are long LNG.
I wrote this article myself, and it expresses my own opinions. I am not receiving compensation for it. I have no business relationship with any company whose stock is mentioned in this article.
Additional disclosure: Originally published 4/4/16 in Hybrid Vigor, a Hillside Advisors LLC publication.