On January 27, 2016, David Einhorn's Greenlight Capital (NASDAQ:GLRE) added a former partner from the hedge fund to the board of SunEdison (NYSE:SUNE). Claire Gogel's presence on the board could be the catalyst for the company as it appears to be entering bankruptcy. According to filings, Greenlight Capital will look to sell various assets or the company outright. SunEdison also agreed to a deal with Greenlight not to issue equity for two years without the approval of almost all members of the board.
The market is fed up with SunEdison and slammed the company over 90% in only the last six months. Is this decline justified? Is there no value to this company? Will Einhorn be able to unlock shareholder value?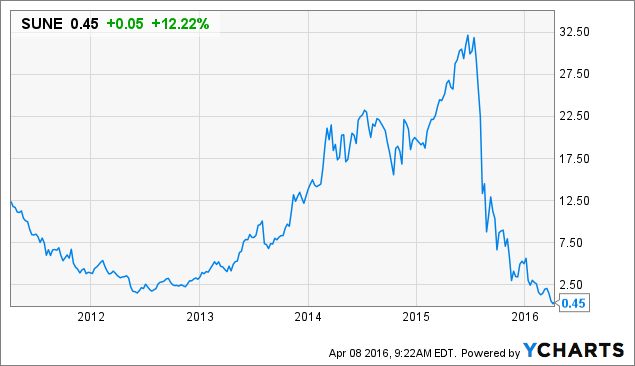 SUNE data by YCharts
Einhorn's presence and recent board activity tell us that he sees exceptional value or he would've left months ago. Even in banktuptcy, there could be potential for investors. Let's see if there is an opportunity in SunEdison at current levels.
How did this all start?
SunEdison was one of Greenlight's most promising investment opportunities. In an October 20, 2014, presentation at the Robin Hood Conference, he had this to say about the company:
"We believe the market misunderstands SunEdison. The financial statements are complicated because they consolidate the company's interests in several public companies and the non-recourse debt of various solar projects that SUNE controls. This makes it challenging to decipher the economic value of the company from a cursory review of the balance sheet or income statement. We believe this leads to sell-side analysts mis-analyzing the company, and the market undervaluing the stock..."
SunEdison helped pioneer a business model that was incredibly popular with renewable energy companies. The company would build a solar power plant and simply sell the power plants to a yieldco subsidiary (company that owns operating assets that produce cash flow, mainly from long-term contracts). TerraForm Power Inc. (NASDAQ:TERP) and TerraForm Global Inc. (NASDAQ:GLBL). were the subsidiaries for SunEdison. Both companies were spun-off in
This structure would separate the construction and operation risks. The business model was brilliant. The yieldcos would manage the operational aspect. SunEdiston would manage the power plant's riskier lifecycle.
As of September 30, 2015, Greenlight Capital owned 6% of SunEdison. Following the recent collapse in share prices, Greenlight sprang into action and increased their stake in SunEdison to 8%.
What's up with the yieldcos?
SunEdison shares came under pressure because of its dependence on the yieldcos. TerraForm Power and TerraForm Global are both publically traded, but SunEdison controls them. Can you see the potential conflicts of interest here? I wish I could unload all my debt to a separate entity to shore up my balance sheet. :)
As this model gained popularity and acceptance, investors were attracted to the high dividends of the yieldcos that were eventually spun-off. The yieldcos were able to raise cash through the selling of their stock to purchase the power plants from SunEdison. However, the recent decline in commodity prices has put pressure on the entire industry, and share prices have plummeted as a result. The share price decline has made it much more difficult for the yieldcos to offer shares and raise enough money for them to buy the projects from SunEdison.
The market has become increasingly concerned that the yieldcos will not be able to purchase the projects from SunEdison. The inability of SunEdison to sell the projects leaves them with mountains of debt. Because of the recent uncertainties with the yieldcos, SunEdison said it would begin to look for third-party buyers because of the conflict of interest.
What's going to happen next?
Claire Gogel is an established private investor and former partner of Greenlight Capital. As a new board member, she will do everything in her power to unlock value in the company for shareholders (and Greenlight). On a sum-of-the-parts basis (SOTP), Einhorn sees incredible value:
"SunEdison's core development business is worth $15 per share, the Terraform stake is worth $4.50, the IDRs are worth around $9 and a couple other assets are worth another $3. This sums to about $32 per share, which is a good distance from where the stock is trading."
With shares trading at only $0.54 per share, the management and board of directors have lots of room to unlock value at much higher prices for shareholders, while keeping the underlying business intact. Even an outright sale of the company could fetch multiples of the current share price.
Bottom line
Markets can sometimes get caught up in the game of looking at stock prices to guide us a "good" or "bad" investment. Markets will always overreact to the downside (especially in the face of negative news). However, great investors see those moments as an opportunity and properly weigh perception versus reality. As Benjamin Graham said, "The market is there to serve you, not to guide you."
Seeing the exceptional value of SunEdison on a SOTP basis makes it tough to justify prices trading at such depressed levels. Also, the company will be making managerial changes and asset sales to stem the tide of the recent collapse, which should act as catalysts for the unlocking of shareholder value. The markets will eventually find a reasonable price for the company's stock price. I expect this to be far higher than current levels. The current share price appears to offer unique value.
How to play it
This should not be a large portion of your portfolio, but it appears to offer an asymmetric risk-reward profile. It's likely a long shot, but a combination of equity and bonds in the business could be a great idea. Be prepared for another down draft in shares if the company files for bankruptcy. When/if this occurs I'd look at the bonds to see if they offer opportunity. Einhorn has done very well in bankruptcies before, he's likely to succeed again with the assets of SunEdison at his disposal giving him optionality.
Disclosure: I am/we are long SUNE.
I wrote this article myself, and it expresses my own opinions. I am not receiving compensation for it (other than from Seeking Alpha). I have no business relationship with any company whose stock is mentioned in this article.
Editor's Note: This article covers one or more stocks trading at less than $1 per share and/or with less than a $100 million market cap. Please be aware of the risks associated with these stocks.