Back in early March, we wrote an article on China and the iShares China Large-Cap ETF (NYSEARCA:FXI). We analyzed the local economic landscape, some of the key challenges China is facing, and concluded that the Chinese market could be an investment opportunity for those who want global diversification. Since then, the stock market has climbed quite a bit. The Shanghai Composite has just crossed the 3000 mark. We continue to believe the valuation is attractive, and the catalysts we mentioned previously could unfold one by one.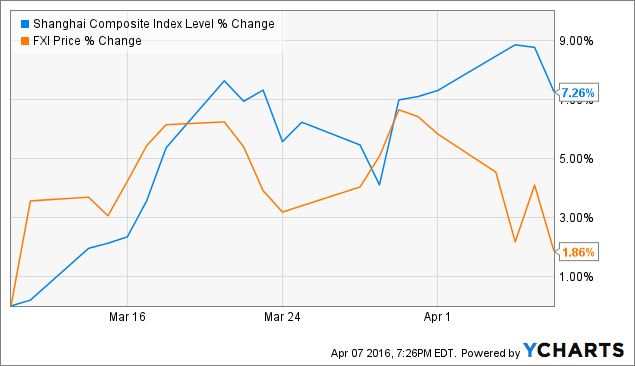 In this article, we will focus on another major topic on China: The 1 Trillion Yuan Debt for Equity Swap, and analyze how this will impact the market.
What happened? A Chinese version of QE
The Chinese government is considering to convert as much as 1 trillion yuan ($155 billion) of bad loans from banks into equity stakes. This decision may be approved as soon as end of this month. The motivation behind this debt for equity swap is to reduce banking industry's bad debts and stabilize the market. Check here for more reports from Bloomberg and The Telegraph.
How does the swap work?
In simple terms, the swap works like this. Instead of having businesses (private corporations and state owned corporations) pay back banks the loans (and the interests), banks will convert the debt into equity, and become shareholders of those firms. In practice, banks will set up asset management shops to implement the acquisition and conversion of loans as well as to monitor the new equity portfolios. Banks hope to exit those firms once the stock prices rise to a certain point.
The first round of conversion is expected to complete within 3 years or shorter. Conversions will focus on high-potential businesses that are experiencing financial stress, most of which are state owned companies.
Impact and Analysis
Since the end of 2011, we have seen the bad debt ratio among banks climbed steadily to 2.08% in 2016. In the same period, profitability of major banks have declined significantly. This has started to cause problems to the stock market, and the Chinese government would like to use this move to stabilize the market. According to Huatai Securities Co, a major brokerage firm in China, this conversion could reduce the nonperforming ratio by one percent and lift bank's annual net profit by 4 percent.
Most of the bad loans tend to concentrate in the manufacturing, retailing and mining sectors. As we have mentioned previously, those sectors are most severely affected by overcapacity and low efficiency issues. Those sectors are also at the crossroads of China's efforts in transitioning the manufacturing based economy to a service based one. China is in the process of reducing the "triple excess" faced by many firms: excess/overcapacity, excess inventory and excess leverage.
Could this work?
How will this impact the Chinese economy and the Chinese stock market? Back in 2002, China experienced similar problems: state owned corporations struggled to make a profit and banks accumulated a sizable bad debt portfolio. The conversion did help many of those corporations to get back on the right track.
In our view, this is only a move to buy more time, a tactical delay to a bomb. In the short term, banks will immediately benefit from offloading a significant portion of its bad debts. Their balance sheets and income statements will look more robust. As we know, the Chinese stock market is very heavy on banks. For example, in our previous recommendation of FXI, banks account for over 52% of the market cap. We also mentioned that banking stocks were driving the last round of global selloff.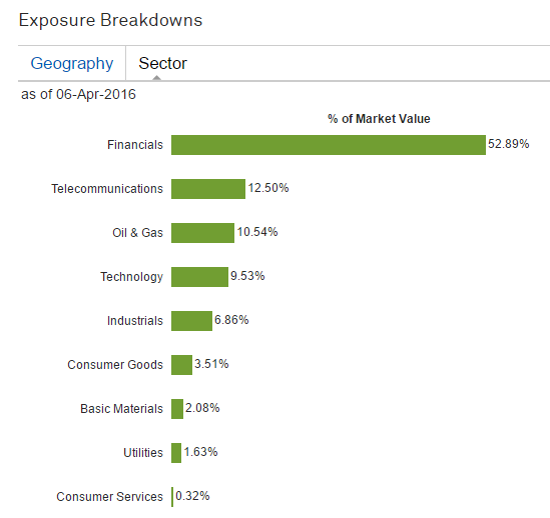 So this could help stabilize the banking stocks, and stabilize the Chinese stock market.
For the state owned companies, this is a good news too, since this action relieves them of the pressure to pay back debts and interests. The idea is that those firms could use this time to revamp their strategy, transition their business, solve the pending issues and improve profitability. This also provides the firms with greater capital structure flexibility and allow them to obtain funding in the future if needed. This would then support the stock prices of those large state owned firms. So theoretically, in the short term, this could be a positive factor for the stock market.
Risks and More Considerations
As we mentioned, this is only a move to buy more time. If the fundamentals of those corporations do not change, and if they continue to face serious overcapacity issues, they will continue the struggle to make a profit. This would be reflected in a downward pressure on the stocks.
For the banks, they would soon own the shares, which could be valuable or worthless depending on the firm performance. So monitoring and risk management will continue to be the key. Also, debt for equity swap will also affect the capital reserve requirements under the Basel Accord, so banks may need to set aside more funds.
In corporate finance, we learned that the cost of equity is almost always higher than cost of debt. We look forward to see that trend during this conversion cycle. The challenge for the corporations is to improve their profitability and raise the return on equity to an acceptable level.
In the process of creating the asset management shops, many positions of power will emerge. How to implement corporate governance and prevent corruptions will be a key.
Moral Hazard: would the corporations feel they are "saved" now and continue to not perform? In the future, would corporations count on being "bailed out"?
Most importantly, we would watch for signs to see if the Chinese government could implement structural reforms with speed and coordination so that businesses could start to perform.
In the process of the debt for equity swap, more money will be printed. We believe this may have an update pressure on the inflation.
Conclusion
We believe this is a bold move on China's part, in an attempt to stabilize the banking sector and the overall market. We hold that this is only a move to buy more time for the corporations and the banks, and the success of this program relies on the government's ability to deliver well-coordinated reforms in time. If the banks and the borrowing firms could improve profitability during this time, this could translate into a more stabilized, stronger Chinese stock market.
Share your thoughts in the comments below:
What is your view of China or/and the Chinese Stock Market?
Do you think the debt for equity swap will work?
---
Thank you for reading. We hope you liked it and found something helpful to your investing strategy out of it.
We dive deep into the most popular global topics and events to offer you an alternative insight. We provide independent equity research covering the Telecom, Technology & Media, Mining, and Financial Sectors, Dividend Investing Strategy & Value Stocks in both Canada & United States (TSX, NYSE, NASDAQ).
Follow Us for more investment ideas, feel free to leave comments, and if you know someone else who may like this, feel free to share it with them. Spread the investment wisdom and grow portfolios together.
---
Disclosure: I/we have no positions in any stocks mentioned, and no plans to initiate any positions within the next 72 hours.
I wrote this article myself, and it expresses my own opinions. I am not receiving compensation for it (other than from Seeking Alpha). I have no business relationship with any company whose stock is mentioned in this article.