Facebook's stock (NASDAQ:FB) is seeing moderate declines after a report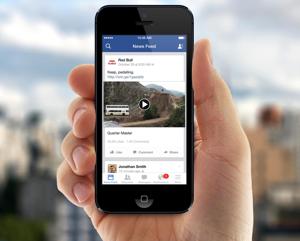 surfaced, revealing that users are posting less original content. The report shows that out of users who frequent the site in a given week, 57% share content, and only 39% share original content. Right now, this is flashing giant warning signs of failed sites Friendster and MySpace. However, Facebook is different from these failed social networks because it has shown it can adapt to a growing user base and changing consumer. Facebook began out of a service called Facemash, which compared students' attractiveness. It then matured into The Facebook, a trendy site for college students to communicate. Facebook further grew to encompass a social network of all people and not just college students. And in a sense, Facebook is now becoming the internet version of an early Wal-Mart (NYSE:WMT).
What made Wal-Mart so successful is that it was a one-stop shop for everything people needed. Where Facebook was once known as a site where people would communicate with one another and share opinions/information about themselves, it is changing into something much larger. Facebook is a one-stop shop for videos, news, information, a directory, entertainment, and a convenient way to share all this content with peers.
The same way Wal-Mart took revenues from grocery, clothing, convenience stores, etc., Facebook is doing the same to its peers. Facebook video is quickly nabbing market share from YouTube. Incredibly impressive yet under the radar, is how powerful Facebook is as a news source for people. A report in 2015 showed that 63% of Facebook users accredited the social website for being their source of news. Facebook is so successful as a news website because it is the only site that has successfully allowed users to personally curate their news sources by following certain news syndicates. Facebook has more of a symbiotic with news sites, driving traffic to their sites while hosting content on their platform.
Facebook has been, and will continue to be, a site for people to get information about one another, such as a birthday, last name, interests, etc. It has also been stealing market share from Yelp (NYSE:YELP), as its restaurant and company review pages rival that of the formerly mentioned. Furthermore, its search abilities have grown immensely as it has recently added a search feature to its live videos section. This addition is colossal in regards to search and news in my opinion. Think about what people do now to learn about news they've heard. Let's say someone hears of a huge protest in Times Square. Currently, users may go on Alphabet's Google (NASDAQ:GOOG) (NASDAQ:GOOGL) to read an article about it, but these usually take time to be written and uploaded. Or they may go on Twitter (NYSE:TWTR) and search a hashtag for the event. With this new addition to the live videos section, users can now experience the protest firsthand. Once they hear about the protest, they can enter the live videos section, search "Times Square Protest" and then watch the action unfold in real-time. This is much more exciting than reading tweets, and much faster than reading articles about it hours later.
Entertainment is also a category seeing a noticeable change. Whereas entertainment initially came from others' original content, it is now largely coming from third parties. I don't see this as a major issue to Facebook's long-term success. As one can infer from above, live videos have huge potential to become a major sharing incentive for individual users. If not, original content sharing still doesn't ruin Facebook's model. I personally haven't posted a status in over a year, and I still use the site as much, if not more, than I did a year ago. Through its increased video content, interesting third party material, and other utilities, Facebook still offers enough value (combination of Yelp, Google, YouTube, Twitter, messaging, and every news website) for consumers to spend time on the site.
Facebook's management team has seamlessly navigated the social networking conglomerate through many years of change, and are well aware of issues that face the company. They have created a team in London to address the issue of less original content being shared, and I am confident that they will guide their company past this minor speed bump.
I encourage you to follow me as I cover a wide variety of current topics, with a special interest in the technology and entertainment industry.
Disclosure: I am/we are long FB.
I wrote this article myself, and it expresses my own opinions. I am not receiving compensation for it (other than from Seeking Alpha). I have no business relationship with any company whose stock is mentioned in this article.