Bats Global Markets could be the IPO icebreaker we have been waiting for
Formed as a low-cost "Better Alternative Trading System," Bats Global Markets (BATS:BATS) will once again attempt to go public on its own BZX exchange, four years after it priced and cancelled its IPO due to a trading glitch. Since then, it has nearly doubled its revenue ($1.8 billion in 2015) through strategic acquisitions and market share gains (#2 in US equities and #1 in European equities). It also hired a new CEO in December 2014, "Bats Man" Chris Concannon, former COO of Virtu Financial (NASDAQ:VIRT). If Bats prices at the $18 midpoint, its $202 million offering would be the year's 10th and largest IPO, and the first with positive operating income.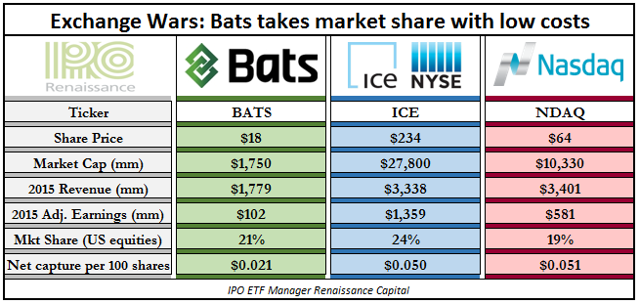 Click to enlarge
Renaissance Capital's IPO Calendar - Week of 4/11/2016
Issuer
Business
Symbol
Exchange
Deal Size
$mil
Price Range
Shares Filed
Top 2 bookrunners
Bats Global Markets
Lenexa, KS
BATS
BZX
$202
$17 - $19
11,200,000
Morgan Stanley
Citi
Operates equities and options exchanges in the US and Europe.
Two more profitable companies launch IPOs: On the calendar for the week of April 18
Las Vegas REIT MGM Growth Properties LLC (NYSE:MGP), a spinoff of MGM International with a portfolio of 10 casinos including Mandalay Bay and The Mirage, is scheduled to raise $975 million at a market cap of $4.1 billion ($7.2 billion enterprise value). LBO'd by Centerbridge in 2010, American Renal Associates (NYSE:ARA) operates 192 kidney dialysis centers as joint ventures with physicians; it is targeting a $161 million IPO.
IPO Market Snapshot
The Renaissance IPO Indices are market cap weighted baskets of newly public companies. The Renaissance IPO Index is down 8% year-to-date, while the S&P 500 is flat. Renaissance Capital's IPO ETF (NYSE: IPO) tracks the index, and top ETF holdings include Alibaba (NYSE:BABA), Synchrony Financial (NYSE:SYF) and Citizens Financial Group (NYSE:CFG). The Renaissance International IPO Index is down 4% year-to-date, compared to -2% for ACWX. Renaissance Capital's International IPO ETF (NYSE: IPOS) tracks the index, and top ETF Holdings include NN Group and Aena S.A.