Golden Queen Mining (OTCQX:GQMNF) has recently announced first gold pour at its 50% owned Soledad Mountain gold-silver project in California. While the stock has risen a lot over the past several months, I like the project because of its low all-in sustaining costs and stable jurisdiction, and I believe the share price will move higher as it transitions to commercial production and starts to pay down debt.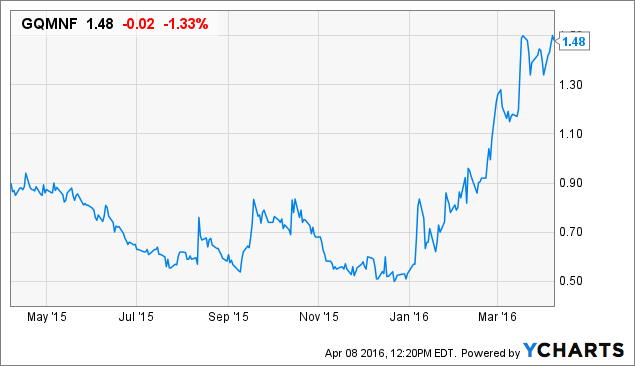 GQMNF data by YCharts
AISC for the Soledad Mountain project are estimated to be a very low $558 an ounce (net of silver by-product credits), placing Golden Queen Mining in the top quartile of all gold miners. Annual production will be roughly 75,000 ounces of gold and 781,000 ounces of silver. The project carries favorable economics, with the NPV of the project being $213.9 million after tax using a 5% discount rate and a gold price of $1,250/oz. This compares to a market cap at the time of writing of roughly $150 million. The project also carries an after-tax IRR of 28%.
Project After-Tax NPV
| | | | | | | |
| --- | --- | --- | --- | --- | --- | --- |
| | $1,100 AU | $1,200 AU | $1,250 AU | $1,300 AU | $1,400 AU | $1,500 AU |
| $14.00 AG | $141.3 | $182.5 | $202.1 | $221.7 | $260.3 | $298.1 |
| $15.50 AG | $149.0 | $188.4 | $208.0 | $227.5 | $266.0 | $303.7 |
| $17.00 AG | $155.0 | $194.3 | $213.9 | $233.3 | $271.6 | $309.3 |
| $18.50 AG | $160.9 | $200.1 | $219.7 | $239.1 | $277.3 | $314.9 |
| $20.00 AG | $166.8 | $206.0 | $225.6 | $244.9 | $283.0 | $320.5 |
| $21.50 AG | $172.7 | $211.9 | $231.4 | $250.6 | $288.6 | $326.1 |
Golden Queen Mining has managed to get the Soledad Mountain project to first gold pour on budget which is impressive. It is in the mining friendly jurisdiction of Kern County, California, which is home to major oil production and has excellent local infrastructure in place. In fact, because the Soledad Mountain project is so close to a major highway and railway lines, Golden Queen Mining is actively pursuing a by-product aggregate business which could add further upside to the company. There is also the possibility that further drilling on the property will increase reserves as only 65% of the resource estimate has been included in the mine plan.
Another thing I like about Golden Queen Mining is its tight share structure. Outstanding shares are just under 100 million and the fully diluted share count is less than 111 million which is very low for a gold miner. Part of the reason for this is that Golden Queen Mining's joint venture partner invested $110 million in the project in exchange for a 50% joint venture. This provided a lot of the capital necessary for construction and allowed the project to be developed without the ongoing shareholder dilution that is typical of many junior mining companies.
With Soledad Mountain reaching first gold pour on budget and without any major construction issues, I feel very confident that commercial production will be reached without any hiccups. The biggest risk I see to the investment thesis is the price of gold itself. With very low AISC, Golden Queen Mining will produce high margin ounces even at much lower gold prices, but the NPV of the project will start to drop off. At $1,150/oz gold, for example, the NPV of the project drops to $170.8 million, and at $1,050/oz gold, the NPV drops to $127.2 million. Of course, any rise in the gold price over the base case scenario of $1,250/oz would lead to substantial upside in the NPV of the project.
Golden Queen Mining recently reported its year-end financial results which give us a snapshot into the company's financials. As of year-end, the company had $21.8 million in cash which it says will be used to fund corporate expenses until 2017, and fund the remaining capital expenditures and working capital needs until it produces positive cash flows. Golden Queen Mining has debt of $47.9 million of which $38.7 million is a loan due in December 2016. Investors should note that this loan was provided by members of the Clay family who are large shareholders.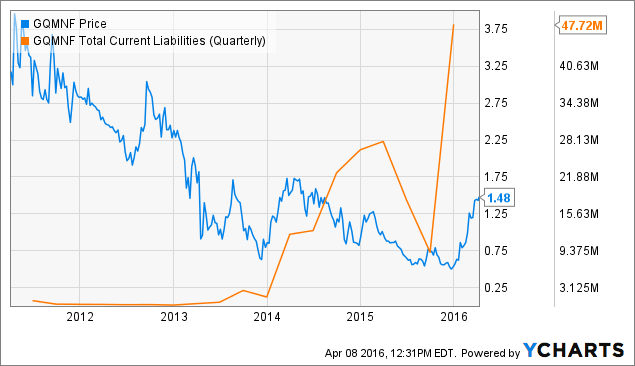 GQMNF data by YCharts
Insider ownership in Golden Queen Mining is a whopping 35% which is almost unheard of. The reason insider ownership is so high is that Golden Queen's joint venture partner, Gauss LLC, is a joint venture nearly 30% owned by the Clay family which has provided significant equity and debt capital to Golden Queen Mining since the 1980s to help fund exploration and development of the Soledad Mountain project. Thomas Clay is the current Chairman of the Board of Golden Queen Mining.
Golden Queen Mining has stated that it is evaluating options, including debt and equity, to refinance the $38.7 million loan due in December 2016. It should be noted that in its most recent 10-K, its financial statements contain a qualification as to its ability to continue as a going concern due to the need to repay or refinance this loan. Normally, this qualification would raise some red flags for me, but I feel confident that Golden Queen Mining will be able to get a deal done given its past record of financing. However, I do have some concerns regarding how favorable the deal with be for shareholders. My concern is if it has to restructure its debt, the interest rate may be quite high as the current interest rate on the $38.7 million loan is 10% which is higher than I like. If it were to raise the money entirely through an equity raise, this would be dilutive for shareholders, although maybe not that bad. At the current stock price of $1.50 per share, the company could raise the loan amount by issuing roughly 25 million shares which would dilute the share count by 25%. I think a likely scenario in this case could be a combination of debt and equity.
The only other thing that I don't like about Golden Queen Mining is that Soledad Mountain is its only project. It doesn't have any other properties at this point so its fortunes are solely tied to a single operation. Having said that, I do not think this is necessarily bad as there are many mining companies that sink tons of money into exploration of other projects which hurts their financial situation and can take away from the profits of a successful, producing mine. Furthermore, if it's successful in developing a by-product aggregate business, this will create additional cash flow for many years.
At this point, overall I am bullish on Golden Queen Mining as long as the price of gold doesn't drop too much. The next major milestone for Golden Queen Mining will be to reach commercial production, which should be later this year. As Golden Queen Mining generates cash flow from operations and pays down debt, I think the company will become even more attractive. My only real reservation with Golden Queen Mining is my concerns about the debt coming due this December. Investors should keep a close eye on any updates in this regard.
Disclaimer: This article is meant for informational purposes only. You should always consult with a financial advisor before making any investment decisions. There are risks involved with investing including loss of principal. This article is not to be considered investment advice or a recommendation to buy or sell any security.
Disclosure: I/we have no positions in any stocks mentioned, and no plans to initiate any positions within the next 72 hours.
I wrote this article myself, and it expresses my own opinions. I am not receiving compensation for it (other than from Seeking Alpha). I have no business relationship with any company whose stock is mentioned in this article.
Editor's Note: This article discusses one or more securities that do not trade on a major U.S. exchange. Please be aware of the risks associated with these stocks.