Overview
Founded in 2006, Shopify (NYSE:SHOP) is a leading Canada-based company that provides cloud-based software for small and medium-sized businesses.
Well-Situated in a Growing Market
Currently, there is an industry-wide shift from retail brick and mortar stores to online shopping, with 236% growth in US e-commerce sales since 2009. As consumers shift their attention online, businesses must therefore react by increasing spending on cloud services and infrastructure, such as website maintenance and renovations. As seen in Exhibit A, worldwide cloud services spending has nearly quadrupled from 2009-2015, a testament to the changing industry.
Exhibit A

Source: IDC
Shopify is well-positioned to reap the benefits of the changing industry: It's in the heart of the cloud services business, and as businesses continue to spend, Shopify will continue to grow. In addition, there has been a demographic shift to mobile commerce, with a 58.2% CAGR since 2010, as pictured in Exhibit B.
Exhibit B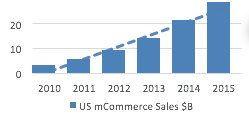 Source: Barclay's Capital, "US Internet Trends"
In addition, Exhibit C displays the saturation of the social media market by age group.
Exhibit C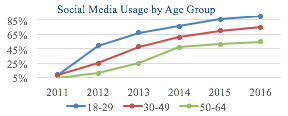 Source: Pew Research Center
This is extremely important to Shopify: It's well-positioned to take advantage of the shift to mobile e-commerce. Approximately 61% of the traffic and 46% of the orders on the Shopify platform came from mobile devices in December 2015. Shopify is also the first e-commerce provider to add the ability for social media platform selling. Over 25% of Shopify merchants have enabled social media selling - this segment is growing rapidly. Given Shopify's user friendly mobile platform and integration with social media, it's well-positioned to grow along with the changing demographics.
Potential Acquisition Target
Shopify continues to grow within the SMB market: Gross merchandise volume growing at 105% YoY, revenue growth 97% YoY, and monthly recurring revenue growth of 72%. Shopify's number of users, relative to its competitors, is shown in Exhibit D.
Exhibit D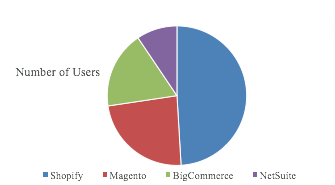 Shopify is a dominating force in the SMB market. At the enterprise level, Magento is unlikely to move down and compete with Shopify in SMB. In addition, Magento Go was once the leading software in the SMB market, but recently discontinued after being acquired from eBay (NASDAQ:EBAY) due to losing market share to Shopify. Magento advised its clients to move to the Shopify platform.
The thesis is that Shopify's dominating position makes it a compelling acquisition target, and it has. Alphabet (NASDAQ:GOOG) (NASDAQ:GOOGL) is making an attempt to aggressively push into cloud services and has assembled a working list of potential acquisition targets, with Shopify as a notable one on that list. In addition, sources close to the matter note that Alphabet admits and warrants a premium valuation for Shopify's spectacular growth, if it were to acquire Shopify.
Unwarranted Correction
Shopify has had a massive correction in its valuation, down from a 52-week high of $42.13. While Shopify still trades at a premium, the premium appears warranted, based on superior growth rates, trading at a PEG ratio of merely 1.8. Shopify's multiple has contracted significantly relative to the overall SaaS sector, while it is expected to grow meaningfully faster than the group. Shopify's EV/2016E revenue multiple has contracted nearly 65% to around 4x since the summer, which is more than twice the 30% reduction of the group average, despite my expectation for 48.5% FY16 revenue remaining 114% faster than the 22% average. The correction can be attributed to the tendency of institutional buyers to sell off high multiple names in a broad market downturn.
Competitive Moat
Shopify's recurring revenue type business model - subscription plus fee-based transaction - makes it very appealing. It provides the ability to predict revenue, and enables the company to maximize efficiency and scalability. Shopify is developing a vast ecosystem, including applications, software. Once a business is a merchant and engaged in the ecosystem, it is highly unlikely that business will switch to a different provider. Recurring revenue for Shopify continues to grow, as seen in Exhibit E.
Exhibit E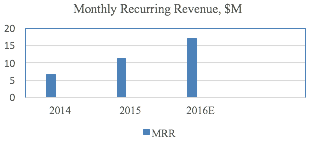 Risks
1. Multiples: Market Risk
Given the nature of tech growth companies, they are often associated with higher multiples. While these multiples are sometimes warranted, in a market selloff, they often selloff more than the broader market. While this is definitely short-term risk, it should not be considered in conjunction with the long-term prospects for Shopify.
2. Regression to the Mean
There is risk that the growth rates will regress to a more normalized rate; however, given the current company structure and catalysts, this seems unlikely, in the near term.
Catalysts
Gross Margins - Shopify's customer acquisition costs continue to decline which will improve margins moving forward.
Well-Crafted Product
Excellent Customer Service
Management Vision
Valuation
I performed a discounted cash flow analysis on Shopify. First, I determined Shopify's weighted average cost of capital, WACC, with a cost of debt of 2.25%, equity risk premium of 9% and a risk-free rate of 0.25%. I determined the cost of equity using comparables and company data. Exhibit F, G and H detail my WACC calculations and assumptions, as well as the sensitivity analysis with WACC and terminal FCF growth rate.
Exhibit F

Exhibit G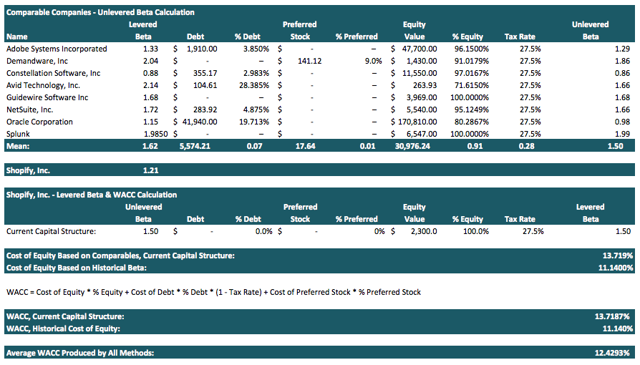 Click to enlarge
Exhibit H

Finally, I inputted the WACC into the DCF model to determine an equity value of US$2.8B. This implies upside of roughly 22.13%, with a target price of US$35.11, and a terminal FCF growth rate of 4%. Exhibit I, J and K detail my DCF analysis, including assumptions and forecasts.
Exhibit I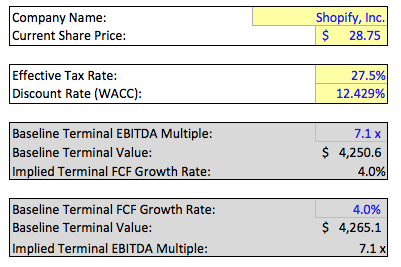 Exhibit J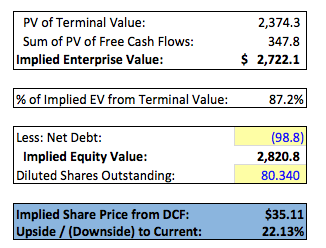 Exhibit K

Click to enlarge
After conducting an immense amount of due diligence on Shopify, I have determined an implied upside of roughly 22.13%. My research includes a top-down analysis of industry metrics, company-specific analysis on the catalysts that will drive growth, and a quantitative analysis to determine the intrinsic value of the company. Throughout my research, I remained conservative in my estimates for FCF and EBITDA growth moving forward. Shopify's combination of a great position in a growing industry, growing competitive advantage, compelling valuation and characteristics of an acquisition target make it at at these levels a stock with limited downside and great potential for upside.
Disclosure: I am/we are long SHOP.
I wrote this article myself, and it expresses my own opinions. I am not receiving compensation for it (other than from Seeking Alpha). I have no business relationship with any company whose stock is mentioned in this article.