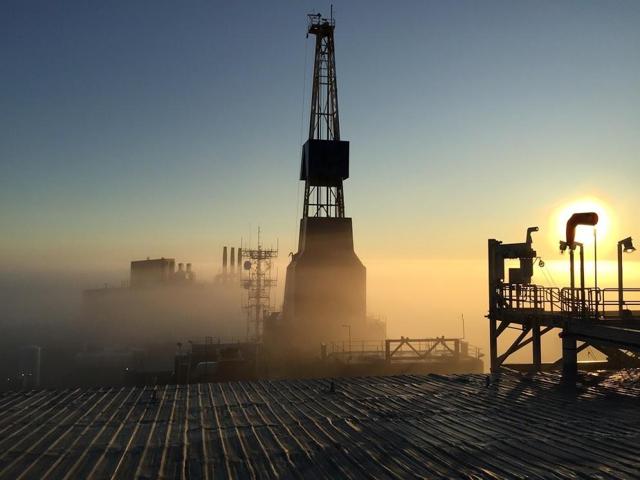 Click to enlarge
source: Photo stock
The share price of Whiting Petroleum (NYSE:WLL) has plummeted since June 25, 2015, when it closed at just under $36 per share. It has jumped nicely since closing at $3.53 per share on February 25, 2016, trading at $9.26 per share as I write. The upward move has been in conjunction with the oil rally, but the company has a lot of problems it faces if the price of oil doesn't continue to climb.
That, of course, could be said of many energy companies with significant exposure to oil, but Whiting has heavy debt, faces a huge loss of liquidity in May, and in 2017 has many of its hedges rolling off.
All of this includes the hefty downgrading it received in February from Moody's, which slashed its debt rating down five notches from Ba2 to Caa1. Moody's conclusion is the company's risk for a debt restructuring is growing because it is running out of options. About all that is left outside of a major reversal in the price of oil is for it to sell off more of its assets to improve its balance sheet. Under current market conditions, that is less predictable than the past, and may not bring the desired capital being sought and needed. Fortunately for the company, it has no major bond maturities until 2019.
One piece of positive news for Whiting was it fared a little better than expected with its credit facility, as it had its borrowing base cut from $4 million to $2.75 million. That means the worst-case scenario didn't play out, and it has about $1.7 billion available to it based upon its draw at the close of 2015.
Nonetheless, it has to have the price of oil sustainably rise to avoid having to take more drastic measures. If that doesn't happen, only divesting of non-core assets could offer it some relief.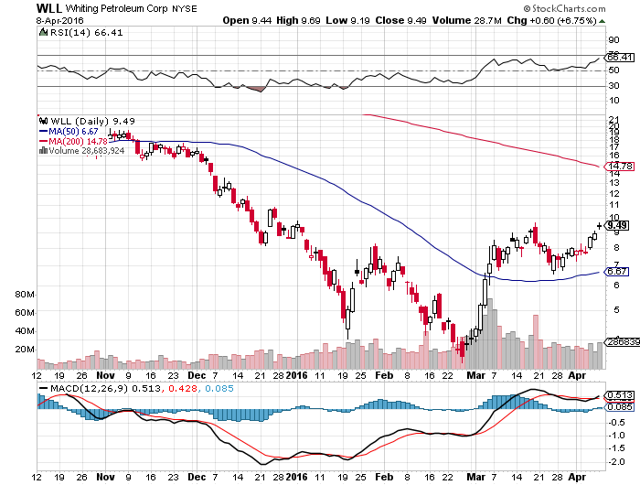 Click to enlarge
source: StockCharts.com
Should be okay in the short term because of hedges
In its last earnings report, Whiting said it was hedged at 45 percent for 2016. That will provide it some support, but that is going to change in 2017, which, when combined with its debt load and shrinking liquidity, presents a very challenging situation to be overcome; it's not a guarantee it can solve the problem if the price of oil remains low.
With the hedges it has in place, Whiting should do okay for most of 2016. I don't see any positive catalysts with the exception of a general upward move in the price of oil, which means outside of that the company faces a real test depending on how much its borrowing base loses in May. Lack of visibility is a problem there.
Since the market is expecting closer to 20 percent or about $1.2 billion of shrinkage in liquidity, anything better than that would be an obvious positive. But with its debt rating, I'm not sure there is much hope of it coming in at the 20 percent mark, which is probably the best-case scenario.
That said, its CEO said the company's credit facility could be cut by as much as 30 percent, which would drop liquidity to approximately $800 million.
It cut CapEx by 80 percent from 2015 while lowering its rig count to four in order to alleviate costs. In 2014, it had a high of 25 rigs operational. In 2015, the monthly average was down to 11 rigs.
Even though Whiting can endure lower prices for most of 2016, the combination of a big decrease in liquidity and hedges rolling off in 2017 will result in the company being punished by investors.
Asset sales
I see asset sales as the one remaining positive catalyst the company has control over that could make a big difference and change the outlook over the next year or so.
Last year it was able to reach its goal of generating $500 million in non-core asset sales, so it gives some encouragement it will probably be able to do so in 2016, although this is a more difficult economic environment to sell in.
A lot more assets will go on the market throughout 2016 from many companies, and that could drive the value of them down because of how many could be put up for sale and for those that are of lower quality. The better properties will attract a better price, but not many of them will qualify for that.
Asset sales are the key to the company, in my opinion, in regard to improving its balance sheet. Minus that, it will come under even more pressure.
Debt load a big problem
At the end of 2015, total debt for Whiting stood at $5.2 billion, with total cash of a little over $16 million. Debt to equity as of the most recent quarter was 109.2. Levered cash flow was -$1.04 billion.
Concerning operating cash flow, for fiscal 2015, it came in at $1 billion. If that performance is similar in 2016, it would mean it could possibly generate cash flow of as much as $500 million for the year, which it hopefully would use a significant portion to deleverage.
Besides the obvious restructuring risk, the other concern is the company has had to cut expenditures, which means production in the near and long term will be under pressure. Again, this is why I say it has to take aggressive steps to sell some assets in order to remain viable once the price of oil finds support.
Even though its credit facility is a little stronger than expected, investors need to see more than that to regain confidence in the company. Some existing shareholders have touted the better-than-expected credit facility numbers as a game changer, but I don't see it having that much of an impact if the oil market remains weak. Whiting is still in trouble.
DUC wells and refracs
Drilled and uncompleted wells and refracs, by which is meant returning to wells that were capped and reopening them. That is able to be done profitably because of improvements in tech and methodology.
DUC wells are increasingly performing better in the industry as a whole for the same reason, as well as being able to more accurately identify the sweet spots of the wells, which extends their lifetime as well as allows for the ability to extract more oil from them. This results in lower costs for the producers.
As for Whiting, it says it will bring more DUC wells into production once the price of oil sustainably reaches a range of $40 to $45 per barrel. This suggests profitability at about $35 per barrel or so. It could be a little lower than that.
EOG Resources (NYSE:EOG) says with its premium wells it can generate about 30 percent in earnings when oil hits $40 per barrel, which means profits start at between $30 to $31 per barrel. Whiting can't do that, but it's not that far behind.
In its latest earnings report, the company said it has about 73 DUC wells in the Williston Basin and 95 in Niobrara. Again, it would begin completing the wells once oil hits about $40 to $45 per barrel.
Also of interest, is once the wells become operational, costs average about $20 per barrel industry-wide, which even if Whiting were on the high side of the average, would probably be around the $23 per barrel mark.
Besides the DUC wells, Whiting is also looking at drilling and completing another 26 wells in 2016, with 10 of them located in the Bakken and 16 in the Niobrara.
The company said under its four-rig program, that's the high end of what it can drill.
Whiting guided for average of approximately 133,000 BOEs a day for the year, which represents a drop of 12 percent from the average in the fourth quarter of 2015. Minus the loss of 3,000 BOEs as a result of divestiture, that's down from the 152,000 BOEs in the last quarter.
Although there is a lot of potential on the refracs, it's impossible to know at this time what, if any, impact it'll have on the top and bottom lines of the company in 2016. It appears on the production side, DUC wells will be the primary focus for the year. The refracs are being graded to decide which ones it wants to return to. The economics of the better wells are comparable to DUC wells. Testing on them should commence in the first half of 2016.
As for completion times once they're started, Senior Vice President - Operations Rick A. Ross said it will be a 30-day cycle on average for individual wells in the Williston. Redtail will take a little longer because the pads are larger and there are more wells on each pad.
I've known this to be close to the cycle time of the industry in general, but some financial writers have reported the cycles to be much longer. They're wrong.
If the price of oil does gain upward momentum in the second half, which would be a surprise to me, Whiting is positioned to generate at least some earnings from the DUC wells. Assuming an average $45 per barrel, it would result in a decent surprise to the upside, although it would have to happen sooner than later for it to have much of an effect on the performance of the company for all of 2016.
Conclusion
While the drop in liquidity for the company was less than expected, it's still significant, and it can't be spun any other way. At best, it may buy it a little more time, but I believe when hedges start to roll off in 2017, it will put a lot of downward pressure on Whiting. The depth of the pressure will, of course, depend upon if there is at least some rebalancing in the oil sector. I don't expect a big move, if any, there, but assuming it is better than it is now, it could offset some of the pain.
In contrast to some of its peers, the number of DUC wells being prepared aren't huge, but it could add to the performance of the company if the price of oil warrants bringing them into production in the second half. One challenge there is the 30-day cycle mentioned earlier applies to wells once they're started to be worked on. Since it has quite a few of them, it won't start the work on each one all at once; there will be a staggered process which means it will take time for the entirety of the portfolio to become operational.
The early wells will bring almost immediate benefit, but the degree for the next eight months or so will be determined by how quickly it's able to get to each well. This is part of the problem associated with layoffs as well.
Interestingly, in February, Whiting said it will "stop fracking and completing wells as of April 1." The bulk of its $500 million budget will target shuttering its drilling and fracking operations in the first half. The remaining $160 million will be used primarily for maintenance for the remainder of the year. That should change if the price of oil is believed to be sustainable in the targeted range the company is looking for.
For investors that got into Whiting or added to their positions when it dropped below $4 per share, it may be a wise idea to at least take out the initial investment and ride the profits. Whiting is still at significant risk, and leaving some money on the table in this volatile time would be a wise decision. I'm not sure now that oil prices have soared that the risk/reward outlook is worth keeping our full position in the company. There's not a lot of upside left, in my opinion, unless the price of oil soars.
Enormous debt, a weaker balance sheet, less liquidity and expiring hedges make it hard to justify the growing risk associated with Whiting.
Disclosure: I/we have no positions in any stocks mentioned, and no plans to initiate any positions within the next 72 hours.
I wrote this article myself, and it expresses my own opinions. I am not receiving compensation for it (other than from Seeking Alpha). I have no business relationship with any company whose stock is mentioned in this article.