Introduction
Are you sick of hearing about Organic? GMOs? What about insert healthy food buzzword here?
One of the first movers and continued leaders in this space is WhiteWave Foods (NYSE:WWAV). After being spun off from Dean Foods (NYSE:DF) in 2013, the stock has traded at a nosebleed valuation since due to its high growth rate.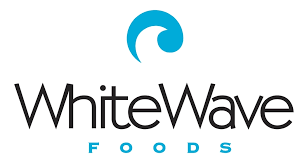 Lets take a look at that growth, recent acquisitions, and more to see if this is the next great global packaged food company or just a flash in the low sodium, cage free, all natural pan.
Acquisitions
In December of 2013, 7 months after their IPO, WhiteWave announced they were acquiring Earthbound Farms from a private owner. Earthbound Farms is a leading purveyor of organic fruits and vegetables with their packaged salads being an especially strong category.
This seemed like a good acquisition at first as it would expand WhiteWave's reach from the dairy aisle into other areas of the store that have momentum, mainly on the outside ring of the grocery store where the fresh and organic food is located.
When they bought the company full year sales were expected to be around $500 million and after the first year under WhiteWave 2014 sales came to $575 million, a nice improvement.
2015 was a different story for this part of the business however, as sales declined 1.6%.

If the company cannot re-accelerate growth in this segment through cost cuts or innovation the final verdict on the Earthbound Farms acquisition might indicate mistakes were maid.
Other acquisitions in 2015 were the purchase of EIEIO, Inc. for 40.2 million to add more shelf space to their existing creamer, coffee, and whipped topping business.
They also purchased Sequel Naturals LTD for $555.6 million, adding the Vega brand of powdered shakes and snack bars.
Lastly, they acquired the Wallaby Yogurt Company, Inc. in August 2015 for $122.3 million. This company produces organic dairy yogurt products and fits well with the companies existing dairy portfolio.
It is important to note that these last two acquisitions, like the 2013 Earthbound Farm acquisition, was paid for primarily with debt.
Valuation & Growth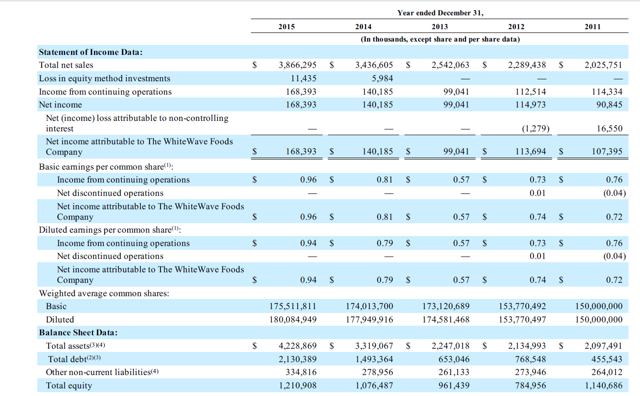 The company has grown revenues 90.8% from 2011 to the end of 2015. That is a CAGR of 18.16%. You can see from the chart above that the revenue growth has picked up substantially since the IPO in 2013. I attribute most of this growth to the acquisitions and see little organic growth coming from the company itself.
EPS has gone from $.72 in 2011 to $.94 in 2015, a CAGR of 6.1%. This divergence in revenue growth versus EPS growth tells me something is a foot. It could be that there are still lots of costs and synergies that are not yet realized from their many acquisitions or that the company has grown revenues by entering into lower margin businesses that do not help EPS growth keep up.
The bull case is that future cost savings and high spending on innovation and improvements across WhiteWave's portfolio will accelerate this EPS growth. The bear case is that they have taken on a mountain of debt and overpaid for average businesses.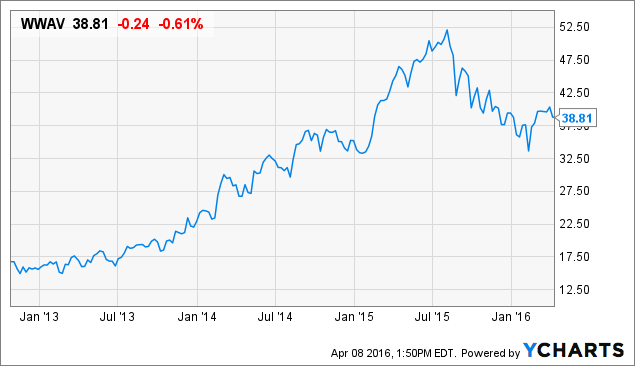 The company trades at 41.5 times earnings, a price to book ratio of 5.93, and a price to sales ratio of 1.7.
Growing Competition in the Organic Space
Natural and Organic products are certainly a growing industry that is no longer a fad. One study I found suggests that sales of these types of products will be up to 252 billion in by 2019. An increase over the 153 billion sold in 2013.
The challenge with these types of projections is that many companies are now converting existing products to appear more healthy by swapping out just a few ingredients. More then that, though, this trend is not a secret and the big switch will mean more and more competition fighting it out for the natural and organic sales.
This blistering pace of sales also puts pressure on the suppliers, farmers, and the whole supply chain. Organic farming is generally considered more costly and difficult than traditional farming which can contribute to the higher price of these items.
It can be a double-edged sword where some farms that try to convert to organic find the costs prohibitely expensive and makes them more vulnerable to pests and other acts of nature than traditional farming, while the increasing organic demand can sometimes lessen the blow that commodity swings have on farmers across the globe.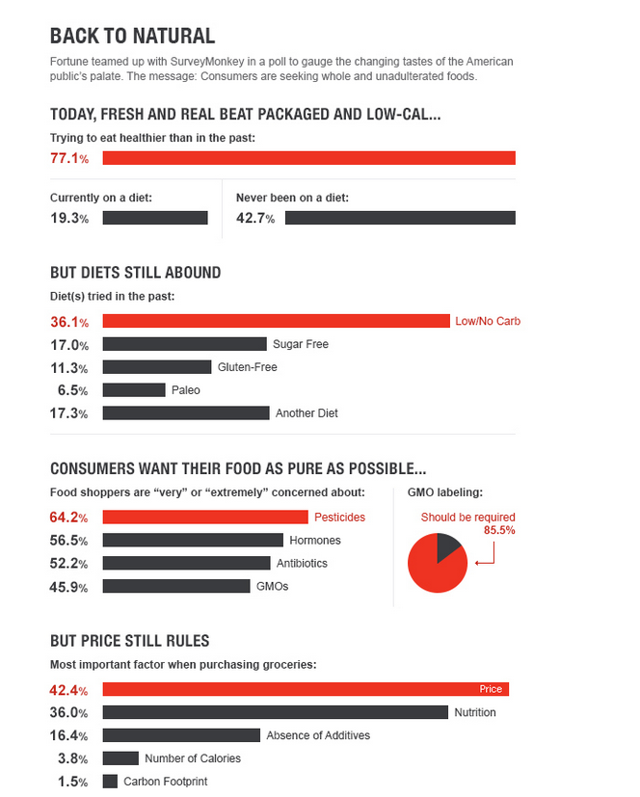 (Source)
More then supply chain issues, I worry about the new "war on food". WhiteWave and others like them have certainly got the jump on the packaged food giants but now that their very existence in threatened, I can't help but see shrinking margins for all involved due to fierce competition and price wars in the now coveted organic and natural space.
These large players like General Mills (NYSE:GIS), ConAgra (NYSE:CAG), and more have the resources to shift their gigantic companies to dominate WhiteWave's home turf if they so choose.
This also means that acquisition candidates are going to be harder to come by or be prohibitively expensive as the giants try to use their excess cash to simply buy growth and save their sinking ships. This has already begun with the acquistion of Bolthouse by Campbells, Applegate farms by Hormel, and numerous other examples.
For these numerous reasons I have some serious doubts about how WhiteWave can grow fast enough to justify its valuation. The math is simple enough-- a company trading at 40 times that doubles EPS in 3 or 4 years suddenly trades at 20 times earnings if the price does not move. The likely scenario would be some multiple contraction in between those two numbers but still a healthy move in price.
I, however, see little reason to have much faith in that outcome.
Conclusion
WhiteWave Foods certainly has some tasty products that are good for you, but owning the stock might give you an upset stomach.
Their growth has been fueled largely by debt fueled acquistions in recent years and with growing competition from traditional packaged goods giants moving into their organic turf, I see rough sailing ahead.
Sky high valuations like the one ascribed to WhiteWave are perfectly justified if the growth stays where it has historically been or even accelerates, but any bumps in the road can cause large craters in the share price. My research has indicated WhiteWave's trajectory will not be without bumps and I will not be along for the ride.
Disclosure: I/we have no positions in any stocks mentioned, and no plans to initiate any positions within the next 72 hours.
I wrote this article myself, and it expresses my own opinions. I am not receiving compensation for it (other than from Seeking Alpha). I have no business relationship with any company whose stock is mentioned in this article.