The strongest correlation between job growth and claims is with monthly job growth leading 17 weeks.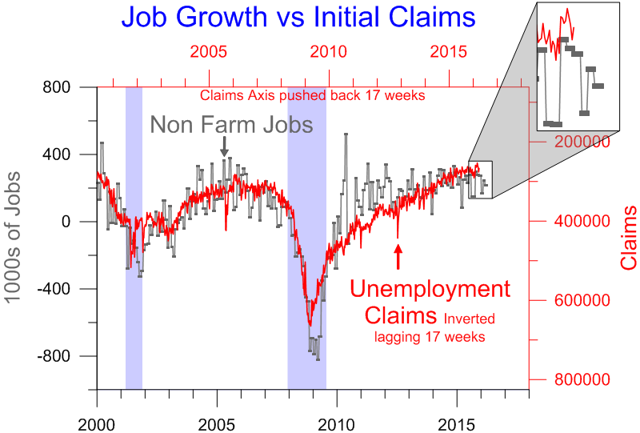 Click to enlarge
The chart shows non-farm job growth in grey and weekly claims in red inverted and lagging 17 months. It is generally recognized that job growth is a lagging indicator. If claims lag job growth it must also be a lagging indicator.
The recent lows in claims (high in red line on chart) correspond with the 295 thousand jobs increase in October 2015. The next four weeks of initial claims announcements will correspond with the 271 new jobs in December. Unemployment claims beginning in May (announcements beginning the second week of May) should confirm the softening in job growth that began in January with only 168 thousand new jobs.
Job growth itself should also weaken. The three month moving average of job growth lags GDP by about 5 months. While monthly job growth picked up in March, the three months moving average ticked down.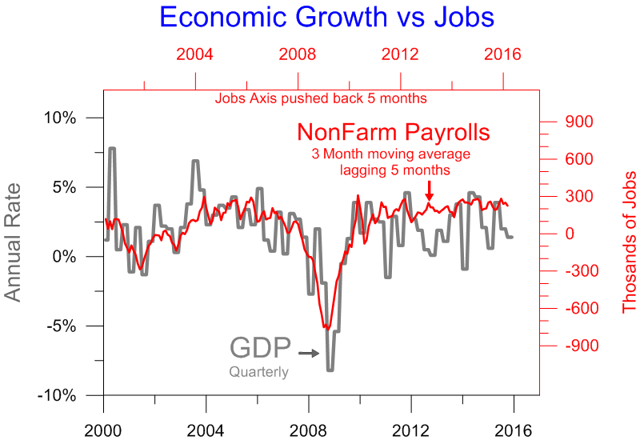 Click to enlarge
The next two months of job numbers should correspond with the weak 1.4% GDP Q4 growth. GDP growth has been unusually weak compared to job growth. Typically if jobs were averaging over 200 thousand, the economy would be growing close to 4%. Normally a 1.4% GDP growth would signal negative job growth. The diversion between the recent and normal relationship of job and GDP growth is probably explained by some combination of productivity only growing at about 0.5% and the quality of the jobs being added.
This diversion is why unemployment claims will not tip off the coming recession. Even though claims are a lagging indicator, they usually rise for more than a year before the economy tips into recession. The phenomenon is a lagging confirmation that growth has slowed, but is typically interpreted as being a leading indicator. GDP usually grows at about 4% during an expansion and slows as the trend deteriorates into recession. The slowing almost always starts far enough before a recession that the lagging claims data can be touted as a leading indicator.
In this cycle GDP growth never got much above 2%. The last quarter was 1.4% and our model suggests Q1 will be -0.4%. It is not at all clear that this will be the beginning of a recession, but it well could be and the lagging initial claims data will not give warning ahead of time.
As for indicators that have a history of leading: The S&P 500 had its peak in May 2015 followed by a series of lower highs and lower lows. The close on April Fool's Day may turn out to be the latest in the series of lower highs. S&P 500 GAAP earnings are down 18% from their high in Q3 2014. The high in housing starts was back in June 2015. Auto sales appear to have peaked in October 2015. Real retail sales peaked in December 2015. The Federal budget deficit hit its best level back in Q4 2013. Industrial production hit its high in November 2014.
Growth has hit a weak patch. There is no certainty whether it will roll over into recession or surge. I am expecting the roll over and an accompanying bear market in stocks (NYSEARCA:SPY).
Disclosure: I am/we are short SPY.
I wrote this article myself, and it expresses my own opinions. I am not receiving compensation for it (other than from Seeking Alpha). I have no business relationship with any company whose stock is mentioned in this article.
Additional disclosure: There is no guarantee analysis of historical data their trends and correlations enable accurate forecasts. The data presented is from sources believed to be reliable, but its accuracy cannot be guaranteed. Past performance does not indicate future results. This is not a recommendation to buy or sell specific securities. This is not an offer to manage money.