Introduction
I have been keeping my eye on Banro (NYSEMKT:BAA) for quite a while now, as I was hoping the company would be able to successfully complete its turnaround to become a profitable gold producer in the DRC. As the balance sheet looked increasingly worse, Banro had to raise fresh cash at the end of last year to make sure it would survive this year. With the financial statements of 2015 now having been published, and the fact that the Namoya mine has now reached commercial production, I wanted to find out if Banro would still be alive by the end of this year and if it would be able to reduce its debt pile.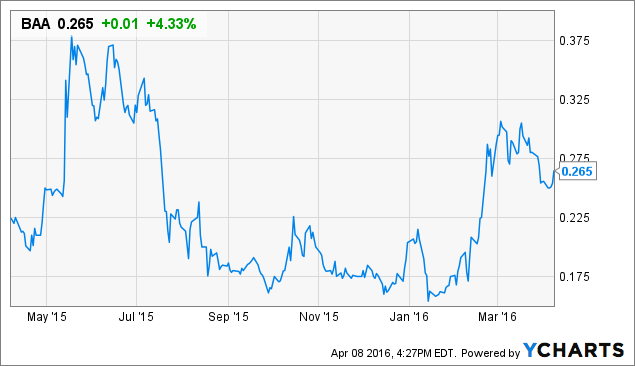 Contrary to what you might think, 2015 wasn't that bad
In 2015, Banro has produced approximately 183,000 ounces of gold of which approximately 135,000 ounces were produced at Twangiza with the remaining production coming from the Namoya mine. As that mine hadn't declared commercial production in 2015, Banro was not allowed to make those ounces counts towards its top line. As I explained in the previous article, the revenue from gold sales from a project which is not yet in commercial production has to be applied against the capital expenditures, rather than being booked as revenue on an income statement.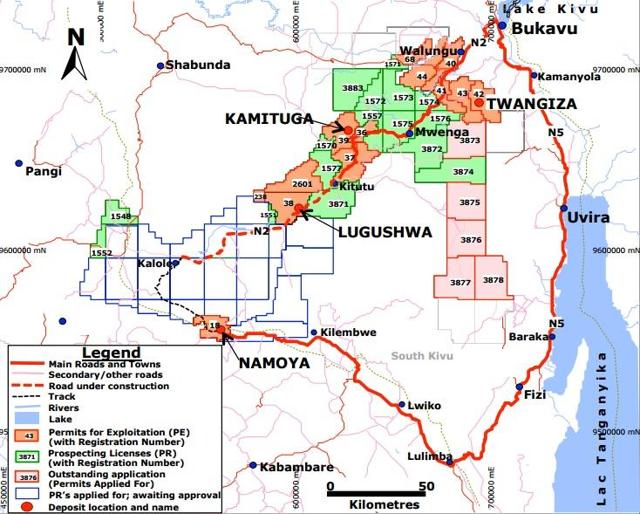 Click to enlarge
Source: company presentation
That is the main reason why the total revenue was just US$156 million and even though Banro reported a gross income from its mining operations of US$56 million, the operating income was negative to the tune of US$53 million, as Banro had to record an impairment charge of US$84.3 million. Throw in the $20 million interest expenses (yes, Banro has quite a bit of debt on its balance sheet) and there obviously was no way to company could have avoided posting a net loss of in excess of US$73 million.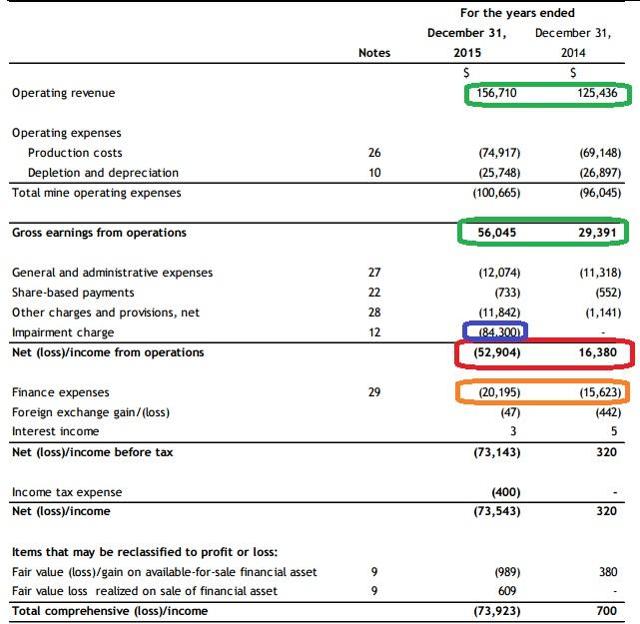 Click to enlarge
Source: financial statements
But of course, as I explained before, depletion, depreciation and impairment charges have nothing to do with the company's ability to generate an operating cash flow. That's why I was very interested in seeing Banro's cash flow statements, to find out how much free cash flow the existing operations were actually generating. If you would ignore the company's changes in its working capital, the operating cash flow was approximately US$44 million and after deducting the effective interest expense of $18 million, the adjusted operating cash flow was US$26 million.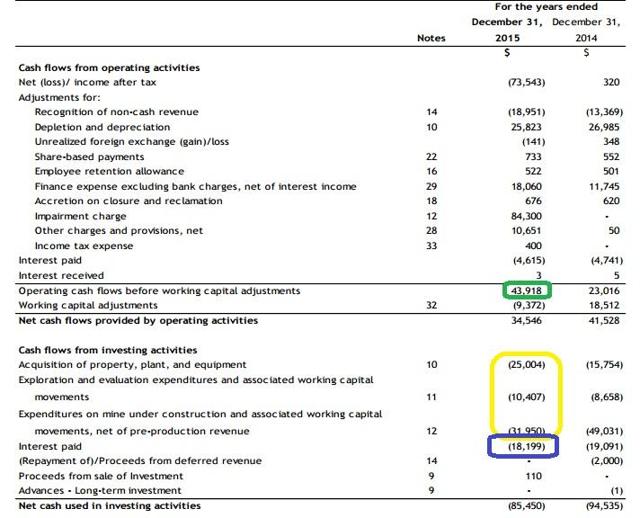 Click to enlarge
Source: financial statements
According to the financial statements, the total capital expenditures in 2015 were approximately US$66 million, but keep in mind this is the net capex, after having deducted the preproduction revenue from the gold sales at Namoya. So it would make more sense to have a look at just the capital expenditures of the Twangiza mine to find out how much cash flow Banro was really generating. According to the accompanying notes to the financial results, Banro has spent approximately $17.4 million on Twangiza, resulting in a total adjusted free cash flow on a sustaining basis of US$8.5 million. That's not great, especially not if you know that Banro has quite a bit of debt on its balance sheet (with a net debt position of in excess of $200M as of at the end of last year). But perhaps 2016 will look better?
The guidance for 2016 looks quite positive to me, but there are a lot of 'additional' costs
The company has also provided a guidance for this financial year, and Banro expects to produce in between 210,000 and 230,000 ounces of gold at the cash cost of in between $700 and $800 per ounce. If I would know use the midpoint of both guidances, Banro is aiming for production of 220,000 ounces of gold at a cash cost of $750 per ounce.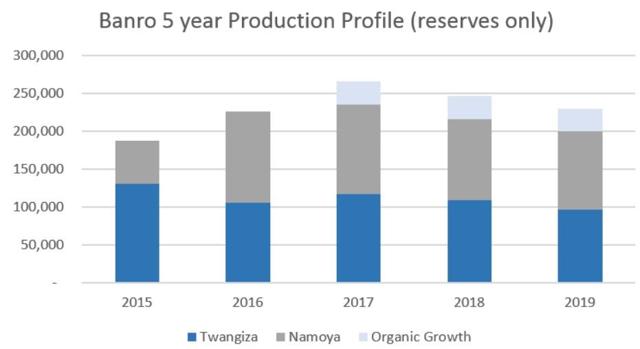 Click to enlarge
Source: company presentation
This does sound attractive as the current gold price is in excess of $1200 per ounce but there are few things you cannot ignore. First of all, the total expected capital expenditure of US$32 million means the capital intensity will add approximately $150 to the production cost, and the all-in sustaining cost will most definitely not come in below $900-$950/oz, in line with the company's official guidance:
'At this production level, the company expects consolidated cash costs in the range of $700 to $800 per ounce with cash costs in the higher range in H1 and following below the lower range in H2 consistent with the production volumes stated above.

The site all-in sustaining costs expected to be in the range of $800 to $900 per ounce with the consolidated all-in sustaining costs in the range of $875 to $950 per ounce.'
That still sounds (relatively) appealing and would mean that Banro would still be generating a net operating margin of approximately $300 per ounce, but there are two negative factors that are impacting this.
In a first step, you would still need to add the total amount of interest expenses to the equation as well, and I'm afraid this will add another $100 to the total cost per ounce. But there is also some bad news from the revenue side, as the new gold streaming you will require Banro to deliver approximately 11,000 ounces of gold at the price of just $150 per ounce, and this will reduce the total average received price per ounce by approximately $50.
So taking everything into consideration, the fully loaded cost per ounce will be in excess of $1050, but even at $1240 gold Banro will very likely receive less than and $1200 per ounce resulting in a net margin of just $150 per ounce.
Investment thesis
Of course, a net cash flow of approximately US$30 million is still very attractive for company with a market capitalization of approximately US$100 million, but with a problematic working capital deficit and net debt position of $180 million ($250M if you take the preferred shares into consideration), you'll understand why $30 million won't move the needle that much.
Yes, with the expected positive free cash flow Banro will create some more breathing room for itself, but it's pretty obvious that with the increased cash cost and the gold stream, Banro will need a gold price of at least $1350 per ounce to start reducing its net debt in a meaningful way.
Disclosure: I/we have no positions in any stocks mentioned, and no plans to initiate any positions within the next 72 hours.
I wrote this article myself, and it expresses my own opinions. I am not receiving compensation for it (other than from Seeking Alpha). I have no business relationship with any company whose stock is mentioned in this article.
Editor's Note: This article covers one or more stocks trading at less than $1 per share and/or with less than a $100 million market cap. Please be aware of the risks associated with these stocks.