It has been a rocky year so far for Starbucks (NASDAQ:SBUX) shareholders. The share price has had a number of ups and downs but finds itself now just a little ahead of where it finished 2015. There have been a number of fears floating around by market commentators saying that the company could have struggled this quarter, but we believe they might yet surprise.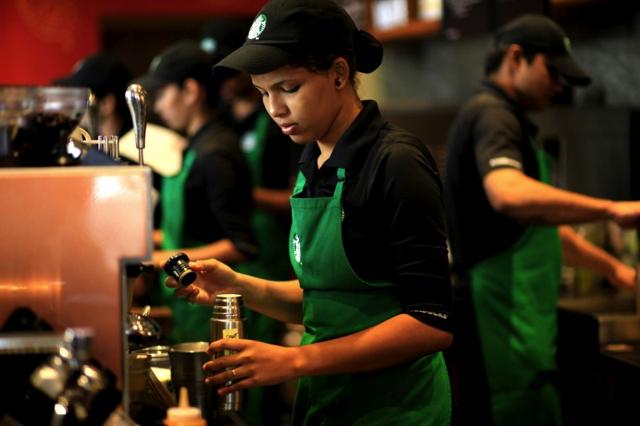 Click to enlarge
Starbucks produced a very strong first quarter with strong revenue growth and margin expansion. For the second quarter, which will be announced in just under a couple of weeks, CFO Scott Maw provided guidance of 38 to 39 cents on a non-GAAP basis. Ever the optimists, analysts are expecting the high side of the range which equates to 18% growth on the same period a year previous. Even more optimistically we believe that Starbucks could actually beat by a solitary cent.
According to numerous market commentators there are many potential headwinds that could prevent this, though. A series of terrible terrorist attacks in Europe and Asia have been touted as negatively impacting traffic for Starbucks. A Starbucks store in Jakarta was picked out and targeted by terrorists, and a store in Brussels was indirectly caught up in the atrocities there. Starbucks is well-known for attracting tourists, which is allegedly the key reason it was targeted in Jakarta.
This brings us onto the next point - tourism. There were fears that tourism into Europe could be affected by the atrocities. Which is a reasonable assumption to make. This would be bad news for the EMEA segment of Starbucks which has been the only real disappointment in recent years.

Click to enlarge
Source - Starbucks 10Q
As you can see above, sales growth, changes in transactions, and changes in ticket is lagging behind the Americas and China/Asia-Pacific. Drops in tourism levels into Europe, which makes up the majority of its EMEA segment, could prevent any improvements.
But, two points on this. One is that the segment only provides 5.8% of the company's revenue at the moment. Poor performance is not at all what we want to see, but it is by no means as significant as if the China/Asia-Pacific were to come under pressure.
Secondly, it has been reported just this week that tourism into France rose despite the two attacks in Paris during 2015. In figures released on Friday by the French government, it shows that 84.5 million visited France in 2015. The growth of 0.9% is obviously slower than it would have expected had the attacks not happened, but the French foreign affairs minister Jean-Marc Ayrault still appears to believe that things are on track for the country to achieve 100 million foreign tourists by 2020.
But as we mentioned above, it really is the China/Asia-Pacific where the real growth will be found. In the last year an average of 2.42 stores opened each day in the region. This mind boggling growth just doesn't look like stopping. In the current financial year management has a target of opening 1,800 new stores, with approximately half of them in China/Asia-Pacific. That equates to just a touch under an incredible five new stores opening around the world every day. This is what makes Starbucks a compelling buy for patient investors, in our opinion.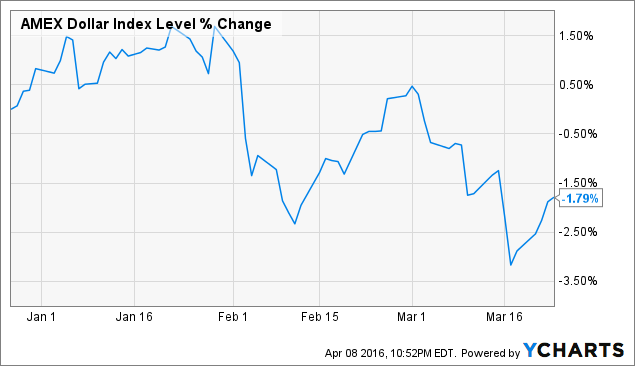 Another factor which may help the company achieve a slight beat on earnings is the weakening of the US dollar. The previous quarter closed on December 27 2015, with the most recent quarter closing March 27 2016. During that time the US dollar index has dropped by 1.79%. Furthermore, the Chinese renminbi strengthened by 3% during the same period. This could be a boost to the company's second-largest segment.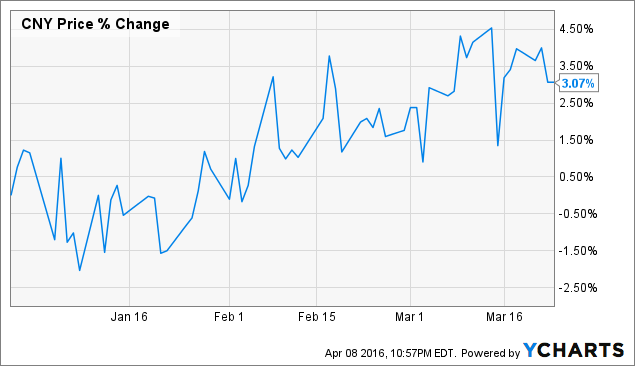 This should support another strong performance from its domestic operations. The rise in disposable personal income in the US should be a big help. It has been reported that the restaurants sector has been a big winner from savings on gas.
Because of this we expect the company could produce a one cent earnings beat in the second quarter. Currency headwinds have been a real problem for multinationals like Starbucks, so the recent weakening of the US dollar should come as a big relief.
We think an earnings beat is definitely needed to take the share price higher. The comparatively high earnings multiple the shares trade on does put it at risk of steep declines if earnings come in short of guidance. At 37x earnings this is a great deal higher than the likes of McDonald's (NYSE:MCD) which trades at 27x earnings, and Yum! Brands (NYSE:YUM) which also trades at 27x earnings. If this were to happen, though, we would look to grab a basket of shares on any dip. Especially as we expect that this time next year the share price will have broken through the $70.00 mark.
Disclosure: I am/we are long SBUX.
I wrote this article myself, and it expresses my own opinions. I am not receiving compensation for it (other than from Seeking Alpha). I have no business relationship with any company whose stock is mentioned in this article.