Late last week, AT&T (NYSE:T) announced that it extended its 4G network to another 1 million people in Mexico in 1Q16. Not bad, considering that AT&T's mobile operators in the country (Iusacell, Nextel and Unefon, unified under the American carrier's umbrella) had a combined subscriber base of no more than 10.3 million users as of September 2015, representing 9.6% market share (see first chart below). The increase in 1Q16 follows another sizable one registered in 4Q15, of nearly 600,000 added to the 4G grid.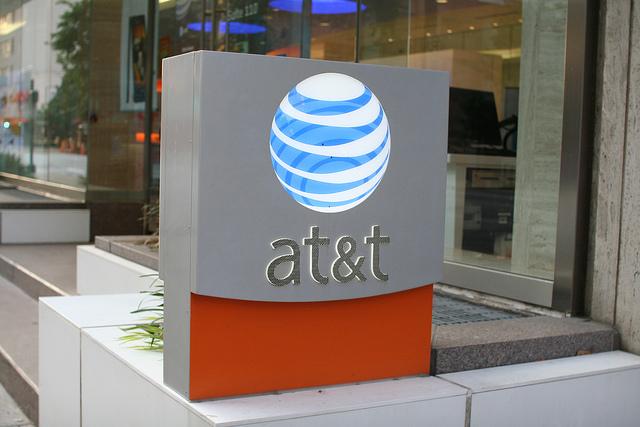 Credit: Flickr.com
CEO Randall Stephenson apparently was not kidding when he said, on the most recent earnings call, that "to compete in today's market, the solutions do have to be global solutions because at the end of the day our customers are global... [AT&T] extended [its] wireless network into Mexico now, and […] growth in Mexico is exceeding all expectations".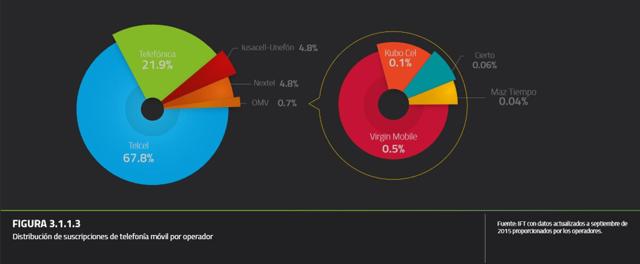 Click to enlarge
Source: Instituto Federal de Telecomunicaciones
In this article, I will assess what AT&T's entry into Mexico, its first big international market, may represent for the company. But first, let's take a quick look at what other carriers around the world have been doing.
Telecom has decisively gone global
AT&T's move into Latin America through the 2015 acquisitions of DirecTV, Iusacell and Nextel Mexico makes the company another of many carriers to take their operations global. The table below summarizes the presence of some of the top western telecom operators outside their home countries.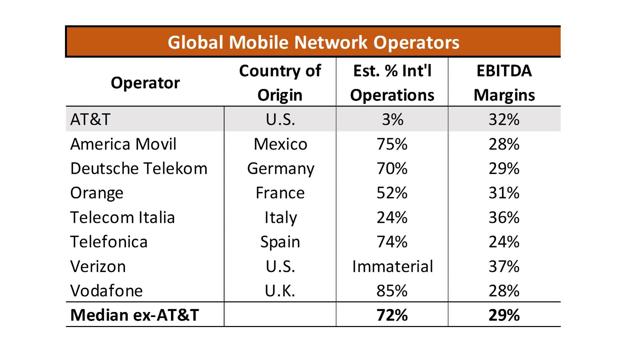 Click to enlarge
Source: DM Martins Research, using data from Wiki and Company Reports
Notice how the leading U.S. carriers, AT&T and Verizon (NYSE:VZ), have barely scratched the surface when it comes to global expansion. Meanwhile, Vodafone (NASDAQ:VOD) already draws 85% of its revenues from non-U.K. operations, including India, South Africa and other non-European markets.
Another interesting finding from the table above is that the most globally-diversified carriers are also the least profitable. There seems to be a nearly-perfect inverse relationship between geographic diversification and profitability: Vodafone, America Movil (NYSE:AMX), Telefonica (NYSE:TEF) and Deutsche Telekom (OTCQX:DTEGY), whose international operations represent 70% or more of the total, all have EBITDA margins below 30%. Meanwhile, Orange's (NYSE:ORAN), Telecom Italia's (NYSE:TI) and Verizon's margins all exceed the 30% mark.
Despite the possible negative impact that being spread out thinly across different countries may have on profitability (possibly due to higher overhead and fewer synergies), going global is crucial in a sector as competitive and mature as telecom. AT&T has picked Mexico (and Latin America in general, to some extent), a large market with relatively low penetration, to start its international journey.
What could Mexico represent for AT&T?
According to AT&T's 2015 annual report, the company's "LTE network in Mexico [is expected to] cover 75 million people by the end of 2016". This number compares to 45 million in 42 Mexican cities today, and to 44 million in 41 cities at the end of last year. But the company has also said that it intends to invest $3 billion to eventually bring 4G services to 100 million Mexicans by 2018, in a country with a total population of 120 million.
Mexico, in fact, has one of the largest mobile subscriber bases in Latin America, second only to Brazil's 258 million. Yet, mobile penetration is the lowest of any top 10 country in the continent, at 88% (only 107 million active mobile subscribers). For context, the continent's average is 118%, and the highest (Argentina) is 147%.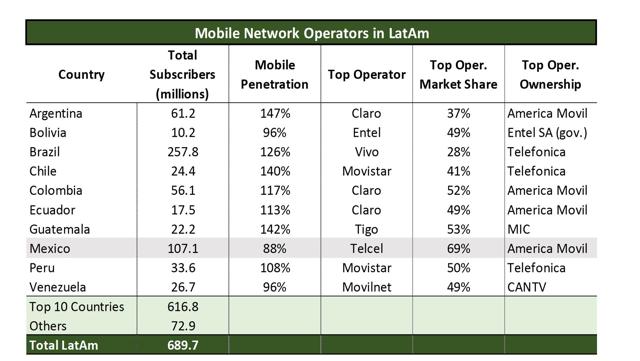 Click to enlarge
Source: DM Martins Research, using data from Wiki
What this represents, in my view, is a great opportunity for AT&T to tap into a large yet underserved market right next to home. Today, international operations represent only 2-3% of AT&T's total revenues. But at the growth rate observed in the past two quarters, and considering the company's plan to extend its 4G network to nearly the entire population in the country, the landscape could change very quickly.
Let's do some math
Let me assume that AT&T is able to add 3.2 million new mobile subscribers per year. AT&T could nearly double its current client base in Mexico to 20 million in three years - by the time the company expects to have its 4G network more than doubled to 100 million from the current 42 million POPs (points of presence). This level of expansion would either imply an aggressive gain in market share, from 9.6% to 18.7%, or an increase in mobile penetration, or both. Aggressive, yes, but plausible.
A closer look at the rival and market leader can give us an idea of what this kind of growth could mean for AT&T's top line. America Movil had, through its Telcel brand, about 73 million subscribers (68% market share) as of September 2015. At my estimated 196 billion Mexican pesos in 2014 revenues, this number suggests an ARPU (average annual revenue per user) of about MXP 2,600, or $150. Therefore, growth of 10 million mobile subscribers in three years would mean an additional $1.5 billion in annual revenues for AT&T - i.e. top line expansion of about 1%.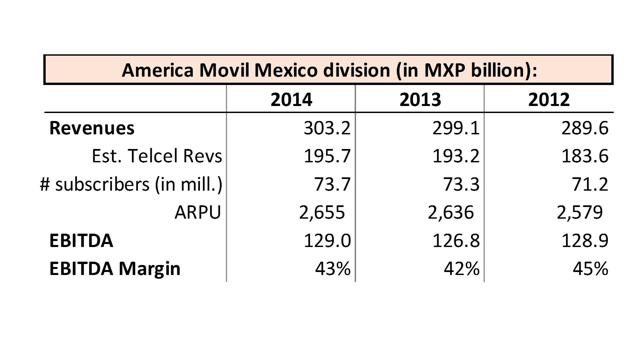 Click to enlarge
Source: DM Martins Research, using data from AMX SEC filings
A revenue growth rate of 1% might not look like quite enough to excite most investors. But keep in mind that, according to Yahoo Finance, the Street expects AT&T's total revenues to expand only 1.9% in 2017. Mexico could drive almost 50% of this growth, despite still being such a small piece of AT&T's overall business - and we are not even talking about the potential upside from wireline and video opportunities in Latin America.
We could see much more subscriber and revenue growth coming from overseas in the next few years. Not only that but, as the table above suggests, the low-40s wireless margins (in EBITDA terms) generated by America Movil in Mexico could prove to be much more attractive than the high-20s, low-30s that the sector has grown accustomed to.
So while AT&T's expansion into Mexico (and into Latin America) is still in the very early innings, I will be very curious to see how the story unfolds in the next few quarters.
Disclosure: I/we have no positions in any stocks mentioned, and no plans to initiate any positions within the next 72 hours.
I wrote this article myself, and it expresses my own opinions. I am not receiving compensation for it (other than from Seeking Alpha). I have no business relationship with any company whose stock is mentioned in this article.