Johnson & Johnson (NYSE:JNJ) is a stock that many dividend growth investors champion as an essential core holding for a portfolio. And there are very good grounds for doing so. The healthcare firm is a Dividend King with a 53-year record of paying out consecutively rising dividends.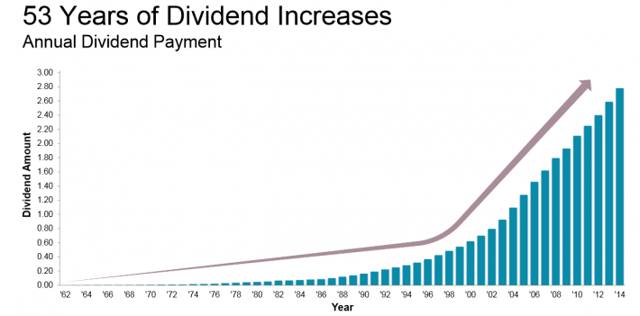 Click to enlarge
Company Overview
Founded in 1886, Johnson & Johnson is an extremely diversified global healthcare company that has a market capitalization of $301.04 billion and divides its operations into three sectors: consumer, pharmaceutical and medical devices.
Consumer: This sector offers a range of well-known brand names such as Johnson's Baby Care, Listerine, Benadryl, Neutrogena, Tylenol, Band-Aid, Aveeno, Splenda, Carefree, Reactine and Polysporin, to name but a few. The consumer sector is the smallest of the three, making sales of $13.5 billion for 2015.
Pharmaceutical: This sector is subdivided into five areas - cardiovascular and metabolism; immunology; infectious diseases and vaccines; neuroscience; and oncology. The pharmaceutical sector is by far the largest sector within Johnson & Johnson, making sales of $31.4 billion for 2015.
Medical Devices: This sector provides a vast array of products in fields such as aesthetics; arrhythmias; bariatic surgery for obesity; cardiovascular disease; diabetes care; diagnostics; ear, nose and throat conditions; general surgery; hernia surgery; insulin delivery devices; orthopedic and neuro; self-measured blood glucose monitors; surgical instruments and infection prevention; urological surgery; and vision care. This sector is the second smallest, making sales of $25.1 billion for 2015.
Competitive Advantage
Johnson & Johnson is the largest healthcare company in the world, and the eight largest pharmaceutical company. It has three sectors that, by themselves, would be profitable and diversified companies in their own right. Combined, they make a healthcare colossus that has an enormous range of products which sell, and sell well.
Free cash flow has increased from 2014 from $15.6 billion to $17.2 billion in 2015. And nearly half of all revenue for the company is generated internationally - 4th quarter 2015 sales generated from the U.S. was $9.3 billion, and internationally was $8.5 billion.
As the largest healthcare firm in the world, and a cash-rich company, Johnson & Johnson has the resources to fund research and development on a scale that other firms simply cannot match. In 2015, $9.046 billion was spent on research and development. By comparison, in 2015, GlaxoSmithKline (NYSE:GSK) spent $5.440 billion on research and development, Pfizer (NYSE:PFE) spent $7.689 billion, Eli Lilly (NYSE:LLY) spent $4.995 billion and Bristol-Myers Squibb (NYSE:BMY) spent $5.92 billion.
Furthermore, Johnson & Johnson is also rich enough to ensure that its brands are very well promoted. The company has spent in excess of $20 billion on advertising every year for the last five years, which ensures its visibility to prospective customers. Not that Johnson & Johnson is carefree with its profits, though: the company is very conservatively managed, and holds an AAA credit rating with a 21.8% debt to total capital ratio on its balance sheet.
Valuation
Johnson & Johnson is currently trading at just under $110, with a price-to-earnings ratio of 19.91 and a dividend yield of 2.75%. Though the payout ratio is solid at 52.97%, overall this is a higher valuation than is usually the case with Johnson & Johnson.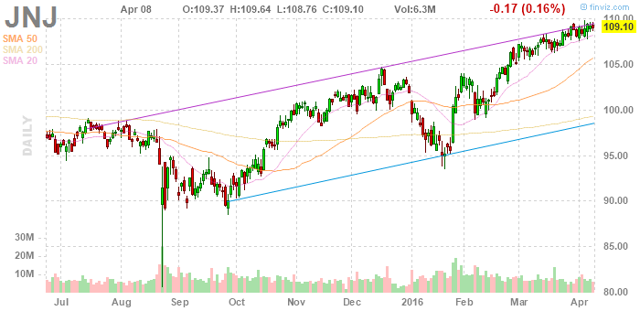 Click to enlarge
The average five-year dividend yield for Johnson & Johnson is 3.04%, which is higher than its current yield. The margin of safety is considerably reduced as a consequence, and I would personally prefer it to dip below $100 before starting a position here, as that would provide a 3% dividend yield and a greater margin of safety.
Conclusion
I entirely agree that Johnson & Johnson is a quality business that should be a core holding in a long-term dividend investor's portfolio, but not at any price. Currently, the stock is more expensive than I would be willing to pay for it, and would prefer to see the dividend yield at 3% before starting a position.
That said, Johnson & Johnson is definitely a company to prioritize as becoming part of a portfolio, once a more favorable valuation occurs.
DISCLAIMER: I am not a financial professional and accept no responsibility for any investment decision a reader takes. This article is for information purposes only.
Disclosure: I/we have no positions in any stocks mentioned, and no plans to initiate any positions within the next 72 hours.
I wrote this article myself, and it expresses my own opinions. I am not receiving compensation for it (other than from Seeking Alpha). I have no business relationship with any company whose stock is mentioned in this article.