AT&T (NYSE:T) currently makes up 11% of the R.I.P. portfolio, and I have recently contemplated adding to (yes, adding to) the already overweight position. AT&T shares have greatly outperformed the market on a YTD basis and the stock price is sitting close to its 52-week high, so why would anyone want to add shares at the current price level? It's simple - AT&T has been able to report impressive (and improving) operating results over the last year and the future looks even brighter.
Furthermore, analysts are now finally starting to realize the long-term prospects that are in place for this great company with a recent example being the investment firm Macquarie initiating coverage on AT&T, and giving the telecom an Outperform rating with a $45 price target.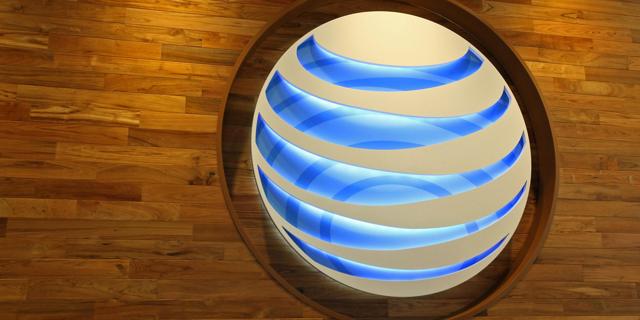 Click to enlarge
Let's start by first taking a look the recent earnings results, and then I will describe the factors will contribute to AT&T being able to continue the trend of reporting improving operating results over the next few years.
Earnings
AT&T has been able to meet (or beat) the consensus earnings estimates for each of the last five quarters, with the company most recently reporting results that were inline with expectations ($0.63 adjusted EPS for Q4 2015).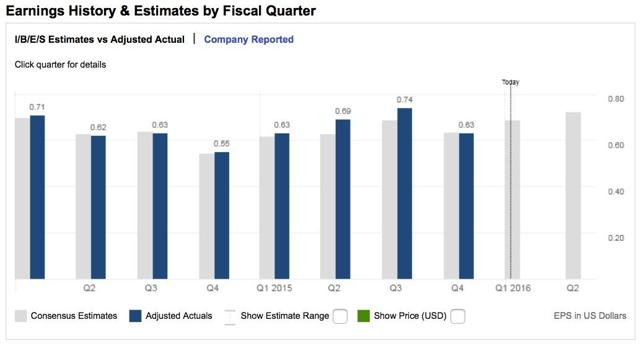 Click to enlarge
(Source: Fidelity.com)
For Q4 2015, AT&T reported double digit YoY increases in three key metrics: consolidated revenues, adjusted EPS, and free cash flow.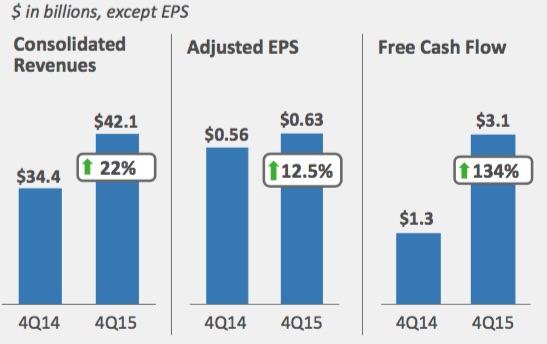 (Source: Q4 2015 Earnings Presentation)
The DirecTV acquisition is already starting to pay huge dividends (as predicted in this article), but AT&T has many other factors that are contributing to the company being able to report improving operating results --two examples being IoT and expanding operations internationally.
Internet of Things, or IoT
IoT is going to play a major role in the future of our economy, especially in the telecom industry, and AT&T has already established itself as an industry leader in this field. AT&T continued to add connected devices to its network in 2015 and the company is leaps and bounds ahead of competitors when it comes to adding connected cars into the fold. Management highlighted this during the Q4 2015 conference call:
...we built on our global leadership position in the Internet of Things and our IoT solutions are not U.S. solutions, they are global solutions. We invested very early in this space and it is paying off. We now have over 26 million devices connected to our network. We're also a leader in Connected Cars. We added a million of them in the fourth quarter and recently we completed a deal with Ford that we believe is going to connect at least 10 million cars over the next five years.
In my opinion, adding devices for the IoT will be one of the top growth drivers for AT&T for years to come so it is encouraging to hear that management is laser focused on establishing (and maintaining) its leadership position.
International Expansion
In a previous article, I described the fact that long-term investors will reap the benefits of AT&T expanding internationally. To go along with DirecTV's international operations, AT&T made two other acquisitions (Iusacell and Nextel Mexico) in 2015.
The international results at Q4 2015 were not spectacular, but the top-line revenue growth was encouraging.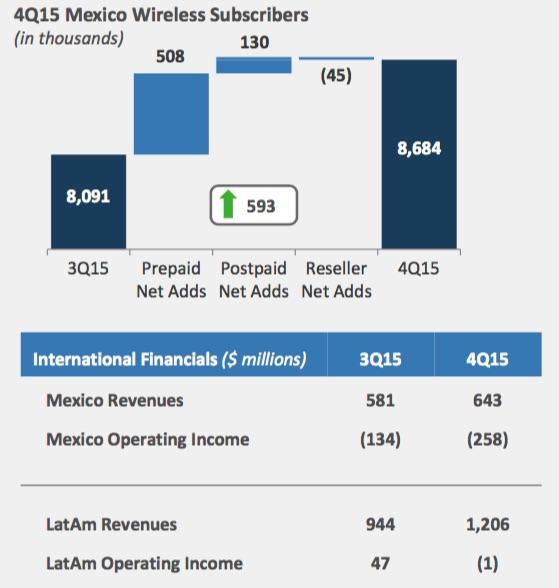 (Source: Q4 2015 Earnings Presentation)
Top-line revenue is growing at a healthy clip but as expected the earnings are heading in the opposite direction. This makes sense because the company previously communicated plans to heavily invest in the international operations.
AT&T is building a strong foundation for its international operations and the company is already beating several internal targets/benchmarks. In addition, AT&T just disclosed that the company added 1m Mexican 4G customers in the first quarter of 2016. The company is making great strides in expanding operations internationally, but it will be important for AT&T to build on this momentum. Stay tuned, because management will undoubtedly be discussing this topic on the next earnings call.
Free Cash Flow
The DirecTV acquisition has greatly improved AT&T's free cash flow ("FCF") metrics, and improvements should continue in the quarters ahead. I included Verizon's (NYSE:VZ) Q4 and full-year 2015 FCF metrics in the table below for comparison purposes, and to further analyze AT&T's FCF metrics.
($ - in millions)
Verizon
AT&T
Q4'15
FY 2015
Q4'15
FY 2015
Net cash provided by operating activities
$10,504
$38,930
$9,185
$35,880
Less: capital expenditures
(5,235)
(17,775)
(6,093)
(20,015)
Free Cash Flow
$5,269
$21,155
$3,092
$15,865
Dividends paid
$8,538
$10,200
FCF after dividends
$12,617
$5,665
FCF dividend payout ratio
40%
64%
(Sources: Verizon's Q4'15 Non-GAAP reconcilations report and AT&T's Q4'15 Reconcilation of Free Cash Flows report; table created by W.G. Investment Research)
At this point in time, Verizon is way ahead of AT&T in relation to the FCF dividend payout ratio but AT&T has made tremendous progress in improving this metric since early 2015. AT&T's FCF dividend payout ratio was in the upper 80's and mid-90's throughout 2014 and into early 2015, so the 64% is something to brag about. For 2016, management of AT&T is estimating for the dividend payout ratio to be in the 70's.
Valuation
Even with AT&T shares up ~11% so far in 2016, the company is still attractively valued from an earnings perspective. Based on earnings estimates at Yahoo! Finance, shares are trading at ~13.5x 2016E earnings. For comparison purposes, Verizon is trading at ~13x 2016E earnings. In my opinion, both companies are great long-term buys at today's prices.
Bottom Line
AT&T is scheduled to release Q1 2016 earnings on April 26, 2016, and I fully expect for the company to meet (or beat) the earnings estimates. The early benefits that AT&T is experiencing from the DirecTV acquisition are likely to continue for the four quarters of 2016. Moreover, the investment community is starting to understand that AT&T has several significant growth drivers that will be tailwinds throughout 2016 and 2017 so we should expect more upgrades in the near-future.
The growth in connected devices and the company expanding internationally are two catalysts that will likely contribute to AT&T shares outperforming the market for at least the remainder of 2016. As such, long-term investors should treat any significant pullbacks as buying opportunities.
If you found this article to be informative and would like to hear more about this company or any other company that I analyze, please consider hitting the "Follow" button above.
Disclaimer: This article is not a recommendation to buy or sell any stock mentioned. These are only my personal opinions. Every investor must do his/her own due diligence before making any investment decision.
Disclosure: I am/we are long T.
I wrote this article myself, and it expresses my own opinions. I am not receiving compensation for it (other than from Seeking Alpha). I have no business relationship with any company whose stock is mentioned in this article.