The cold winds may have tightened their grip on the northeastern part of the country, but it will take more than an extended winter to stall the home improvement giant, Home Depot, Inc. (NYSE: HD), which has been making steady headwinds since the beginning of this year. Since the stock plummeted in February to $110-115 levels, it has not looked back. Achieving a new 52-week high of $136.23 and generating almost 20% returns in two months, the question that looms large is that does this stock have any more steam left? The answer to that question is a resounding yes. Let's see why.
The revenue stream generated by Home Depot can be classified into three segments: products bought for DIY projects, by professional contractors, and its services and labor category.
The DIY segment
The DIY consumer can be typically described as young adults who are buying their first homes, and for them the expenditure is on home settlement (the basic necessities). For long, young Americans have preferred the DIY projects not only for the customary feel that it provides but also for the self-satisfaction it generates which results in creating lasting memories. Interestingly, the 2015 US Census Bureau marked the first year when the millennia generation (age 18-34) projected to reach 75.3 million, outweighed the number of Baby Boomers (ages 51-69) in the population, who are expected to reach 74.9 million by the end of the year. And the survey by Bankrate suggests that it is the millennial homeowners who are most likely to make home improvements this year.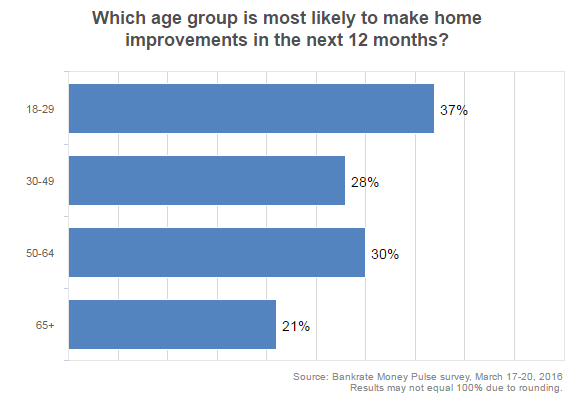 Source: Bankrate Survey
This segment helps in driving traffic and consequential transactions in stores. This was evident in its 4Q15 results where transactions for tickets under $50, representing approximately 20% of its U.S. sales, were up 3.8%. Its multi-channel programs of Buy Online, Pick Up in Store (or BOPUS) and Buy Online, Ship to Store (or BOSS) have been hugely successful as they accounted for 40% of all the digital orders, driving more traffic to the stores.
The Pro Customers
Half a decade after the housing bubble, the Americas property market has made a slow yet stable comeback. Property prices have risen up by 17% since bottoming out in 2012. This has generated a lot of confidence among homeowners who now slowly turn towards building equity in their homes (in the form of improvements) before renting or selling them out.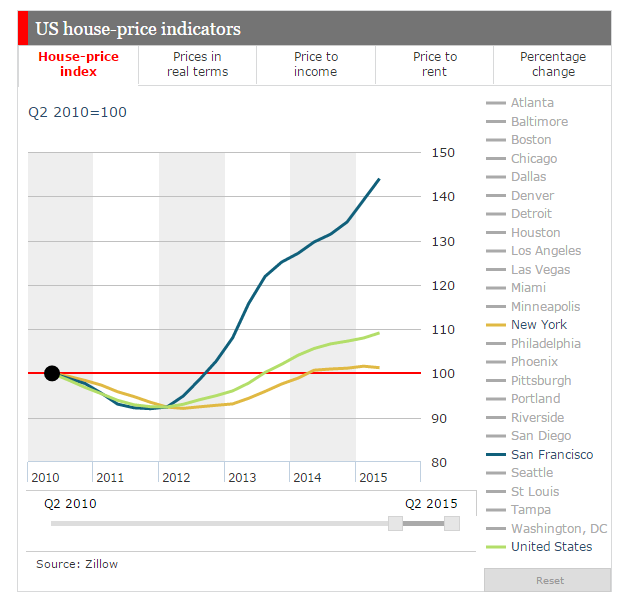 Source: Economist
Add to that low unemployment numbers, strengthening forecasts of GDP as the economy recovers from low energy price crisis and it can be safely inferred that residential investments are expected to grow. Signs of it were already visible in the revenue break up of Home Depot pertaining to the last quarter as comp ticket size increased by 2% and transactions for tickets over $900, representing approximately 20% of its U.S. sales, headed north by 11.9%.
Synergy with Interline
There is a strong reason why Home Depot remains bullish on its Pro segment. Another survey by Bankrate found that renovation in one form or the other is the most popular type of home improvement.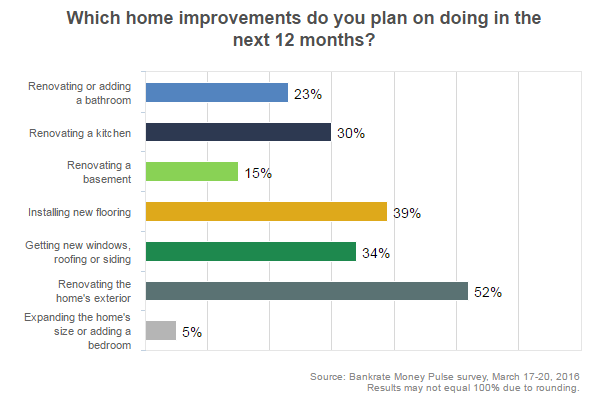 Source: Bankrate Survey
Home Depot had acquired Interline Brands, a leading national distributor of maintenance repair and operations or MRO products in the 3Q15. This not only provides HD with a tremendous opportunity to penetrate the $50 billion MRO market but also provides a great platform for cross selling of its products. The company had already mentioned in the 4Q15 earnings call that it will soon be offering its exclusive paint brands to Interline's multi-family operators.
The Mortgage Rates
The mortgage rates post-recession have witnessed a free fall and have bemused economists and analysts alike. From an average annual FRM rate of 6% in the decade pre-recession, it has now come down to sub 4% levels. Not unexpectedly, the rates continue to surprise as they remain as low as 3.4% for the 30-year fixed rate category. This is despite the fact that the macroeconomic figures have been satisfactory, with unemployment figures at 5% and inflation at 1%. The Mortgage Bankers Association, however, believes that the mortgage rates would jump to 5.1% by the end of this year while Fannie Mae forecasts a shallower rise to 4.2%. Though a forecasted increase in rates would have spurted short-term demand, but given the demographics of the target segment of Home Depot, a sustained lower mortgage rate seems much more investor-friendly.
The Conclusion
Home Depot is one company that unlike its products has remained flexible and adaptable to changes in consumer behavior. A spitting example of this is its online business which it has successfully integrated with its physical stores. Advanced search options, more choices and an extensive supply chain network to support its multi-channel programs aligns its business completely to a consumer decision making process. Being the market leader in a $550 billion and growing home improvement market also helps its case.
Disclosure: I/we have no positions in any stocks mentioned, and no plans to initiate any positions within the next 72 hours.
I wrote this article myself, and it expresses my own opinions. I am not receiving compensation for it (other than from Seeking Alpha). I have no business relationship with any company whose stock is mentioned in this article.