Introduction
In my previous article, I stated that right now when I compare Franklin Resources (NYSE:BEN), Ameriprise Financial (NYSE:AMP), and T. Rowe (NASDAQ:TROW), AMP is my favorite choice. I explained why l believe in its growth opportunities, and how it can grow its revenue, earnings and dividends. BEN is another leading asset management company, and also a dividend aristocrat that has rewarded shareholders for decades with buybacks and dividends.
I used to prefer BEN over AMP, but over the past year, there was a fundamental change in this pair of stocks. While both of them suffered from a decline in share prices, BEN also suffered from a steep decline in EPS. At the same time, AMP managed to maintain and grow its EPS. Therefore, the P/E ratio of AMP declined sharply, and made its valuation more attractive.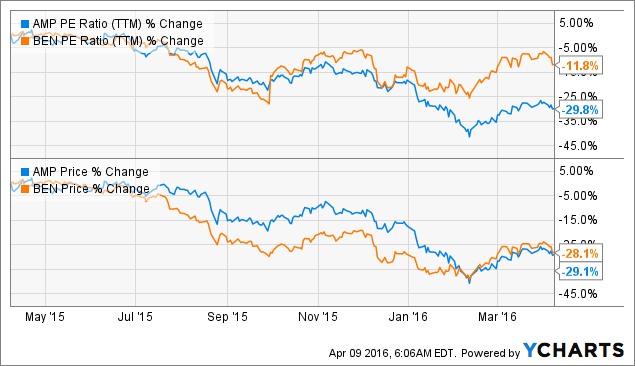 AMP PE Ratio (TTM) data by YCharts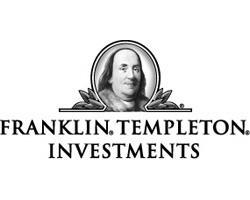 Franklin Resources is a major American global investment firm. Today, the company is one of the world's largest asset management groups with over $700 billion in assets under management (AUM) on behalf of over 25 million private, professional and institutional investors. The company holds several successful funds and a very well-known brand.
Fundamentals
That is probably one of the greatest problems BEN is suffering from. When I look at its fundamentals, I see a decline in almost every major metric. This is the major difference between BEN and AMP. AMP managed to maintain flat EPS in 2015 with its massive shares buybacks. BEN is also buying its own shares, but it wasn't enough to offset the decline in the income.
For BEN's income is down and so is the revenue. Luckily for the company, it doesn't need a lot of capital to operate, so it can easily maintain its dividend and buybacks even when the top and bottom line are declining.
However, as the company can cope with it for the short term, the long term is less certain. FCF is also declining due to the revenue decline, but it is higher than the income, so again the company has more than enough cash flow to support its operations and reward shareholders. The decline in EPS is forecasted to continue in 2016, and it might push the EPS closer to its 2011 mark of $2.87.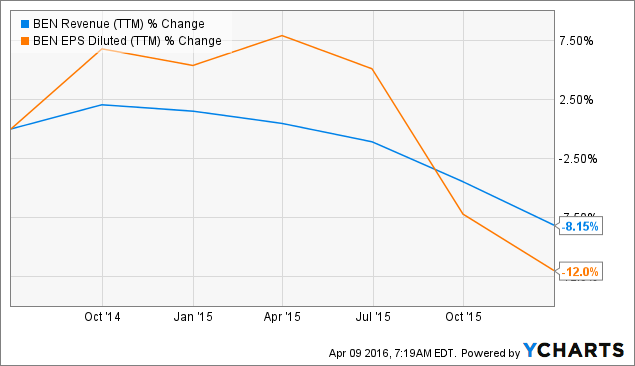 The dividend as I mentioned above is extremely safe, as BEN only distributes a small fraction of its earnings to its shareholders. The company is also paying a big special dividend every now and then, but the regular dividend is easily covered by earnings, even after the latest decline. The yield and the payout ratio grew due to the decline of the share price and the EPS. Yet, with a payout ratio that is lower than 40% after the drop, BEN offers investors a very safe 2% dividend yield.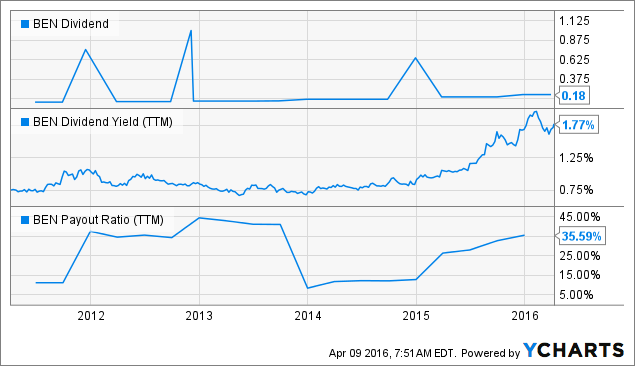 BEN Dividend data by YCharts
The company is taking advantage of the steep decline in the price of its shares by accelerating the pace of its buybacks. Over the past year, the share count declined by over 4%. This is a smart use of the capital, as it takes advantage of the low valuation and, unlike dividends, it can be slowed down in the future if the share price recovers or the fundamentals weaken to a point where cash is needed elsewhere.
Valuation
The valuation is the major problem with BEN in my opinion. I don't mind buying stocks when "there is blood in the streets", and they suffer from a temporary weakness. I did so with several stocks in my portfolio. However, the valuation of the stocks should reflect their current weakness. There is no point in buying a company going through hardships if you cannot take advantage of the situation and have some margin of safety.
As the first graph I posted shows, BEN suffers from lower share price together with lower earnings. Therefore, it is not much more attractively valued than it was just a year ago. On the other hand, its peer AMP managed to maintain flat EPS and saw its P/E crash steeply.
In order for BEN to be more attractively valued, its P/E ratio should be in line with the latest decline in earnings. I cannot justify buying a stock that drops at the same pace as its earnings drop. Therefore, I prefer at the moment AMP, and I will consider BEN for a price of $28-$30 and P/E ratio of around 10. This is, of course, as long as AMP trades around its current price. If AMP surges, then BEN might be more attractive even if the price stays the same.
Opportunities
The current valuation while not low enough, still gives investors an opportunity to buy a major brand for a lower than average valuation. If you invest for the long term, you will have the opportunity to enjoy a relatively very high entry yield. BEN is one of the most renowned brands in the industry and it is trading right now for lower than average valuation, possibly offering higher than average returns in the future.
Not only does BEN have the power of its brand, it is also a leader in the industry. According to Morningstar, most of its fixed income funds, its main product, beat their peers when looking at 5- and 10-year returns. Showing a superb track record for a long period of time is a strength that will attract investors in the future.
Shareholders' compensation is another plus. While the yield is low, the company also returns a lot of cash through buybacks. Moreover, the dividend yield is low, but it doesn't take into consideration the massive special dividends that were paid by the company three times over the past 5 years. BEN is definitely a company that prioritizes returning money to shareholders which is a great advantage.
Risks
The major risk for BEN, especially when compared to AMP and TROW, is its lack of diversification. It really depends on the fees from its funds. Yes, its funds are successful when compared to peers and the industry average, but it still heavily relies on its AUM for its revenue, and as AUM dropped last year, so did the revenue and income.
The trend of declining AUM is forecasted to continue in the medium term. Morningstar has called it Flowmageddon, and it happens due to the new growing number of ETFs and cheap investment products. This trend will continue, in my opinion, but I think that large renowned companies like BEN will be able to cope with it, as they manage to bring value to investors. Yet, as long as the AUM declines, so will the income.
Volatility in the market is another risk for the company. It makes investors nervous and less willing to deploy available capital. It can accelerate the Flowmageddon trend, and BEN has to prove that it can bring returns even in volatile markets. Its top fixed income funds are among the best in the market, but the uncertainty in the stock market and uncertainty of BEN's ability to stop the bleeding of assets must be taken seriously.
Conclusion
When I summarize it all, I have a company which isn't very diversified, and its main business is under stress. The fundamentals are weakening over the past two years, and there are several risks and uncertainties around it. Therefore, I expect to be able to purchase the stock for a lower than average valuation. Sadly, this is not the case, and it actually trades for a premium when compared to AMP and is certainly not cheap enough when compared to TROW.
Therefore, I right now prefer AMP for its almost 3% safe yield with growth, or even TROW with fair yield and growth. BEN should either start showing signs of a turnaround, or have a further price decline in order to be attractive enough. The possibility of selling put options is irrelevant as there is almost no trade on its options.
Disclosure: I am/we are long AMP, TROW.
I wrote this article myself, and it expresses my own opinions. I am not receiving compensation for it (other than from Seeking Alpha). I have no business relationship with any company whose stock is mentioned in this article.