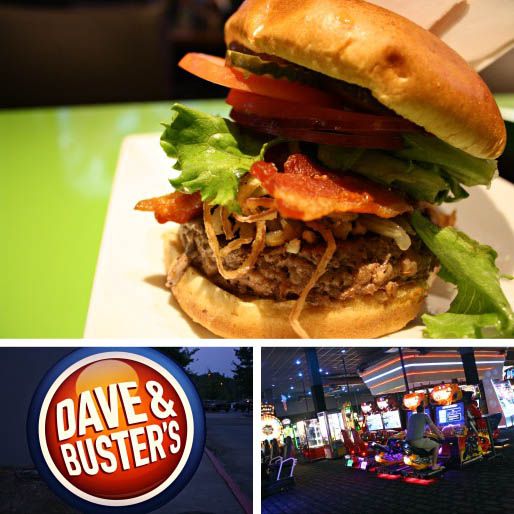 Dave & Buster's (NASDAQ:PLAY) has been a very interesting stock since it came public about a year and a half ago. The company's unique blend of food, drink and entertainment has proven to be a consistent hit as it has expanded its store count over time. In addition, its tremendous momentum with comp sales and EBITDA margins in the high-20s caused me to say that PLAY was cheap at $39 back in October. But since that time, shares have hit $43 and tanked to $29 before rebounding back to $39 where they sit today. After Q4 earnings failed to impress investors, is it time to move on from PLAY or is the stock mounting another rally attempt?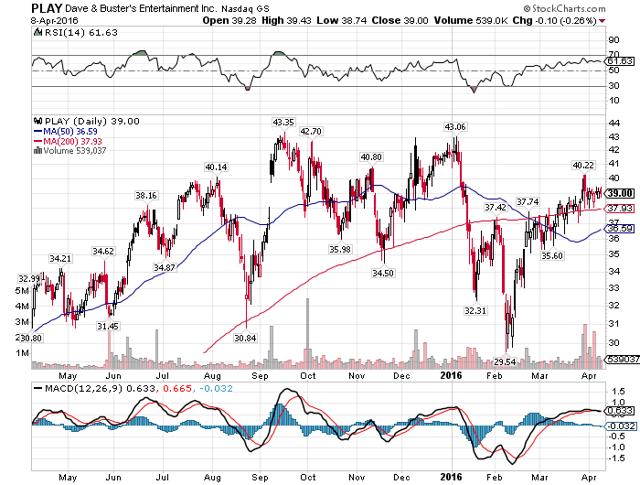 Click to enlarge
My bullishness on PLAY in the past was due to its combination of very strong margins and comp sales growth momentum. There aren't many places you can find both coexisting while the store count is expanding simultaneously and that has me excited for PLAY's future. In Q4, I saw nothing that deviated from that playbook and, indeed, a favorable revenue shift may have even improved PLAY's outlook.
Total revenue was up 13% in Q4 as the company's comp sales rose 6% following on the 10.5% increase in last year's Q4. For those keeping score at home, a two-year comp increase of 16.5% is unreal, and that is a big reason why I am so excited about PLAY's future. The formula works and PLAY has proven the ability to not only get people in the door, but get them to spend ever-increasing amounts of money once they're in. That sounds simple but it is difficult to do; PLAY has figured it out.
In addition to strong revenue growth from both footprint and comp expansion, the company's profitability is legendary. Q4 saw adjusted EBITDA hit 28.3%, an increase of 340 bps over last year's Q4. This represents a terrific improvement over the remainder of the fiscal year, and with PLAY's sales momentum, its EBITDA performance is all the more impressive. The company's EBITDA growth was due to strong performance from the amusement segment of the business, which carries very high margins, and operating leverage from its increasing comp sales. As PLAY continues to grow its comp sales and shifts revenue towards entertainment, adjusted EBITDA could sustainably hit 30% or more over the medium term. That's incredible profitability for a blended service/food company and that is why PLAY is a good buy here.
I said back in October that PLAY's EPS estimates for this fiscal year were light and, indeed, consensus was raised considerably after the Q4 report. PLAY's guidance for revenue and adjusted EBITDA suggest 25.3% adjusted EBITDA margin this year at the midpoints of each, but there is a lot of wiggle room in its current forecast up or down from that level. That would still be a ~50 bps improvement over last year's number, and given the strength in the company's comp and margin growth last year, I think the risk to that number is to the upside. The operating leverage that higher comps provide and cost controls were known, but what surprised me was a sizable shift of revenue into the amusement category, and as far as that goes, the more the better. That shift in revenue will be important to watch as PLAY begins to report this fiscal year and will determine if its adjusted EBITDA margin is closer to 25% or 26% for the full year.
At 21.6 times this year's earnings, PLAY isn't a screaming buy from a value perspective. But what you're buying with PLAY is the opportunity to own a growth story for years to come so we'll never see this stock hit 10 or 12 times earnings; PLAY is too successful for that. And given that mid-teens or higher EPS growth is the norm for this company, I don't see any problem paying 21 times earnings because, as I said, I think the risk is to the upside for its numbers. PLAY's momentum with its comps and margins is far too strong to expect 'only' 19% EPS growth this year. Of course, if I'm wrong and the margin story is derailed, we could see PLAY back into the $20s. I don't think that will happen but it is certainly a risk.
At $39, I think PLAY is still a terrific value. The footprint will be expanded for years to come, and while PLAY isn't trying to open 15% of its store base every year, its methodical approach to opening a limited number of stores and ensuring they're successful is prudent. In addition, its comp sales continue to roll on as they have for its entire life as a public company as it will surely see mid-teens sales growth for the foreseeable future. And with adjusted EBITDA margin moving higher over time due to operating leverage and the potential for higher amusement revenue, I think PLAY's ultimate potential for EBITDA margin is at least 30%. With years of revenue and margin growth ahead, 21 times this year's earnings is a bargain and I'm in.
Disclosure: I am/we are long PLAY.
I wrote this article myself, and it expresses my own opinions. I am not receiving compensation for it (other than from Seeking Alpha). I have no business relationship with any company whose stock is mentioned in this article.