Joel Greenblatt's classic book "You Too Can be A Stock Market Genius" devotes a considerable amount of effort to explaining why spin-offs can be attractive investment opportunities.
His idea is simple. Management teams, now freed from the shackles of larger organizations, can unleash their entrepreneurial spirit. The newly independent culture now has more flexibility and (sometimes) more capital to better exploit investment opportunities. As a result, both operations and shareholder returns often see a meaningful improvement.

Earlier this year, SUPERVALU (NYSE:SVU) officially filed to spin off its Save-A-Lot division (from hereon "SAL"). Up until the last quarter, the discount grocer was a bright spot within SVU's business. Same-store sales were positive, and the brand seemed to have carved out a nice niche in the rapidly changing arena of food retailing.
For potential SAL investors, freedom could be a tremendous opportunity. With a heavily franchised system, smaller footprint, narrow assortment and a heavy private-label sales mix, SAL is certainly unique among U.S. grocers. In accordance with Greenblatt's ideas, management will (in theory) now be able to better exploit this differentiated position and capitalize on new investment opportunities.
Freedom will also present new challenges. Independence is coming at a time when a new (and formidable) competitor is set to aggressively enter the East Coast grocery market. Lidl, expected to open upwards of 100 stores by 2018, has aggressive expansion plans and will emerge as a new competitor to SAL's no-frills business model.
Are retailers like SAL prepared? It's hard to say. Kroger (NYSE:KR) spoke on the Q4 call about its respect for Aldi and Lidl. Every U.S. grocer has had years to study the "German invasion" of U.K., Australia, and several other European countries. Yet, retailers like Slater Bros are dismissive. Further, a study in 2015 by Oliver Wyman still found a number of naive operators:
Incumbents in North America do not sense an imminent threat from hard discounters, citing that they are a tiny fraction of the market and then adding, "My customers wouldn't shop there." These are the same themes mentioned years ago in Germany, where today over 40% of the grocery market is held by hard discounters, and by UK supermarkets, who have more recently experienced a loss of market share due to the same erroneous assumptions.
While the German invasion of U.S. grocery might be one of the most overhyped events in recent memory, the threat is real and worth studying. Hopefully, this work is another piece of the puzzle and is additive to your own research.
Lidl in Ireland
Much has already been made of Lidl and Aldi's success in the U.K. It is probably the most often cited example by newspapers and analysts when discussing the threat of the two German grocers.
Note: I am included in this camp, and if you'd like to learn more about the unique business model, check out my research on Aldi. Aldi and Lidl are separate companies but operate a similar discount model based on a heavy private-label mix, extremely low prices (and costs), and an unconventionally narrow product assortment.
With that said, let's move along and set the stage with a discussion of Lidl in Ireland.
While the U.K. is the most high-profile case of disruption, it is hardly the only market they have aggressively penetrated. In Ireland, hit hard by the global financial crisis, the two discounters have been even more successful. Combined, the two have 17% of the market - nearly double what they have in the U.K. - and count more than 60% of all Irish as shoppers.
And much like in the U.K., this impressive growth has all been achieved since the early 2000s.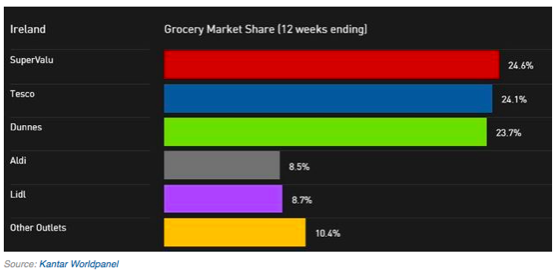 Lidl continues to post impressive year-over-year growth as, like in other countries, their quality and value formula continues to resonate with consumers, particularly those "top-up" shopping trips. In the past year, Lidl increased sales in Ireland by 11.2%, compared with 2-3% at SUPERVALU and Dunnes, respectively, and negative growth at Tesco.
Lidl found success in Ireland with the same simple formula that worked so well in the U.K., Australia and a number of European countries: keep costs low, provide good quality at great prices and create a simple, yet unconventional, shopping experience based on a narrow product assortment (i.e., fewer choices).
Like in many countries, the exceptionally low prices resonated with consumers reeling from the financial crisis. A nearly unlimited amount of expansion capital from owner Schwarz Group - one of the world's largest retailers - didn't hurt either and enabled the company to act opportunistically and increase brand awareness when consumers really wanted lower prices.
In recent years, it has also found success in areas once thought impossible for discounters:
By championing organic foods and local produce, along with the addition of in-store bakeries and the release of a "deluxe" range of goods, Lidl has achieved substantial growth of its Irish grocery sector market share, particularly among "high social class" consumers.
Lidl continues to expand aggressively in Ireland, with more focus on increasing brand awareness with better locations and broader assortment. Those that have defended well have had the scale to match prices, as well as the merchandising savvy and nimbleness to curate local offerings and outmanouever the foreign giant.
That said, success in yet another unique, international market further supports the notion that they have a reasonably good chance of taking share and disrupting pricing (i.e., more deflation) in the U.S.
Street Fight
SAL is now led by Eric Claus, described by some as a "street fighter", who has had an up-and-down career, but found recent success turning around a small Canadian retailer, Red Apple Stores.
"You could describe Eric as a street fighter," one analyst told SN in a 2007 profile. "His attitude was, 'You don't take a back seat when you're No. 2 or No. 3.'"
While we get a sense of Claus's style, the entrance of Lidl presents a whole new type of street fight. When Claus was at A&P, the presence of this unconventional business model (i.e., Aldi) was more muted. Further, neither has ever operated in Canada. Arguably, he's yet to really test his mettle against a discounter of Lidl's caliber. And with an East Coast-heavy store base, SAL will be directly in the sights of Lidl (the HQ and DC is currently under construction in Virginia).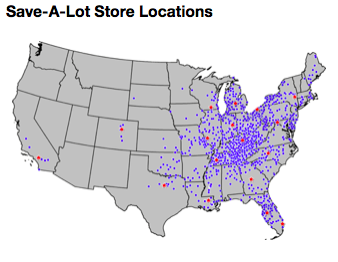 Planet Retail recently provided some insight into what the Lidl expansion might look like, which is far more aggressive than anyone is expecting:
Previously, the company said stores would open by 2018. But there is some indication that this timeline is being pushed forward.

Lidl has yet to reveal how many stores will open. But a minimum of 100-150 stores would be needed to make an impact on East Coast markets. Realistically, Lidl could open 500 stores by 2018 and 2,000 stores across the US by 2020. The only thing holding back the chain's plans back is the completion of a store refurbishment programme in northern Germany, according to some observers.
In addition, a recent report Deutsche highlighted that the pain is likely to be most felt at independents and discount retailers. These would presumably include SAL, Dollar General (NYSE:DG) and Wal-Mart (NYSE:WMT), among others.
We believe that [Save-A-Lot] may also be the most exposed to [their] expansion given the demographic overlap - both grocers target value-focused consumers who shop for low-priced private label products in a smaller box format.
With respect to Lidl, it is (as mentioned) no longer the discounter of the past. Stores are bright and well-merchandised, yet retain the low-price culture. Product assortments are increasingly localized, and many now include bakeries and upgraded fresh/organic sections. Lidl is also known for stocking more brand names than its fellow German discounter.
SAL will soon be up against a privately owned retailer known for expanding aggressively (much faster than Aldi) and a willingness to lose money in order to grow brand awareness and win the loyalty of value-conscious consumers. Perhaps most importantly, Lidl - as the #2 seller of private label grocery products in the world - has far more buying power than SAL. Even if SAL keeps some scale benefits associated with its parent, Lidl's global sales are more than 6x greater than SVU.
Adding to the threat is the fact that SAL is already feeling the effect of increased competition and price deflation from its existing competitive set. Last quarter, the division reported a 3.4% decline in same-store sales, which was well below expectations and a sharp contrast to successes seen in previous quarters.
Perhaps freedom can't come soon enough.
Lidl in Sweden
To help define your image of Lidl, I wanted to share a few recent photos of stores in Stockholm.
Interestingly, Lidl has seen mixed success in Sweden. The incumbents have kept real estate limited and prices competitive. One retailer, Willy's, already has a strong discount positioning, which kept conventional grocers from aggressively raising prices (which was one issue in the U.K. and Australia).
For what it's worth, the stores I visited were pretty busy (both at lunch time and around dinner).
One location in the trendy neighbourhood of Södermalm:

Click to enlarge
The much heralded Bakery (the bread was delicious):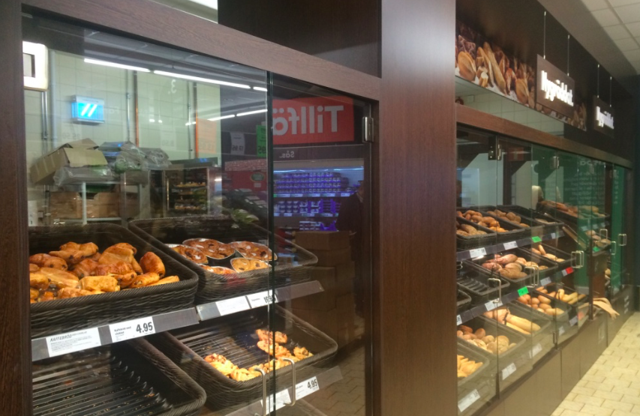 Click to enlarge
Mjölk (often used as a traffic generator):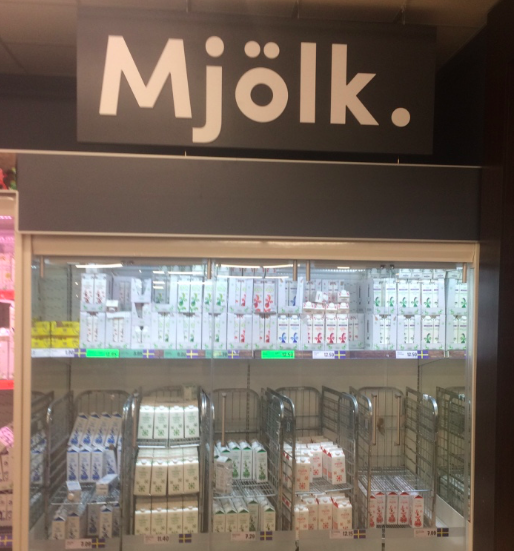 The flag seems to be Lidl's way of saying "this is local":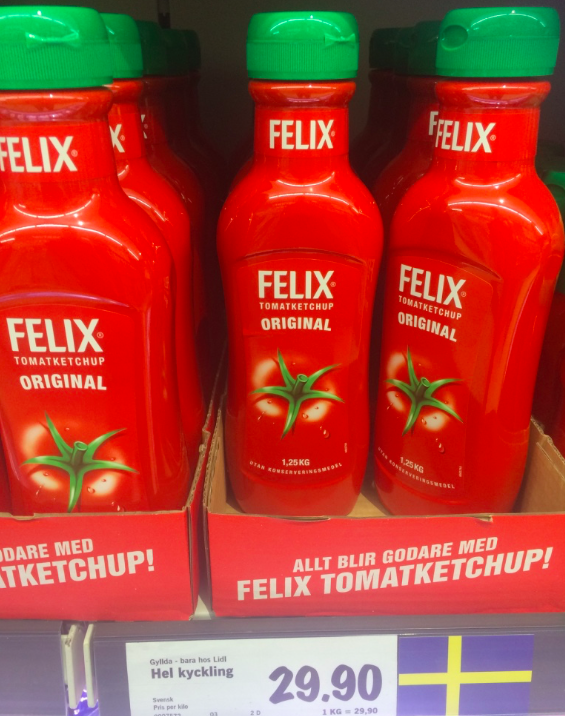 The classic Swedish potato display: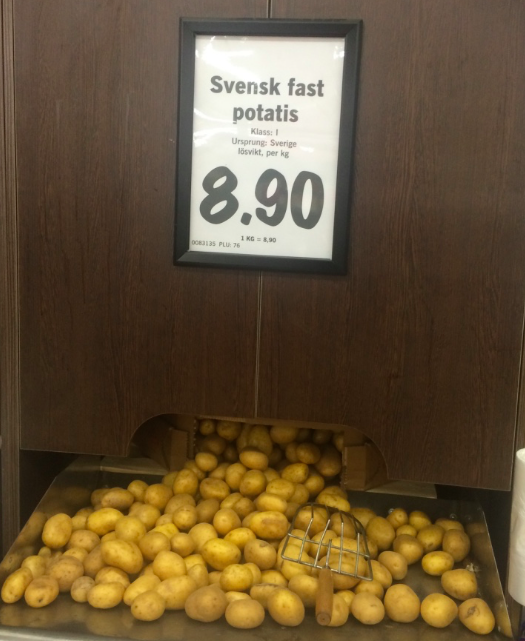 The classic Swedish candy display (much smaller than the local chains):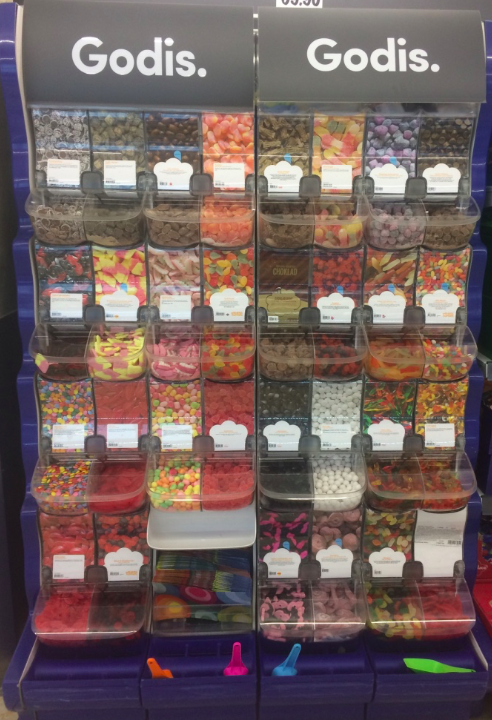 Uh, this doesn't look right?: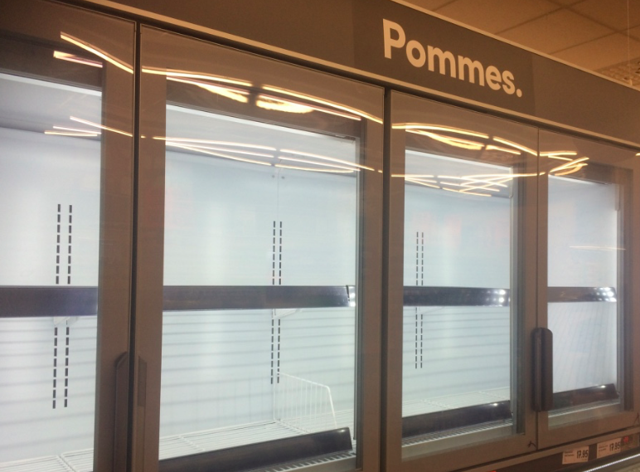 Click to enlarge
Lidl's private-label muesli located at the very front of the store: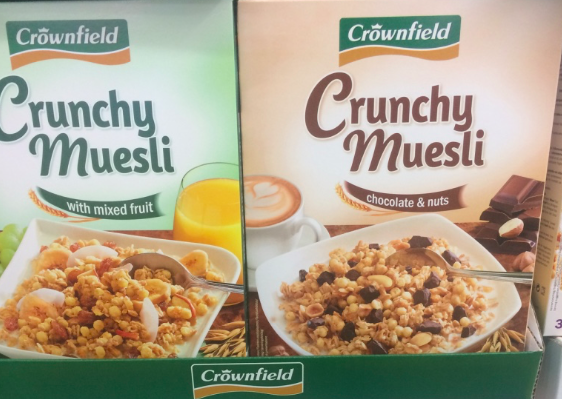 Not all Sunshine and Roses
One of the more amazing aspects of the Lidl and Aldi stories is their ability to replicate the model in so many countries. It is one of the few concepts that has been successfully replicated across a wide variety of international markets, consumer tastes, and income demographics.
That said, Lidl has made its fair share of mistakes - most notably, an embarrassing retreat from Norway. Despite all the hype, the experience in Norway proved "Lidl is human", and that bigger is not always better.
Let's elaborate.
Lidl expanded into Norway in 2004, where, at the time, four grocers controlled 90% of the market - including one of the highest penetrations of discount in Europe, at more 50% of the market. This meant existing prices were already competitive, and good real estate was hard to find. Further, unlike in other European countries, Lidl was unable to use alcohol and dairy as traffic drivers (due to regulation).
It also severely underestimated Norwegians' loyalty to brand names, especially their homegrown brands. The company did not want to buy private-label products (penetration was the lowest in Europe), and it certainly did not want weird brands from Germany. As a result, Lidl never achieved sufficient buying power on the key Norwegian national brands required to compete with incumbents, and was never considered a legitimate shopping option for consumers.
So, despite the hype surround Lidl's competitive threat to retailers like SAL, its success is not a guarantee. While Aldi has provided a path for U.S. expansion, that path has been under construction for decades (only recently has the word "aggressive" been used to describe Aldi's expansion plans). What works in Europe does not necessarily work in the U.S., and Lidl's product offering will need to be carefully curated and very price-competitive.
Plus, retailers like Save-A-Lot have years to prepare for the eventual threat.
Concluding Thoughts
The presence of an established discount sector has, in my view, been one of the key factors preventing the total implosion of other grocery markets like we are seeing in the U.K. and Australia (both markets had no legitimate discounters before Aldi and/or Lidl entered). Discounters in Norway proved too strong for Lidl, while Willy's in Sweden has been price-competitive enough to keep the chain from disrupting the status quo (yet).
In that sense, the U.S., with a fragmented market, very competitive pricing, and a number of regional discounters like SAL, is already well prepared to deal with retailers like Lidl.
Perhaps Lidl will flop and leave with its tail between its legs? I am not bold enough to predict such an outcome - this is merely a discussion of a upcoming competitor. That said, the model, whether Aldi's or Lidl's, has been successful in far too many markets to not be given good odds. Fortunately for incumbents, Lidl no longer flies under the radar, and all retailers - big and small - have adequate time to prepare for their entry.
Returning to Greenblatt's spin-off idea, it becomes evident that for the medium- to long-term investors, Lidl's expansion could be meaningful to the Save-A-Lot story. It is increasingly intertwined with management's operational response and success as an independent entity. What it lacks in scale may very well be made up for by the flexibility and nimbleness that comes from independence.
For Save-A-Lot, perhaps freedom couldn't have come at a better time.
Disclosure: I/we have no positions in any stocks mentioned, and no plans to initiate any positions within the next 72 hours.
I wrote this article myself, and it expresses my own opinions. I am not receiving compensation for it (other than from Seeking Alpha). I have no business relationship with any company whose stock is mentioned in this article.