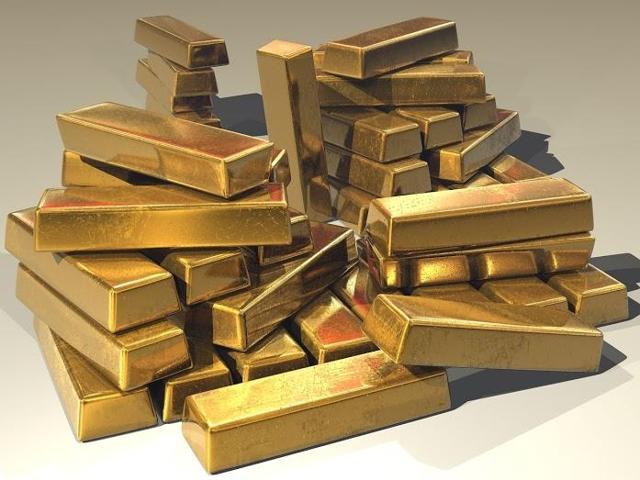 Click to enlarge
Back in February, I wrote an article on Yamana Gold (NYSE: AUY) where I stated that the company's results were not impressive and the stock was a sell.
I also stated that Yamana Gold lacked upside catalysts and that the stock had little chance for further upside without the help of gold prices. On the day my article was published, Yamana's shares closed at $2.73.
Then, the shares traded higher. Nevertheless, I expected that Yamana's stock will ultimately correct until the last two days, when the stock broke out of its consolidation on higher trading volume. It is already evident that something went wrong with my initial expectations. In this article, I will share my views on why Yamana Gold's shares are rallying right now.
News from the company
Since my previous article on Yamana Gold was published, there were only two press releases made by the company. The first one announced that the company entered into a copper purchase agreement with Altius Minerals Corporation.
Altius will pay Yamana $60 million in cash plus 400,000 Altius warrants for the copper production of Yamana's Chapada mine in Brazil. The proceeds will be used to finance the acquisition of Riacho Dos Machados. The company stated that with this transaction it was effectively swapping 3 million pounds of annual copper production for 100,000 ounces of gold production.
So far, the bet looks good given the recent performance of gold and copper.

Click to enlarge

Click to enlarge
Also, I think it's good that a gold producer focuses on gold itself. After all, investors buy gold mining shares to get gold exposure. However, I seriously doubt that the news fueled the recent move in Yamana Gold's shares. Yamana's plans were previously made public, and the company's choice of financing the transaction could not have a meaningful impact on its valuation.
The other news from Yamana Gold was that the company would publish its quarterly results on May 4 after the market close. Such news has zero impact on the company's stock, so let's turn to the other possible factor.
The price of gold
My gold price thesis worked better than my Yamana Gold thesis. Gold prices tried to continue their rally in early March, but lost steam and returned to the $1200 - $1250 range. I can't say that everything went according to my initial expectations as I expected a more pronounced pullback in gold prices.
The recent market update by the World Gold Council named five key factors behind the recent upside: concerns about economic growth, the absence of upside in U.S. dollar (NYSE: UUP), negative interest rates, the return of investment demand and price momentum. In my view, the weakness of the dollar played a major role in recent gold strength. In my view, gold would have already been lower than $1200 without further downside in the dollar.
The dollar remains at a very important juncture as seen in the chart of PowerShares DB U.S. Dollar Bullish ETF.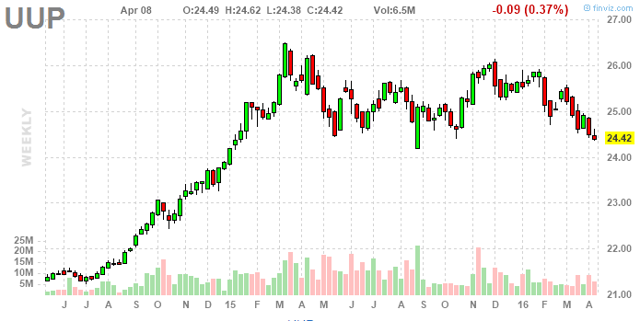 Click to enlarge
Being at the low end of a two-year range, the dollar may start a new downside trend, fueling commodities and commodity-related stocks, or bounce back and pose a significant threat to any further upside in gold. Currently, the momentum is certainly against the dollar and is favorable for gold price and gold equities. Also, with S&P 500 near the very top, one could also expect some help for gold from any market pullback.
It's still uncertain whether the gold price has immediate upside from current levels or not. However, one thing is certain - gold prices did not contribute to additional upside in Yamana's shares as gold remained mostly flat while Yamana's shares continued their upside move.
Buying gold miners as a group
In my view, the fact that gold was able to hang in the $1200 - $1250 range ultimately led to a fresh flow of money into gold mining shares. Newmont Mining (NYSE: NEM), Kinross Gold (NYSE: KGC) and a number of other gold mining stocks were all making new highs or rallying close to previous highs in the last few days. This is a substantial improvement in market sentiment compared to what we've seen just a few months ago.
In such cases, the tide lifts all boats. Whether market participants are preparing for additional weakness in the dollar due to Fed's recent comments or to the general market pullback, they are buying gold equities without putting too much emphasis on separate companies - it's a basket purchase.
What does it mean for my initial "sell Yamana Gold" thesis? First, I was wrong. I was probably too bullish on the dollar and too bearish on gold. The dollar weakened and gold was flat - not the combination I expected. Second, I underestimated the momentum upside potential for gold equities as a group. I can't say I'm upset by this development, as my Kinross Gold thesis worked pretty well, but in Yamana Gold's case market forces were against my thesis.
I don't like to argue with the market. This time the market proved me wrong with my call on Yamana Gold. I think that this was due to general market sentiment towards gold miners rather than the company's own performance. I'll have a chance to reevaluate my stance on Yamana Gold when the company reports its quarterly results in early May.
Disclosure: I am/we are long KGC.
I wrote this article myself, and it expresses my own opinions. I am not receiving compensation for it (other than from Seeking Alpha). I have no business relationship with any company whose stock is mentioned in this article.