Oil prices soared on April 6th, climbing more than 5% at one point after the EIA (Energy Information Administration) released new data surrounding oil inventories, production numbers, and demand. In what follows, I will dig into these numbers and see what the story shows for investors in the United States Oil ETF (NYSEARCA:USO), other energy-related ETFs, as well as for companies like Linn Energy (NASDAQ:LINE) / LinnCo (NASDAQ:LNCO), Breitburn Energy Partners (NASDAQ:BBEP), Approach Resources (NASDAQ:AREX), and Memorial Production Partners (NASDAQ:MEMP).
Inventory data was mixed
Inventory data for the week showed some positive signs but also showed a general increase in crude plus petroleum products. According to the EIA, the amount of crude oil in commercial inventories last week came in at 529.9 million barrels, representing a decline of 4.9 million barrels compared to the 534.8 million barrels seen just one week earlier. This comes in a bit better than the 4.3 million barrel decline forecasted by the API (American Petroleum Institute) and we significantly better than the 3.2 million barrel build analysts anticipated. In the graph below, you can see the historical trend that inventories have taken over the past 52-weeks.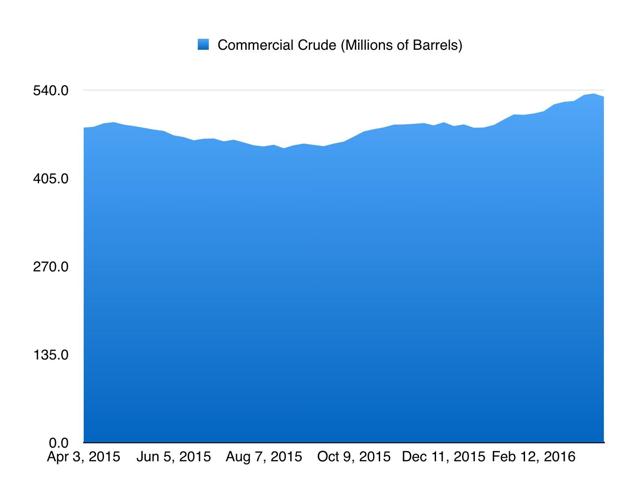 Click to enlarge
In addition to seeing crude storage drop, some other categories showed improvements as well. According to the organization, fuel ethanol dropped by 0.8 million barrels from 23 million barrels to 22.2 million. Meanwhile we also benefited from a drop in residual fuel oil. If the EIA's data is accurate, this metric came in at 44.2 million barrels, implying a week-over-week falloff of 1.8 million barrels from the prior week's estimate of 46 million barrels.
Unfortunately, however, some categories reported some fairly bullish numbers. During the week, for instance, motor gasoline stocks grew by 1.4 million barrels from 242.6 million to 244 million. This is still lower than it was earlier this year and is far from being a glut but any build is a negative. Meanwhile, distillate fuel stocks grew by 1.8 million barrels from 161.2 million barrels to 163 million and propane/propylene jumped 2.1 million barrels from 62.8 million to 64.9 million. As a result of these increases, as well as a 0.6 million barrel rise in kerosene-type jet fuel, total crude plus petroleum stocks inched up 1.1 million barrels from 1.3559 billion barrels to 1.357 billion.
Production and demand numbers are still looking good
Overall, it's nice to see some categories of petroleum decrease for the week but I'd say the news, especially with motor gasoline stocks and distillate fuel stocks, was slightly more negative than it was positive. Thankfully, however, there were some strong redeeming factors for the week. According to the EIA, domestic oil production for the week averaged 9.008 million barrels per day, 14 thousand barrels per day (98 thousand for the week) below the prior week's 9.022 million barrels per day. While not material in nature, this continues a trend of falling output, especially when it comes to oil production in the Lower 48 category, which fell by 20 thousand barrels per day. In the graph below, you can see the past 52 weeks of production, which shows that we are at the lowest output level in over a year, a very bullish sign in my opinion.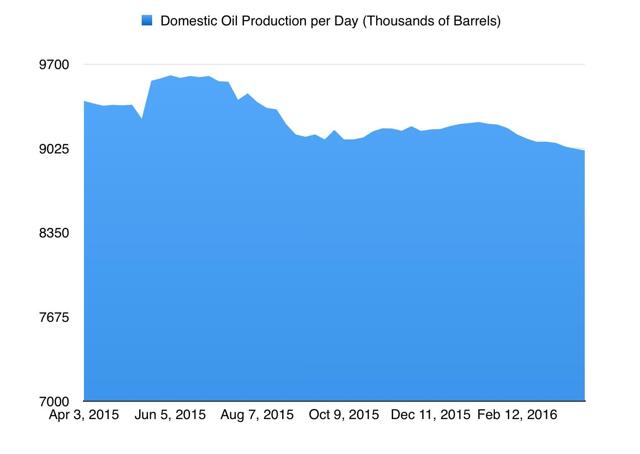 Click to enlarge
For the week, motor gasoline demand, which is a major indicator of total petroleum demand, came in fairly strong at 9.224 million barrels per day. Although this represents a drop compared to last week's 9.244 million barrels per day, it's 7.1% above the 8.61 million barrels per day seen this time last year. Using the four-week average, demand came in at 9.357 million barrels per day, a respectable 4.2% greater than last year's reading of 8.981 million barrels per day. Weak distillate fuel demand is serving to offset this to some extent but the overall picture on the demand side appears positive rather than negative.
Rig counts keep on falling
In addition to seeing some positive highlights in production, inventory, and demand data, Baker Hughes (NYSE:BHI) reported on April 8th that the U.S. oil rig count fell by 8 units to 354. This represents a 53.4% decline compared to the 760 units in operation the same week a year ago. The single largest contributor to this decline was the Permian Basin which saw a decline of 3 units for the week (oil and natural gas combined since the data isn't split up). In Canada, the number of rigs in operation managed to fall as well, dipping by 3 to just 8 rigs. This compares favorably to the 20 rigs (implying a drop of 60% year-over-year) seen a year earlier. Ultimately, as the rig count continues to fall, we should see oil production decline at a quicker pace, which is certainly bullish in the long run.
Takeaway
Based on the data provided, it's clear that not everything is perfect or even heading in that direction but what is clear is that the oil picture is showing some important signs of improving. Yes, total crude plus petroleum product levels have increased but crude inventory levels are declining a bit thanks to weak imports and falling production, all of which is taking place at a time when demand for oil is high and rig counts are at their lowest in several years. While I do suspect that the picture will be very volatile moving forward, investors have a right to be upbeat right now.
Disclosure: I am/we are long BBEP, AREX, MEMP.
I wrote this article myself, and it expresses my own opinions. I am not receiving compensation for it (other than from Seeking Alpha). I have no business relationship with any company whose stock is mentioned in this article.
Editor's Note: This article covers one or more stocks trading at less than $1 per share and/or with less than a $100 million market cap. Please be aware of the risks associated with these stocks.