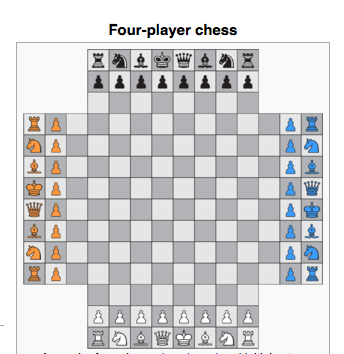 Image from Wikipedia
Background
In the next few weeks, Oi S.A. (NYSE:OIBR) management will be quite busy defending the company against the potential consequences of non-compliance with some debt covenants and the possible repercussions of a lawsuit started in Europe by Aurelius Capital.
On April 15, Oi will hold a meeting with the debenture holders of the 9th and 5th issuance to discuss the company's non-compliance with its debt-to-EBITDA ratio at the end of Q1 2016.
There is no management proposal for the meeting, which means that, most likely, the company will not be asking for a waiver.
We believe this is an indication that Oi has not reached any agreement with the holders of these two debentures, and that the company will be forced to buy back the few remaining outstanding debentures. We do not believe this will lead to any cross-default.
Oi bought back about R$ 218 million ($61 million) of debentures in 2015, mostly from the 5th and 9th issuance (Source: company's Annual Report, pg. 73). In mid-February, it also bought back about R$ 21 million ($6 million) of these 2 debentures. The relatively small outstanding amount is highlighted in this filing (HT Xedron):

Click to enlarge
We estimate it will cost the company about R$ 24 million ($7 million) to buy back the remaining debentures.
Oi is also at risk of violating other financial covenants. However, as the company confirmed to us, "information related to the other credit lines with financial covenants are not public. These contracts have confidentiality provisions, therefore we cannot disclose any details about them".
On April 18, Oi will be required to appear in court in Amsterdam (Netherlands) to oppose Capricorn Capital's lawsuit.
Capricorn Capital is a fund managed by Aurelius Capital that claims to be the owner of more than €100 million of Oi's debt issued by PTIF - the legacy Portugal Telecom International Finance.
Aurelius is trying to prohibit Oi Brasil Holdings Coöperatief from transferring funds or making intercompany loans to the parent company or any of its affiliates in order to use the existing funds to pay back PTIF debt, including the bonds due to be repaid in June 2016.
Here are a few interesting highlights taken from the court documents (courtesy of Reorg Research):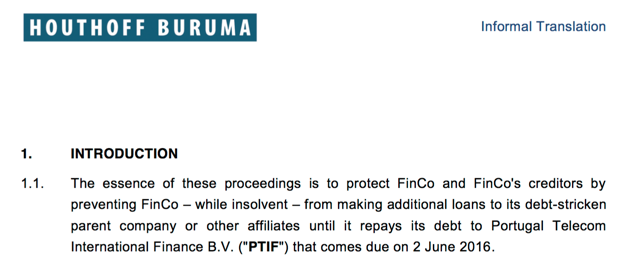 Click to enlarge

Click to enlarge

Click to enlarge
Failure to appear in court on Oi's side may be considered a default and lead to the court awarding Capricorn's requests, according to Dutch law:
2.4 The initial complaint

Finally, a writ that clearly states and specifies the relief sought may enable the court to render a default judgment if the defendant does not appear in the proceedings.
It is not clear, however, if this would trigger a cross-default for all of Oi's debt - more on this later.
Reorg Research, a provider of analysis on distressed debt and leveraged finance markets, reports: "Houlihan Lokey and Alvarez & Marsal are pitching Oi bondholders in an attempt to form creditor groups in expectation of a restructuring process".
This is in addition to a previous report by Reuters that "a group of unidentified Oi SA bondholders has hired Moelis & Co".
What is happening behind the curtain? Why so many different advisors are necessary if their role is just to negotiate with the company a better deal once a restructuring is announced?
The answer lays in the complexity of Oi's debt and the fact that different debt instruments may have different negotiating needs.
A 4-player chess game - with each debtor fighting also against each other
Oi's debt structure is extremely complex. Part of its bonds were issued by Portugal Telecom International Finance and inherited by the company, part by Oi itself, and a part of Oi's debt is guaranteed by Telemar. The company's debt is issued in three different currencies (euro, US dollar and Brazilian real), and there are both domestic and foreign institutional and retail investors as bond holders.
Even the three major rating agencies have basically admitted that it is difficult to say if there's any "better debt" at the moment. Talking about the notes guaranteed by Telemar, which has priority claim on approximately two-thirds of Oi's Brazilian operating cash flows and assets, Fitch recently commented that it "has low visibility as to whether these notes would be entitled to seniority under Brazil's legal system upon any potential reorganization or debt restructuring of Oi".
Some bonds, like the ones issued by PTIF, include collective action clauses [CACs] that, in case a supermajority of holders agrees to a debt restructuring that is legally binding on all holders of the bond, can force even those who vote against the restructuring to accept. Other bonds don't include these clauses and may allow a hold-out strategy.
With the company very silent about its future intentions, it is quite understandable that each creditor is trying to get outside counsel to better understand the strengths of its own position and get to the negotiating table in the best position possible.
Excluding bank debt, we see basically four different categories of debt holders, each of them with different strategies and targets:
Debenture holders
Telemar bond holders
PTIF bond holders

Oi bond holders
Debenture holders
As we've already noticed, holders of the 9th and 5th issuance of Oi's debentures have cleverly used the negotiating strength lent by the presence of debt-to-EBITDA covenants that the company was not in compliance with, in order to force Oi to buy back this specific debt both in the past and most likely in the very short future.
However, holders of the 8th and 10th issuances are in a weaker position, as their covenants have been waived for December 15, 2015, and the next measurement will be in December 2016 (link to minutes of debenture meetings: 8th and 10th).
We expect that holders of the remaining debentures will have to play a relatively difficult game, as they do not seem to have much negotiating strength with Oi in the short term - unless, of course, Oi decides to continue to buy back its own local debentures, giving this category a "preference" as it is a domestic debt instrument.
Telemar, PTIF and Oi bond holders
According to Reuters, Telemar bondholders have hired Moelis as financial advisor. We expect that Houlihan Lokey and Alvarez & Marsal will probably embrace either PTIF or Oi's bondholders, and try to build a stronger case for their client.
As we noticed when analyzing Capricorn's lawsuit, a clever legal action may have important consequences on a single bond issuance.
The rating agency commentary confirms that it is all but clear which debtor may be in a stronger position to get a larger slice of the pie.
However, we expect all of these consultants will be on the same side of the table when it comes to negotiating with Oi once a proposal is officially made to debt holders.
What if a player is actually trying to "beat the game"?
According to ISDA, PTIF has about $1 billion of net notional outstanding credit default swaps [CDS].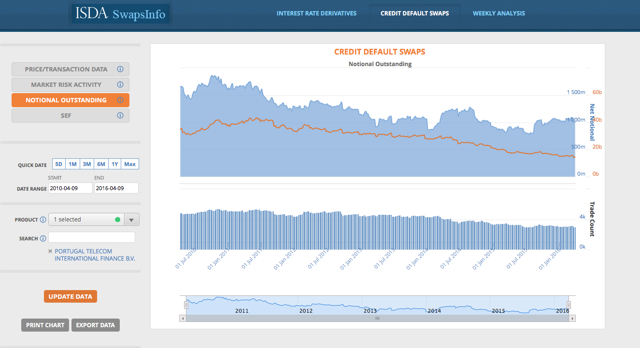 Click to enlarge
Reorg Research reports that "other investors speculate that Aurelius could also have a position in the CDS and could be seeking to force a default at Oi by preventing the company from moving cash from one part of its corporate structure to another as the company's maturity schedule gains pace later this year".
While we have no idea if this could be the case, we wouldn't dismiss the possibility that, in such a complex debt structure, there might be some players that have a financial advantage if the company is forced into bankruptcy - which is not an outcome that can be completely ruled out at the moment.
This is the reason why even a single action has to be carefully evaluated for its potential cross-default consequences.
Our take: get some popcorn and watch from the side line
Given the complexity of Oi's debt structure, the many existing unknowns, and the fact that even skilled investors could have a hard time identifying the best debt instruments to invest into, we suggest watching from the side lines until the situation becomes a bit easier to decipher.
We've always thought that a foreign white knight could have been the best solution for both Oi and TIM Brazil, as Telecom Italia (TI) now seems inclined to dispose of its Brazilian assets. We still believe that a combination of the two companies would be beneficial to the whole market, and not only to these two players.
However, given the fact that Oi's debt situation may collapse any minute, we are not so sure a white knight might materialize soon - another good reason to watch the situation without taking any position, as more prudent investing opportunities might materialize as the story unfolds.
Disclosure: I/we have no positions in any stocks mentioned, and no plans to initiate any positions within the next 72 hours.
I wrote this article myself, and it expresses my own opinions. I am not receiving compensation for it (other than from Seeking Alpha). I have no business relationship with any company whose stock is mentioned in this article.
Editor's Note: This article covers one or more stocks trading at less than $1 per share and/or with less than a $100 million market cap. Please be aware of the risks associated with these stocks.