Intro
Apparel stocks sold off on Friday after Gap (GAP) reported weak sales results. Not long ago, Nike (NYSE:NKE) caused a similar slide when it lowered guidance and warned against weakness in the retail sector. As we head into earnings season, we expect many apparel companies will report poor results, giving investors an opportunity to buy one of the sector's best companies on the cheap. This company is Carter's Inc. (NYSE:CRI), the largest branded marketer of apparel for babies and children in the US and Canada. The stock fell 2% on Friday, and trades at a forward multiple of 18.1. Investors seeking stable, long-term total returns should consider taking a position in Carter's when the market dips.
Business
Carter's is the undisputed leader in the baby/child apparel space. The company's Carter and OshKosh B'Gosh brands are two of the most well-known and trusted names in the industry, and comprise 14.6% and 2.3% of the market respectively. Both Carter's brands, Baby products and Sleepwear, have more than five times the market share of the next largest player, and Carter's brand, Playclothes, has more than double. But the company has room to grow market share, particularly in the fragmented playclothes category. This market is more than four times the size of the baby and sleepwear markets combined, and OshKosh accounts for just 2.6%. Figure 1 provides a breakdown of Carter's business segments:
Figure 1: Segment Breakdown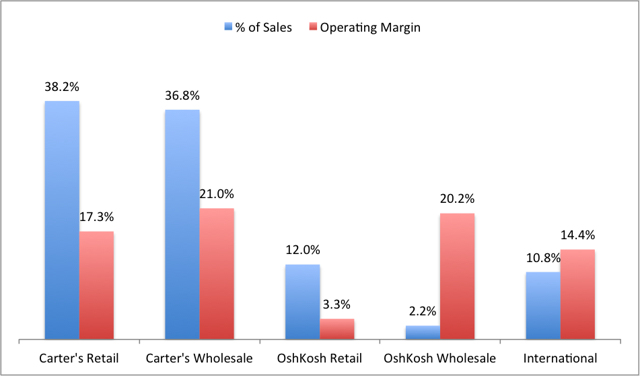 Click to enlarge
Industry Analysis and Outlook
Carter's has a wide economic moat in an industry with stable long-term growth prospects. The company's trusted brand and reputation for quality products and distinct designs gives the firm pricing power and protects against new entrants who must spend heavily to establish themselves. The firm's long-standing customer relationships are another key advantage because wholesales typically do not enter long-term contracts and selectively choose suppliers based on previous performance and reputation. Carter's has earned an average operating profit margin of 11% over the past five years, compared to 3.1% for the overall sector. The firm's ability to maintain high returns on capital over the past five years as competition increased is a testament to its formidable competitive position.
Figure 2: Growth, Profitability, Returns
| | | | | | |
| --- | --- | --- | --- | --- | --- |
| | 2011 | 2012 | 2013 | 2014 | 2015 |
| Sales Growth | 20.6% | 12.9% | 10.8% | 9.7% | 4.1% |
| Operating Margin | 8.89% | 11.00% | 10.01% | 11.52% | 13.03% |
| ROIC | 12.1% | 15.0% | 13.7% | 16.0% | 17.9% |
Carter's high end products should benefit from favorable demographic trends, including an increase in household income at childbirth (a result of women delaying having children until they establish their careers), and a greater portion of Generation Y parents in the market, who studies show value quality and brand above all else. The company has successfully mitigated the biggest threat to its retail segment, online competition, by introducing its own e-commerce platform, which grew 18.9% and 24% for Carter's and Oshkosh brands in 2015.
Carter's has grown revenues at a 9.4% annualized rate over the past ten years. If you lump online sales in with the retail segment, it has achieved positive comps growth in each of the past three years. Looking forward, we expect the company to average 8% constant currency sales growth through 2020. Carter's plans to open 270 Carter's stores and 250 OshKosh stores over this period. The strongest growth will come from direct-to-consumer (e-commerce) and international markets, and the company should be able to maintain stable comps in Carter's wholesale. We expect operating margins to expand thanks to a higher mix of e-commerce sales, low cotton prices, and improved supply chain efficiency (the company recently built a new distribution center), partially offset by store opening costs and FX headwinds.
We have a loose fair value estimate of $114.59, a 12% premium to the current price. In addition to the company's history of strong, steady growth and high returns, we like Carter's for its shareholder friendly management team. The company increased its dividend 82% over the past two years and the board authorized a new $500 million share repurchase program in February. This is on top of an earlier buyback program that still has $75 million remaining on it. We believe the current price reflects the impact of these buybacks, and that short-term price-appreciation will be limited. But in terms of total return, we can't think of a better long-term investment in the apparel space.
Conclusion
Carter's is an investment that Warren Buffett might make. As the population grows, there will continue to be demand for baby and child apparel. Unlike most apparel categories, this type of clothing is mostly immune to changing fashion trends. And, because Carter's brands are so entrenched in the minds of parents, the products are less sensitive to income fluctuations. Carter's strong competitive advantages should allow it to sustain high returns on capital. The current P/E ratio of 18.1 is a reasonable price to pay for this business in today's market, but we believe there will be a more attractive entry point in the near future. As we head into earnings season, be ready to pull the trigger.
Disclosure: I/we have no positions in any stocks mentioned, and no plans to initiate any positions within the next 72 hours.
I wrote this article myself, and it expresses my own opinions. I am not receiving compensation for it (other than from Seeking Alpha). I have no business relationship with any company whose stock is mentioned in this article.