I have already declared my long on Gilead (NASDAQ:GILD), which I think is one the most attractive stocks in the S&P 500 in terms of risk/reward ratio. In a recent article I have expressed my bullish view based on the belief that its HCV products can still deliver interesting growth thanks to international expansion. By the way, it's clear that an undervalued stock becomes more attractive if multiple catalysts can unlock its hidden value.
I think a very important aspect to consider in Gilead's case is the possibility that the company has to grow through acquisitions, and the impact it can have on diversification of Revenue.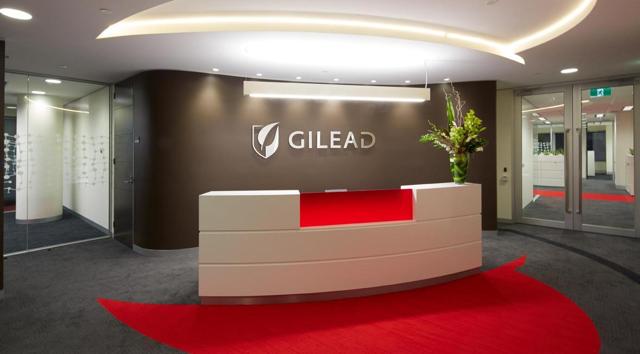 Click to enlarge
Small acquisitions
It's not a secret that the company is looking for attractive buys in the pharma space. Mr. Bischofberger declared that the company is looking for companies that have drugs that have already proven to work in the early-stage trials. The reason is that such groups carry a lower risk of failing later on."Philosophically, we prefer to wait for more certainty and pay more money, which is what we did with Pharmasset, rather than getting something cheap with uncertainty." Mr. Bischofberger declared. He also declared that they aim to buy target companies that have products that are complementary to its unit that focuses on liver diseases, but they don't exclude making investment in non-HCV related fields.
The recent acquisition of Nimbus Apollo Inc. belongs to the first group. Nimbus Apollo Inc. is a subsidiary of Nimbus therapeutics, and has recently announced that the U.S. Food and Drug Administration (FDA) has granted Fast Track designation for NDI-010976, Nimbus' liver-targeted allosteric inhibitor of acetyl-CoA carboxylase ACC , for the treatment of NASH (non-alcoholic steatohepatitis), a liver disease that can lead to the development of cirrhosis. The move can strengthen the already dominant position of Gilead in the space of liver diseases, given the high number of people that are estimated to be affected by non alcoholic fatty liver disease (between 2% and 5% of the US population) and the upward trend in the number of patients caused by the increased numbers of Americans with obesity. At this time, there are no specific therapies for the treatment of NASH. Anyway a few other biotech companies are developing treatments for this pathology, such as Genfit, that has its Elafibranor in phase III.
I particularly like the low-risk choice of the company to buy smaller targets with appealing products, through small bets that contribute to increase the diversification of revenue sources. With the only relevant exception of Pharmasset, that was a $10.4 billion dollars deal, and Myogen, that was paid $2.5 billion dollars, buying small companies has always been Gilead's approach to acquisitions.
How many acquisitions can Gilead make?
I am sure Gilead has very good reasons for its recent deal with Nimbus Therapeutics, and I think every Gilead bull is confident in the management's ability to make good acquisitions. The deal is worth between a minimum of$400 million and a maximum $1.2 billion, that would be paid if Nimbus Apollo's drug development program meets certain milestones in testing results, medicine approval and sales.
I don't want to discuss the effects of the recent acquisition but to assess the size and the effect of a potential string of acquisitions on the company's growth. I will suppose the company stops buying back own shares and paying dividends, while destining all the free cash flow to acquisitions. First, according to the financial statements for 2015, the company has $14.6 billion in cash, but I will suppose that only 12 billion would be used.
The first question is: "how much future earnings can $12 billion buy today?" If we consider the biotech industry as a whole, we know that today the average Forward P/E is 17. So we know that for every $100 we use for buying a company, $5.88 should come back at the end of the year as earnings. This means that $12 billion can buy $705.88 million in profits for 2016.
The second question is "once bought a new business, how much will its earnings grow?". I tried to find out what earnings growth is expected for biotech stocks trading at a Forward P/E multiple of 17. Amgen (NASDAQ:AMGN) is trading more or less at that ratio. Modest growth assumptions see this company growing earnings at a 10-11% CAGR for the next few years, and I will use this number to calculate the earnings growth of the acquired companies.
Before starting calculations, there are two aspects to take into account. First, the effects of price reductions in Gilead's HCV drug prices, the main concern of all Gilead bears. Secondly, the growth of non-HCV drugs in Gilead's portfolio.
For 2016 I will use analyst estimates of $31.300 million for revenue and $18.000 million for net income and FCF while I will assume a very pessimistic scenario in which the prices for Harvoni and Sovaldi are cut by 40% already in 2017, with no increase from 2016 in quantities sold.
For non-HCV drugs, I calculated that sales between 2009 and 2015 grew by a 10.85% CAGR, and I will assume the same growth rate for the next few years. For net margin, I will use a 26.71% rate, that is the 2012 net margin rate, before the company started to commercialize its HCV miracle drugs.
I will briefly summarize the assumptions made so far:
- in 2016 analyst estimates equal actual numbers.
- in 2017, prices for HCV drugs are cut by 40% and there is no increase in quantity sold, while non HCV drug sales grow by 10.85% and keep growing at this rate for several years.
- the company uses the FCF generated to make acquisitions. It also invests $12 billion out of $14.6 billion of cash to buy other businesses.
-the businesses bought generate $1 in earnings for every $17 paid. Their earnings grow by 10% a year.
1. HCV segment
In 2016 the total revenue is $31,300 while earnings and FCF are around $18,000 plus $706 million of the acquired company. In 2017, with a 40% cut in prices and no increase in quantity sold, the revenue coming from HCV drugs would fall to $11,268 million from the $18,780 of 2016. Now we have to calculate the new net margin. We start from reducing revenue by 24% (60% revenue from HCV *40% price cut), then calculating the new Net Margin (26.53%) using 2015 costs and the 2015 effective tax rate (16.40%). From this net margin, that is referred to total revenue, we can estimate the part that comes from non-HCV ant the part related to HCV. In 2012, so before the commercialization of HCV miracle drugs, net margin was 26.71%, so we can take this as net margin of the non-HCV segment. The net margin for HCV related revenue would then be 26.41%.
Net Income of the HCV segment in 2017 : 26.41%*$11,268 million = $2,975 million.
Net Income of the HCV segment from 2018 onwards increases by 10% a year.
2. Non-HCV segment
In 2017, revenue from the non-HCV business would be 10.85% more than in 2016.
Revenue in 2017 = $12,520 million * 1.1085 = $13,878 million.
Net Income in 2017= $13,878 million * 26.71% = $3,707 million.
Net Income from 2018 onwards increases by 10.85% a year.
3. Acquisitions
In 2016, the company would use $12 billion to make acquisitions. This means an earnings increase of $706 million (Because the Forward P/E ratio is 17).
In 2017, the company would use $18.706 million for acquisitions, that would result in an earnings increase of $1,100 million.
4. Total
The table shows the sum of the three points.
With $8,559 million in net income, the stock would trade at a 2017 P/E ratio of 17.1, not so high, given the strong competitive position of the company.
Conclusion
I tried to understand what would be Gilead's situation if the HCV business started to deteriorate as many people fear and if the company started to buy businesses as many investors expect. I wanted to assume that the company will have to face strong reductions in the price of Harvoni and Sovaldi already in 2017.
I tried to calculate the potential outcome of a stream of acquisitions financed only through FCF, showing the potential increase in earnings that this move would trigger. I could have made calculations based on more acquisitions financed in part by debt, but I wanted to make conservative assumptions on this side.
With reasonable growth assumptions in the non-HCV segment, a stream of potential acquisitions financed only through FCF, and the HCV segment suffering a lot from strong price reductions, I came up with an earnings forecast for 2017 at $8,559 million, for a P/E ratio of 17.1, not a high number for a biotech company with a good competitive position.
My long position is not based on the idea that the company will grow through a stream of acquisitions, but I think it's good to know that there is another way to make up for potential problems in the HCV segment. If the HCV segment doesn't suffer as many expect, the earnings estimate I used would be strongly underestimating the company's potential.
Disclosure: I am/we are long GILD.
I wrote this article myself, and it expresses my own opinions. I am not receiving compensation for it (other than from Seeking Alpha). I have no business relationship with any company whose stock is mentioned in this article.