The general ETFs that we would have a sell rating if you believe in this thinking would be the largest market ETFs (NYSEARCA:SPY), (NASDAQ:QQQ), (NYSEARCA:IWM). A case can be made to trade the leveraged ETFs but there is probably better liquidity in the straight ETFs even when factoring in the lack of leverage. We don't like recommending to go on margin because stock markets are risky and leveraged ETFs help someone go on margin without realizing it.
As for stocks, if you believe the isolationist scenario, then probably anything is a sell rating. We want to focus on the stocks that have the largest international exposure or beta and an already declining 'relative strength' to the S&P 500. The thinking being is that if these stocks are already underperforming in an up tape, they should trade lower in a down tape. There are many counterarguments for this, of course, but that's our thinking.
The international companies with the largest international exposure that we feel already have negative relative strength:
WYNN (NASDAQ:WYNN):(Below in white versus the SPY in blue), non-US exposure:70%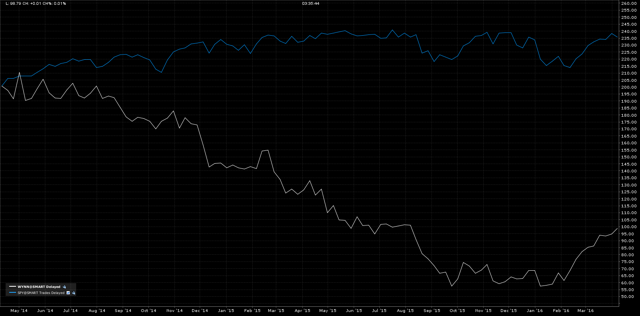 Click to enlarge
QCOM (NASDAQ:QCOM): (Below in white), non-US exposure:99%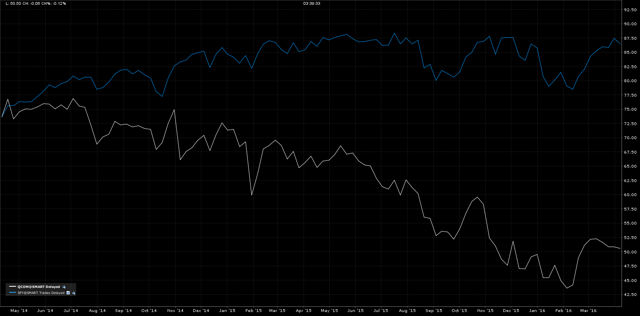 Click to enlarge
MJN (NYSE:MJN): (Below in white), non-US exposure:76%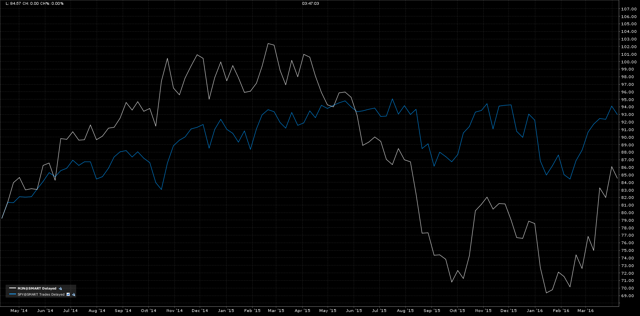 Click to enlarge
This is not a commentary on bottoms-up fundamental work, rather it is just pointing out exposure. In fact, these are all quality companies. If there is a closing of borders around the world, international companies should logically be impacted. These are just a few that are already out of favor as defined by relative strength. There are, of course, many others that you can do the work that can fit your own personal criteria.
Another group we think would be vulnerable in a sell-off is higher beta stocks that already have downward relative strength. We also tried to avoid companies that are perceived to be 'staple' or 'defensive' companies that could see a benefit of money flows selling beta names. A sample of stocks that we found that are considered beta, are larger cap, and have downward relative strength are as follows:
TWTR (NYSE:TWTR): Bar chart below (red/green) versus SPY (blue)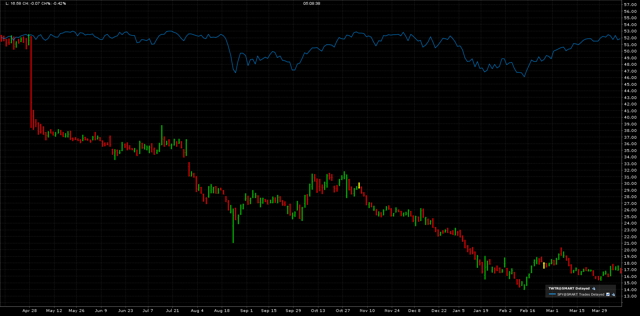 Click to enlarge
AAPL (NASDAQ:AAPL): Beta and 66% of revenues are international. Bar chart below versus the SPY in blue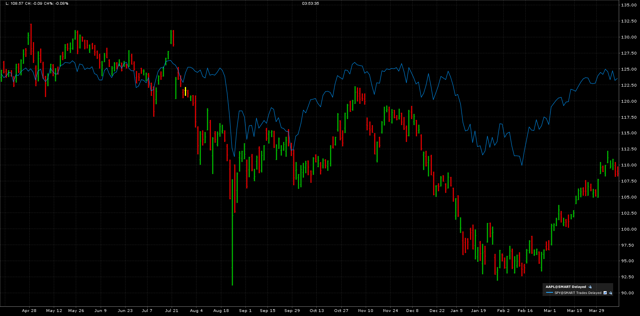 Click to enlarge
IBM (NYSE:IBM) in white below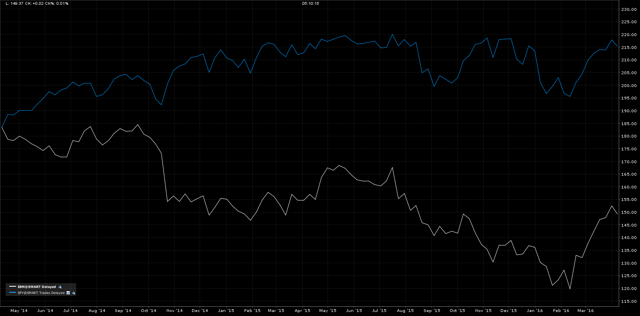 Click to enlarge
BAC (NYSE:BAC) in white below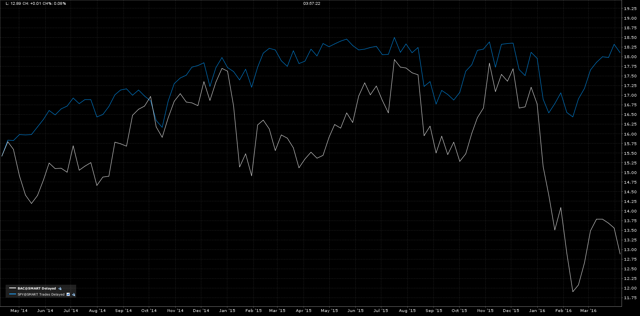 Click to enlarge
AXP (NYSE:AXP) in white below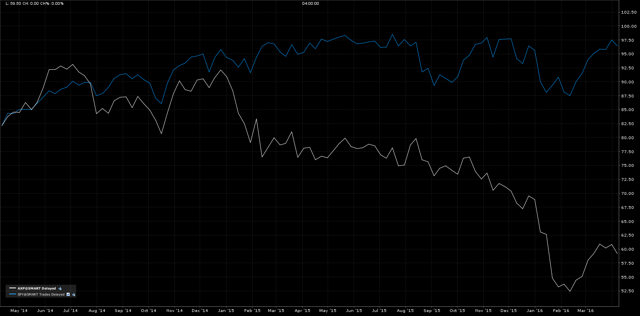 Click to enlarge
WFC (NYSE:WFC) bar chart below versus the SPY in blue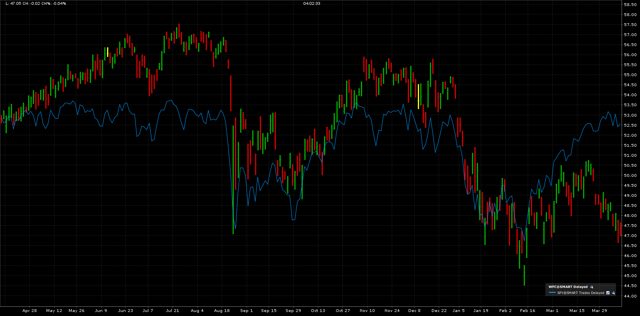 Click to enlarge
Another key caveat on all of the individual companies mentioned in this report, besides that they are all quality companies, is that we don't have a bottoms-up/fundamental view on them. We are simply saying what are samples of the types of companies that we feel would be considered beta or risky in a downturn.
Isolationism?
We are not taking political sides. In fact, we have read and heard stories that both Democrats and Republicans may be leaning more to isolationism.
We wrote in an earlier piece that the US seemed quiet with regards to Syria. We also pointed out that the US represents 95% of foreign military installation globally and, if anything may retreat, which seems to be some rhetoric from the two main political factions.
The last major period of isolationism was the period of 1930-1944 which happened to be predicted by the peak in the stock market.
Isolationism is, said simply, bad for the economy which is bad for the stock market. Companies would have less business opportunities globally.
We're not trying to predict the next stock market crash, we are only trying to show that the last major period of isolationism just happened to directly coincide with probably the most memorable and painful stock market crash in our history. This is to say, not that everybody should rush for the gates to sell, but to, at least, sharpen your pencil on your own portfolio.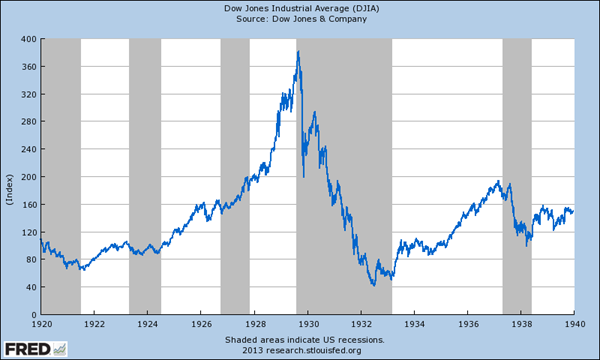 Dollar Selling A Warning Sign For Market Selling?
There are many reasons for governments and markets to buy and sell each other's currency. We point out that Japan appears to be net sellers of dollars and Europe may about to be net sellers of dollars.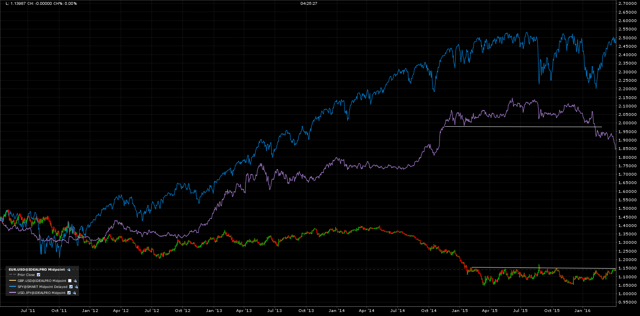 Click to enlarge
In the above chart, we show the S&P 500 ETF SPY versus the Euro and Yen. Keep in mind, the Dollar, Euro and Yen are by far the most trafficked currencies and so if there was a change in trend, it would likely show up here.
The blue line is the SPY, the purple line is the dollar versus the yen (dollar/yen) and the bottom line is the euro versus the dollar (EUR/USD). The related ETFs would be (NYSEARCA:FXY) and (NYSEARCA:FXE).
We see the dollar has already started to fall against the Yen, meaning the yen is rising and people (or governments) are selling the dollar.
We see that the euro may have stopped going down and if it breaks this resistance above, it could be a technical signal that it can go higher. This also would imply that there is net dollar selling from Europe.
The two other major currencies are implying that there could be net sellers building in the dollar which could be a sign that there is less desire overseas to be exposed to the US. Our opinion is this may be related to fears of the elections to come and isolationism.
We would also point out that the dollar/yen chart usually tracks the S&P 500 whereas now they have diverged. We think it is logical that demand for dollars and the demand for the US market coincide. When there is a divergence, something has to give and we think it could lead to market selling.
As for the euro, generally it has gone down while the US market has risen. If the euro were to rise, selling dollars, if the relationship holds, here too, it would imply a selling of dollars and its market.
Election Year A Risk
This year is probably up there with any of the historic election years fraught with risk and volatility. Add to that, over the last century, the 4th year of a second term is the weakest performing year as reported by CNBC in the following slide.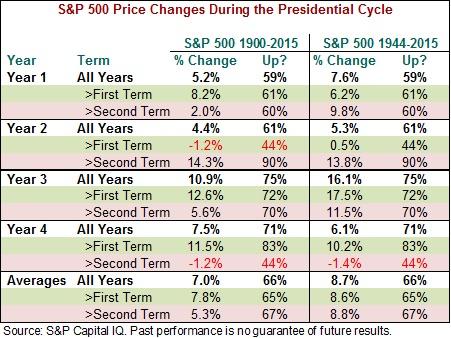 In all years of presidential cycles, the fourth year of a second term is the only one in the last 70 years that has averaged negative performance. This year, we're guessing, has the potential to be no different. So far this year, the S&P is about flat year to date. If the above chart applies to this year, there could be downside.
Market Participants Levered
It has been well reported that overall NYSE margin is at all-time highs. What worries us is that it is starting to come down and roll over. If it continues, it has historically coincided with a market peak (see chart).
Short Interest Not High
When looking at SPY and QQQ short interest, shorts are not high, telling us that generally investors are not very bearish.
Risks To This Call
If the warning signs seem so clear, then why hasn't a fall occurred? Maybe there is another underlying factor that the market is missing. If the market continues up, we will only know in retrospect the reason. It could be that just like the Fed flushed the market with cash, the ECB is next. This time, however, there is strife around this policy within Europe. If this is the reason for the market's location, it too is at risk.
Conclusion
Timing or accuracy on such sweeping calls can always be called into question. Frankly, a call like this forces us to constantly look for the counter argument. There are probably others who have pointed some of these factors out so this type of report is not alone. What we would say is that with the market hardly down given the confluence of the above factors, we think the dial is tilted to risk, even if the story is out.
Elazar Advisors, LLC specializes in earnings and predicts, analyzes and reacts to earnings and earnings events as well as developing current company and macro stories with a hedge fund perspective.
If you want Elazar's analysis on Seeking Alpha, scroll to the top of the article and hit "Follow." Elazar also writes real-time pieces as earnings and news are reported on Seeking Alpha. If you want to be among the first updated, be sure to check the box for "Real-time alerts on this author" under "Follow."
Disclosure: All investments have many risks and can lose principal in the short and long term. This article is for information purposes only. By reading this you agree, understand and accept that you take upon yourself all responsibility for all of your investment decisions and hold Chaim Siegel, Elazar Advisors, LLC, bestideas, their related parties, and its authors harmless.
Disclosure: I/we have no positions in any stocks mentioned, but may initiate a short position in ANY OF THE ONES MENTIONED over the next 72 hours.
I wrote this article myself, and it expresses my own opinions. I am not receiving compensation for it (other than from Seeking Alpha). I have no business relationship with any company whose stock is mentioned in this article.
Additional disclosure: We may take positions in any of these listed above but currently are only involved in ES, QM and QO futures.