Vivus (NASDAQ:VVUS) investors these days are pinning hopes on carrot after carrot with this company, but none of these carrots seem to deliver satisfaction in terms of driving equity appreciation on fundamentals. Instead, we see speculative swings based on one supposition after another.
The company touted sleep apnea indication, but realistically can not really progress with it given the lack of doing post marketing trials on the current anti-obesity indication.
The company touted cost cutting and driving sales efficiencies The result has been a continued decline in sales as well as market share.
The company touted seeking approval in Europe, but realistically is no closer to approval today than it was three years ago when Qsymia was rejected
Investors touted the move of Carl Icahn buying debt at a steep discount as some catalyst that Icahn wanted to make a move because his protege, Denner, was involved in Vivus. Ultimately Denner left, and Vivus still owes Icahn a ton of money.
Investors felt that the return of the erectile dysfunction drug Stendra would bring about a new partnership deal. Months later we have no news on that situation.
As stated above, the sales level in Q1 was nothing to celebrate. After years of carrying very flat sales, Qsymia seems to now be imploding in terms of sales. The 118,00o scripts sold in Q1 was the lowest in the space outside of the newly launched Saxenda from Novo Nordisk (NYSE:NVO). Saxenda sold 36,000 scripts, but garners about $1,000 per script.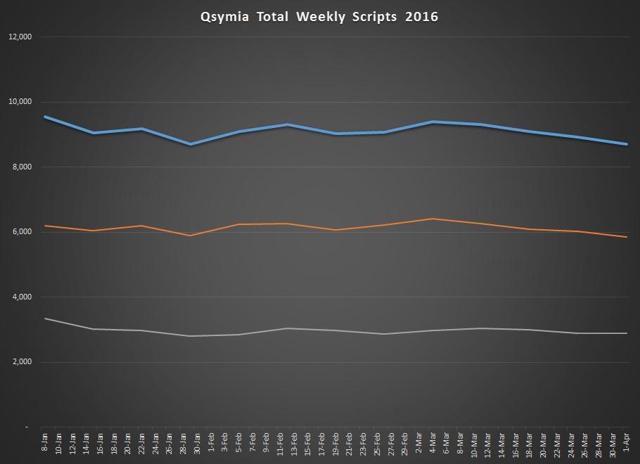 Click to enlarge
Chart Source - Spencer Osborne
On a quarter over quarter basis the only word that can accurately describe the situation of Qsymia sales is dismal. Q4 of any year is typically the weakest quarter. Q1 of any year is typically the beginning of weight loss season and one of the stronger quarters of the year. Qsymia sales in Q1 of 2016 were 8.12% lower than Q4. Having sales lower than what is supposed to be the worst quarter is not good. Some will argue that the cost savings in sales reps is more valuable, but those that want to argue that point are being short sighted. The sales trend is going in the wrong direction. Sales need to increase to drive the equity, not decrease. The cost cutting can help a quarter or two look acceptable, but that is not what long term investors need.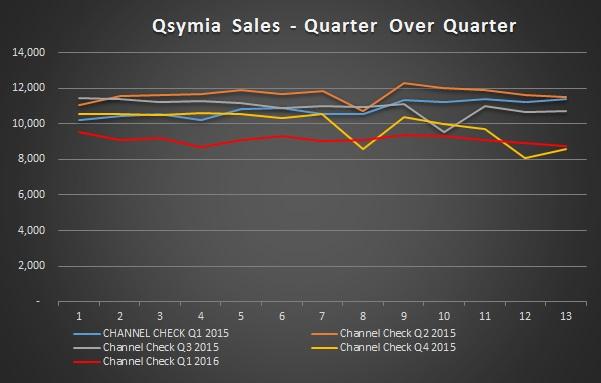 Chart Source - Spencer Osborne
On a year over year basis the situation is just as dismal. Sales in Q1 of 2016 are 15.77% lower than Q1 of 2015. Even if cost savings measures saved 20%, the lower sales took away most of that benefit. In future quarters, with continued sales declines, even the cost cutting strategy will fall out of favor in terms of driving the equity. As you can see in the chart below, the downward trend in sales of 2016 is happening earlier than the downward trend a year ago. This is a sales disaster in the making, and investors that see this early enough can react accordingly. There are times when a company can offer up a carrot to keep the hope alive, and times when such a carrot is hollow.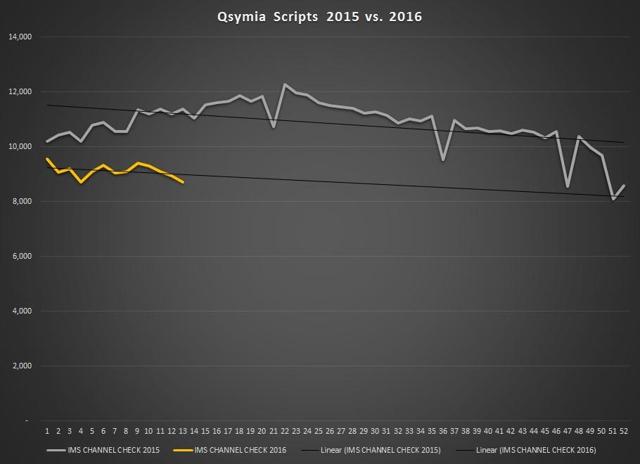 Click to enlarge
Chart Source - Spencer Osborne
From a market share perspective, Qsymia is heaed in the wrong direction again. The data shows that the trend on Qsymia sales is the worst in the anti-obesity space. Only Qsymia and Belviq are showing a negative trend, and Qsymia's trend is worse than Belviq. Among branded anti-obesity pills Qsymia carries a market share of 26.33%, a new record low for the drug.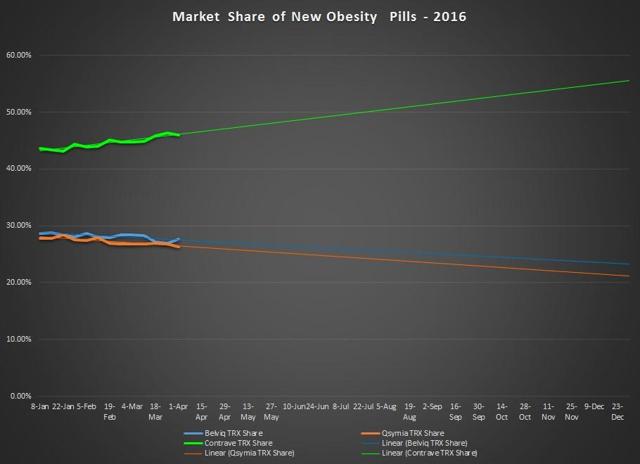 Click to enlarge
Chart Source - Spencer Osborne
If we look at market share with Saxenda from Novo Nordisk included, the situation is worse. With Saxenda in the mix, Qsymia market share is just 24.09%. The trend lines indicate that Saxenda may be in a position to overtake Qsymia sometime in the next 9 to 15 months. That is a situation that would be devastating to the prospects of Qsymia.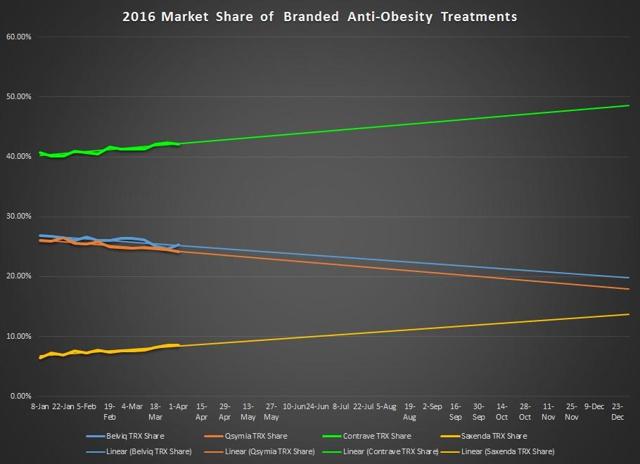 Click to enlarge
Chart Source - Spencer Osborne
The stark reality that Vivus investors need to grasp is that the anti-obesity space is underperforming and that the worst player in performance of the 4 treatments is Qsymia. The reality is that insurance companies are not covering at levels neede3d doctors are not scripting at levels needed, and patients are dropping these drugs after 3 to 4 months because they feel that the drugs no longer work. Simply stated the novelty has worn off and it costs a ton of money top try to bring in new recruits. The overall sector is not growing. It is shrinking.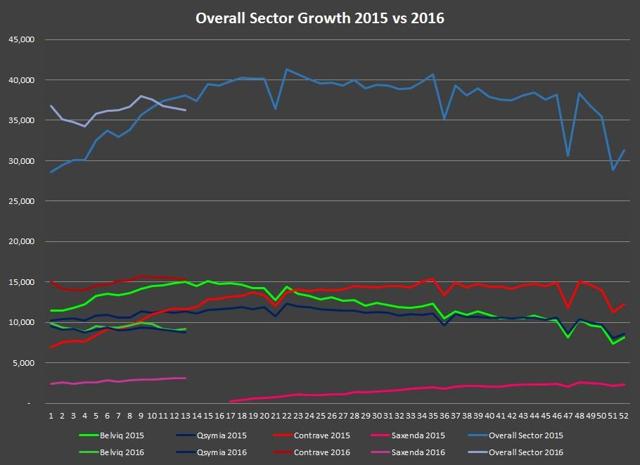 Click to enlarge
Chart Source - Spencer Osborne
The bottom line is that Qsymia sales are on a very poor trajectory and current Vivus strategy is doing nothing to solve the situation. This dynamic actually shakes any confidence in the ability of Vivus to effectively market Stendra. In my opinion the best situation is to find a partner for Stendra and allow that partner to penetrate the market with proper marketing strategies used. A partner for Stedra would likely be well received by the street. Vivus stock is currently in the hands and trading at the whim of traders ad speculators. Long time investors that are under water are simply sitting by hoping that a miracle will happen, and clinging to the hope provided by the latest carrot dangled in front of them. Qsymia sales trends should be a lesson to investors to develop a new strategy. If you want to make money trading this stock great If you are long and facing a loss you may want to accept the reality that getting back to a profitable position is just a hope. Stay Tuned!
Disclosure: I am/we are long NVO.
I wrote this article myself, and it expresses my own opinions. I am not receiving compensation for it (other than from Seeking Alpha). I have no business relationship with any company whose stock is mentioned in this article.
Additional disclosure: I have no position in Vivus