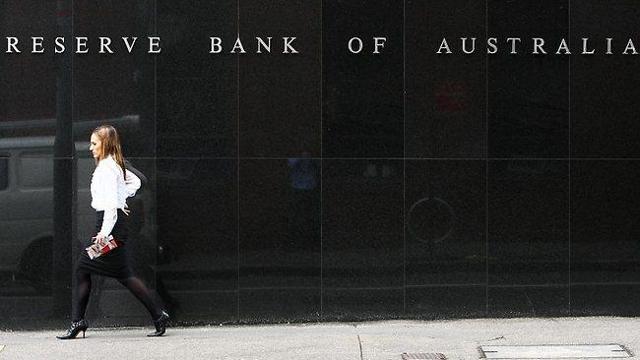 Click to enlarge
The much speculated interest rate cut by the Reserve Bank of Australia looks like it could at last be about to happen. It appears as though the central bank has finally had enough of a strong Australian dollar holding back its transition out from a commodities-based economy. For those that are not already doing so, now could be a good time to start shorting the Australian dollar (NYSEARCA:FXA) against the U.S. dollar.
This week the Reserve Bank decided to keep interest rates on hold at the historic low of 2 percent for the tenth meeting in a row. But governor Glenn Stevens' comments have stirred the market into believing that rates will be cut twice by 25 basis points this year. If this is the case then the Australian dollar should start to become less attractive as a safe place to park money, increasing selling pressure on it.
Governor Glenn Stevens said "The Australian dollar has appreciated somewhat recently. Under present circumstances, an appreciating exchange rate could complicate the adjustment under way in the economy." As you can see on the table below, the market appears to have started to price in a rate cut happening at the next meeting on May 3.

Click to enlarge
(Sourced: ASX)
As of the market close on Friday, there had been a 42 percent chance of a rate cut to 1.75 percent priced into the ASX 30 Day Interbank Cash Rate Futures.
We have speculated for some time now that the Reserve Bank had long been hoping that Janet Yellen and the Federal Reserve would do a lot of their work for them by raising interest rates. We feel that many central banks had expected that the Fed would have raised rates by now, but it is becoming anyone's guess when this will occur. Some have speculated that the Fed is delaying them to allow China more time to get itself together, as it is concerned about it depreciating the yuan. Whatever the actual reason is, we don't expect Yellen to raise rates next month or even in May. So the Reserve Bank has to act to bring down the Australian dollar. The good news is that the cash rate futures indicate that they are likely to do so.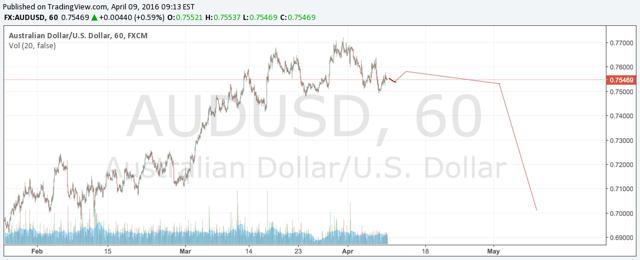 Click to enlarge
(Source: DailyFX)
We expect the Australian dollar to trend sideways for a little while before making a sudden drop upon an interest rate cut. This makes it a great short in our opinion. Australia's second-largest bank, Westpac (NYSE:WBK), believes the Australian dollar is heading to 72 U.S. cents by June, and then onto 70 U.S. cents by September. Interestingly, though, Westpac doesn't expect any interest rate cuts this year, but instead is forecasting the Fed to raise rates in June.

Click to enlarge
(Source: Westpac.com.au)
Next week sees the release of both business and consumer confidence. All eyes will be on Tuesday's business confidence report to see if there are signs of fundamental weakening in the non-mining recovery. If there is, due to a strong currency, then it is very likely to be added to the list of reasons to cut in May. Finally, on Thursday, Australian unemployment figures for March will be released. Economists are expecting a slight rise in unemployment from 5.8 percent to 5.9 percent. Once again, a bad reading here could be yet another reason for cuts, and the financial markets may sense this and sell down the Australian dollar.
One thing that is worth pointing out is that we cannot say for sure what the true effect of rate cuts will be. They are clearly designed to bring the currency down, but both Japan and New Zealand have cut recently to the opposite effect. There is a danger that nothing short of the Fed raising rates will be enough to devalue currencies.
Despite this, we still feel confident that this is a short which has a strong probability of success. It may take months or perhaps even a year, but eventually the Australian dollar will drop below 70 U.S. cents again. The Reserve Bank will see to that.
Best of luck with your trades!
Disclosure: I/we have no positions in any stocks mentioned, and no plans to initiate any positions within the next 72 hours.
I wrote this article myself, and it expresses my own opinions. I am not receiving compensation for it (other than from Seeking Alpha). I have no business relationship with any company whose stock is mentioned in this article.
Additional disclosure: Short AUD/USD futures,