We feel that this market will go sideways at best, as earnings are declining, monetary policy isn't providing the tailwinds it used to (and might very well start to provide headwinds if the labor market keeps on tightening like it has), and there are international uncertainties.
This makes it a market for stock pickers and traders, so let's see whether we can discover promising situations with a favorable risk-reward. We think Skechers (NYSE:SKX) provides such a situation.
Skechers is an athletic footwear company that has been on a torrent growth path, but after one quarter with a fairly big earnings miss in Q3 2015, its stock price was cut in half.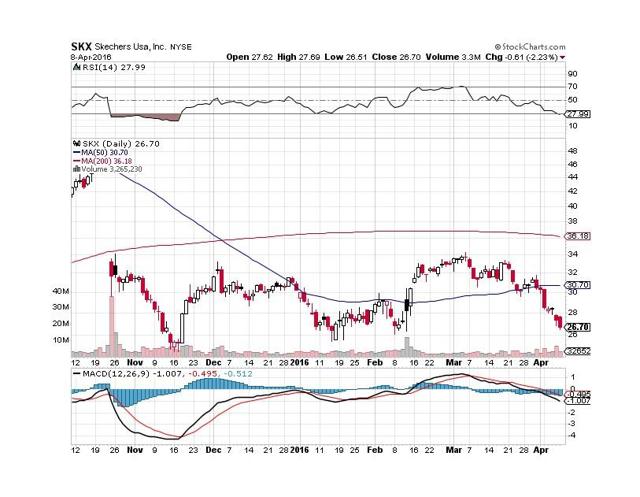 Click to enlarge
While that earnings miss was significant (the company reported earnings per share of $0.43 instead of the consensus expectation of $0.55), the company was still able to produce $1.50 earnings per share in 2015 (due to a 53% earnings beat in Q2, for instance).
And a significant part of the earnings miss was due to a one-time factor ($10M in legal fees) and there was a $13.5M currency headwind that isn't likely to be recur in Q1 2016.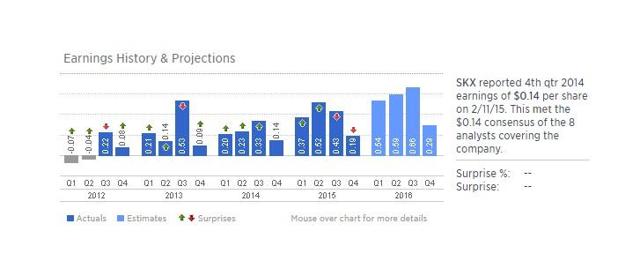 Click to enlarge
That was still up a whopping 63% from $0.92 in 2014, and the company is expected to show further significant growth this year, when profits are expected to rise to $2.08 per share.
In a market where earnings are declining (see graph below), it's a little odd to have a growth stock like Skechers going down the way it has.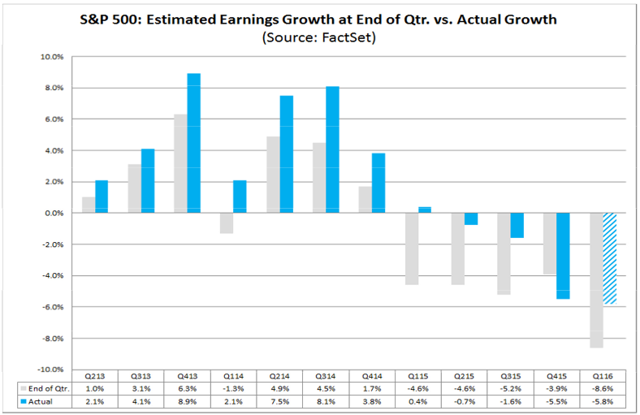 Click to enlarge
The stock is not far from its 52 week low ($23.33) and is in oversold territory already. It also has hardly any debt and over half a billion dollar in cash, one-eight of its market capitalization.
If you look at the chart for Skechers at the top of the article, you see that we're already in oversold territory and there is solid support just above $25. Only something dramatic could take the stock price below that.
So we think it's both cheap and oversold. If it meets expectations for earnings this year, this means earnings will have more than doubled in two years. In fact this is still likely to be the case if there is a miss along the way.
Revenue growth is really solid and it has been one of few companies to actually surprise on the upside on revenues.
Investors will have two questions:
Will the company meet expectations in 2016?
Are there significant growth opportunities longer term?
After an earnings miss like the one in Q3 2015, investor confidence is likely to be shaken, and normally a couple of decent quarters are necessary to restore at least some of that confidence loss.
Q4 2015 had a very small miss ($0.19 versus $0.20 expected) and so far the news for Q1 2016 is good, according to the company:
Skechers says sales in January were up 35% Y/Y and were strong into the first week of February. The company say it's "comfortable" with the consensus estimate for Q1 revenue of $885M-$890M and EPS of $0.50-$0.55. Looking ahead, Skechers continues to become more of a global play. International sales were at 41% of total Skechers sales in Q4 as the percentage swings closer to the company's long-term target of 50%.
Others, like Citigroup analyst Ghinst, see a good year ahead as well:
Meanwhile, Skechers USA Inc SKX remains Citi's top-rated footwear stock. Citi said with a growing global presence in athleisure, Skechers has the highest upside to its $44 target price and potential for multiple expansion over the next year. "Our recent meetings with management, industry experts, and retailer read-throughs indicate continued momentum in athleisure in 2016, bolstered by major athletic brands' marketing/launches around the Olympics, while incremental distribution and share gain opportunities could drive upside to SKX's US and international revenue growth in the near-term," Ghinst said.
Macquarie came out with a buy and a $45 target on the 7th of April. While that did nothing for the stock (which kept on sliding), the report does highlight longer-term growth opportunities:
Using Google Trends to evaluate brand recognition between the two labels in the U.K., "we show that Skechers is just as popular if not more in this particular geography." The U.K. is Skechers' second largest market globally, he said, with $155 million in 2015 revenue. Vasilescu projects that France and Germany will also each be significant European markets down the road.

And Asia represents a billion-dollar opportunity for the lifestyle brand, which makes popular walking shoes and sporty footwear.

"China is the biggest piece of the international pie for Skechers," he wrote, estimating that Skechers can reach a cool billion in revenue in 2021, "representing approximately a third of Nike's Greater China revenues today. With rapid triple-digit to high-double-digit growth, management anticipates this market can be a $1 billion market in 4-5 years."
Indeed, international growth is by far the fastest growth segment. In Q4, international wholesale grew a whopping 65% y/y.
Conclusion
We think Skechers is a buy at these fairly depressed levels. Whilst there might be the odd quarterly figures miss, there is little doubt this is a solid growth stock with plenty of opportunities left. It also has a very healthy balance sheet.
The stock is also oversold (as per Friday April 8), although it's likely that here some people get nervous, as the market might precede troubles ahead. That doesn't look likely, given what the company said about the first five weeks of the quarter.
But if one wants to play it extra safe, one can wait until earnings next week. We think at least some position based on the oversold condition and the cheap metrics will pay off, as we think that any bad news is already mostly priced in.
Disclosure: I am/we are long SKX.
I wrote this article myself, and it expresses my own opinions. I am not receiving compensation for it (other than from Seeking Alpha). I have no business relationship with any company whose stock is mentioned in this article.