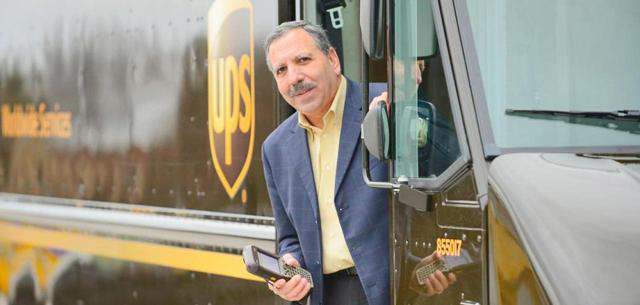 Click to enlarge
2015 was one of the best years for UPS (NYSE:UPS). Sales have been growing steadily over the last five years, and in 2015 its operating profits reached an all-time high.
International package revenue is finally showing some signs of stability and is improving; most of all, margins have significantly expanded.
But the best part about that margin expansion is that it is happening despite the rise in residential shipments - one of the most expensive line items for a shipper; volume in that segment touched nearly 60% of overall deliveries in December.
So now the question that begs answering is: Is 2015 an anomaly, or is it a sign of future sustainability?
That's what I'll try to answer in this article, and in order to do that, we need to look into two emerging trends and the efficiency drivers behind those trends.
Riding the Rising E-commerce Tide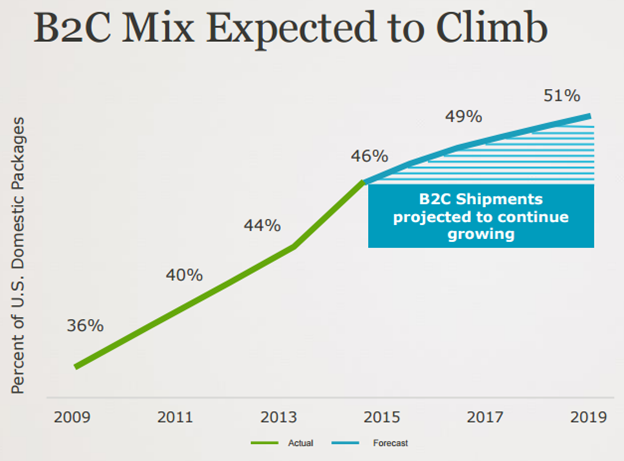 UPS expects its business to consumer (B2C) deliveries to reach 51% of domestic deliveries by 2019, up from 36% in 2009 and 46% in 2015. Obviously, this is not a new trend. However, traditionally, this segment has been and continues to be the most expensive for any logistics provider because of the last mile factor.
Normally, this type of shift to e-comm revenues would not bode well for any package delivery company that is a market leader in its home country; but UPS has turned this to its advantage by improving its margins in that segment. In my opinion, that's the best possible kind of operational efficiency.
Let me elaborate.
When a company starts seeing growth from a segment that is less profitable than any of its other segments, it can either sit idle and watch its bottom line go down - OR, it can do something about it and increase its efficiency to such an extent that it offsets that low profitability and becomes a high-yield segment against the grain of the industry itself.
That's exactly what UPS has been able to do, as I'll subsequently show. In fact, I think the company has done it so effectively that it has even built a buffer around its margins in this typically worrisome domestic B2C delivery segment.
UPS still relies heavily on domestic packages, obviously: the line item consistently accounts for around 60% of its global revenues.

So, on the domestic front, while e-commerce creeps into its business mix as a growing element - and the segment itself keeps contributing to the bulk of top line earnings - UPS has found margin expansion as the ideal long-term solution to what others might consider a major poser.
This is the first sign that UPS is showing sustainable signs of growth for the future; and, as you can see from the table above, its total revenue is also growing at a healthy rate for a company that mostly operates in mature markets.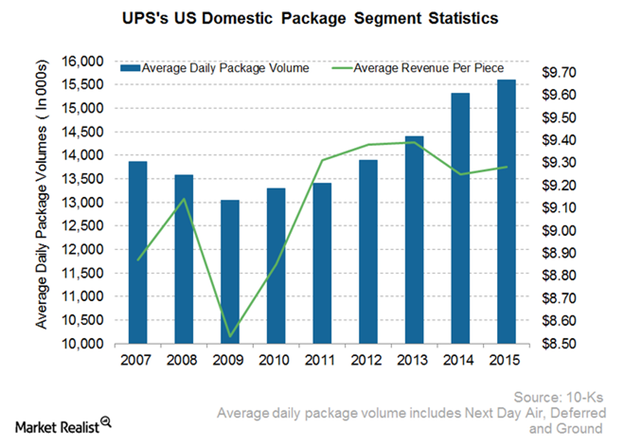 Increased Efficiency in International Package Segment
The international package segment that includes small package operations in Europe, Asia, Canada, Latin America, the Indian subcontinent, the Middle East and Africa accounted for 20% of its total revenue in 2015, and has been holding around the $12-$13 billion level for the last five years.
Economic headwinds in the European region that accounts for roughly half of its International package revenue - as well as intense competition - didn't help the company improve its sales numbers for this segment, so UPS once again did the next best thing possible: get more efficient.
Segment operating margin for international packages has touched 17.59%, up from 13.95% in 2011.

Click to enlarge
So one thing is clear: growth or no growth, UPS is getting more operationally efficient by the year. Naturally, there is always a cap on efficiency, but there are no signs that UPS's operational efficiency has actually reached that equilibrium, since the efficiency itself isn't showing stability.
Therefore, it is necessary that we look at what's making UPS more efficient to see if the initiatives are sustainable and, therefore, can support future profitability and growth.
What's Behind Margins?
The biggest questions now are: what's driving its efficiency, and can those drivers become part of the fabric of the company?
First of all, overall margins have improved over the years, meaning the company is doing the right things. However, the inconsistency in that improvement - even though the general trend is upwards - shows that the company needs to double down on the things that are making it more efficient.
2015 was a significant year for margin expansion, so it has improved efficiency in all three segments. Overall, the operating margin for 2015 was 13.14% - a significant improvement from the 11.45% it reached in 2011.
UPS Operating Margin (TTM) data by YCharts
You can see the lack of consistency that I spoke about just now. Obviously, the company has been doing its best to keep that swing under control, but it's still visible even without the "outliers" that were 2008 and 2013.
True sustainability, however, can only come from changes in the basics, and one of the basics for a package delivery company is delivery truck routing.
In that respect, ORION (On-Road Integrated Optimization and Navigation) is just one of those efficiency drivers I'd like to highlight. This and similar initiatives is what will drive sustainability and stability, so it makes sense to take a closer look.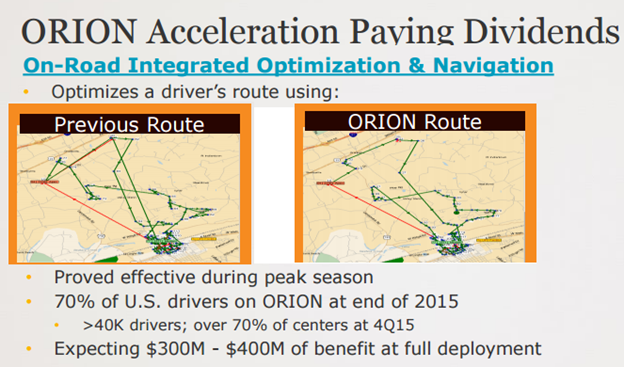 The project is still under deployment, but UPS has been aggressively pushing this in the domestic market. ORION is essentially a computer software program with advanced algorithms (algorithm = a well-defined set of procedures that enables a software program to solve a problem - in this case, the shortest route to get all packages delivered on time), but as a single software project it is possibly one of the "world's largest operations research projects."
As such, the expected returns on the $1 billion and 700 dedicated resources are tremendous. As you can see from the snapshot above, it's only going to take the company three years for the project to pay for itself - and most of those efficiency benefits have already been reaped.
In addition, UPS is going all out on several automation projects such as this one mentioned in its earnings report for the last quarter:
"automated air facilities were essential in servicing nearly 13% growth in U.S. domestic air volume during the quarter"
And let's not forget Coyote Logistics, its recent acquisition that has played a significant role in helping service customers with their truckload brokerage services. Coyote will continue to contribute in good measure to UPS's ability to handle peak season volumes - a signature phenomenon closely associated with e-commerce growth. Consequently, as the B2C part of UPS's business grows, Coyote's capabilities will further enhance the customer experience by ensuring on-time delivery for millions of packages during major holidays not only in the fourth quarter, but every other seasonal spike.
Investor-speak: Is UPS Going to be Consistently Efficient?
This is the billion-dollar question every investor needs to ask at this point. Regardless of what personal opinion you hold of UPS, this is the crux of what will define its future as an investment destination for your money.
From an industry perspective, UPS is already the leader in nearly all - if not all - its operational segments within the United States. From a growth perspective, the company has exhibited adequate signs of its ability to maintain high margins. From a sustainability viewpoint, ORION, Coyote and other initiatives and entities have become an integral part of its standard operating procedure.
All of these only point to one irrefutable conclusion: UPS is a BUY. The moment it announces 1Q 2016 results, I expect subsequent northward price action. If there is some downward pressure, you can be confident that the recovery and subsequent upward movement will be quick.
That moment is a little more than two weeks away - April 28th. So, if you're serious about adding to your position or getting in, now is the time to do the due diligence and see where your risks and rewards lie and whether the trends I've outlined in this article are your clear signals to invest.
Thanks for reading my work, and please follow me for more investment revelations in logistics, retail, automobiles, technology and more.
Disclosure: I/we have no positions in any stocks mentioned, and no plans to initiate any positions within the next 72 hours.
I wrote this article myself, and it expresses my own opinions. I am not receiving compensation for it (other than from Seeking Alpha). I have no business relationship with any company whose stock is mentioned in this article.