Disclaimer: All numbers reported in € were converted to $ at a rate of 1.13.
Allianz (OTCQX:AZSEY) (OTCQX:ALIZF) reported great results for the last year, yet the company's shares remain inexpensive. With a high dividend yield and attractive dividend growth rate Allianz is a compelling income stock.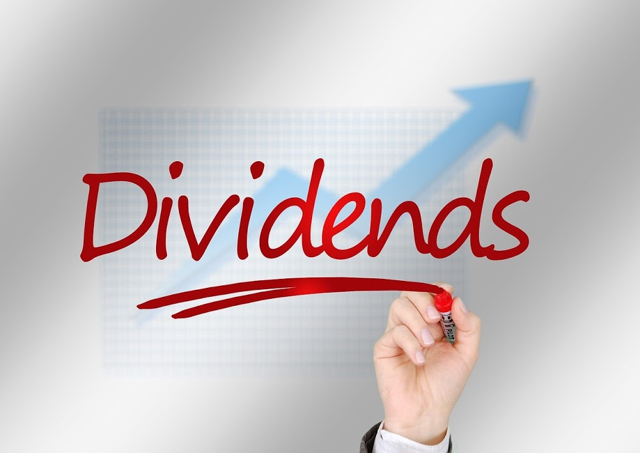 Click to enlarge
During the last year Allianz grossed revenues of $141 billion, up 2.4% over the previous year. Allianz' operating income was up 3.2% to $12.1 billion over the same time. Allianz grew especially fast during the most recent quarter (Q4 2015), the company was able to increase its operating earnings by 14.5% to $2.94 billion. Allianz also provided guidance for the current year, the company sees operating earnings of up to $12.4 billion, which would represent a three percent increase over the previous year.
Due to an increase in the company's non-operating results, Allianz' net income and earnings per share grew at a faster pace than the company's operating income. Earnings per share came in at $16.45 for the last year, which represents a 6.2% increase over the previous year.
Allianz remains a company with a very solid balance sheet, the company, which has a AA rating with a stable forecast, has a high Solvency II capitalisation of 200%, which means an increase of 900 base points in comparison to the prior year.
Despite interest rates in Europe being at record lows (and being cut further recently), Allianz is able to report strong investment results, which, among other reasons, is based on the company's increased focus on investments into infrastructure and renewable energies. Allianz recently has announced the company bought its first windpark in Finland, thus expanding and diversifying its energies portfolio further. The park is currently being built and will start production later this year. Allianz now owns 55 windparks and seven solar parks in six different countries.
Allianz' growth outlook is good as well, the company is able to not only grow in Germany, but also in other big markets such as Turkey (where it is the leading insurance provider) and a lot of other European markets. Allianz also currently is looking into getting active in the Iranian insurance market, which is worth more than $8 billion, and which could thus be a major driver of growth in the future. Apart from Allianz' PIMCO business, which saw outflows over the last quarters, Allianz' business units keep growing: Indemnity insurance, casualty insurance, health insurance and life insurance all saw higher profits in 2015 compared to 2014, and Allianz Global Investors, Allianz' asset management division, saw net inflows for the 12. quarter in a row in Q4 2015.
Despite strong results for the last year and a good outlook Allianz is not trading at a high valuation at all: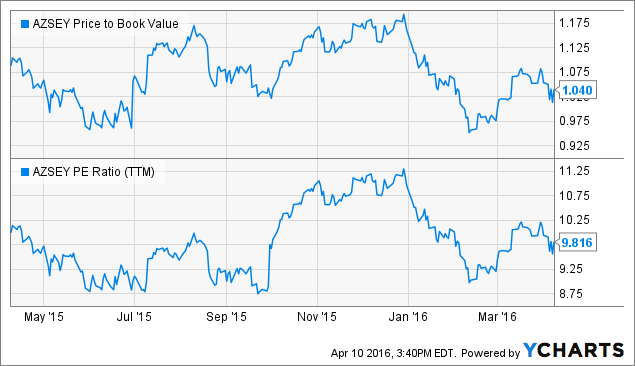 Allianz trades at 1.04 times book value, which is roughly in line with its historic valuation, and about fifteen percent below its highest valuation (1.2 times book value) seen over the last year. At 9.8 times trailing earnings Allianz offers an earnings yield of 10.2%, this also represents a discount to the valuation Allianz has seen a couple of months ago.
Looking at Allianz' dividend policy, we see that the company is very attractive for income investors: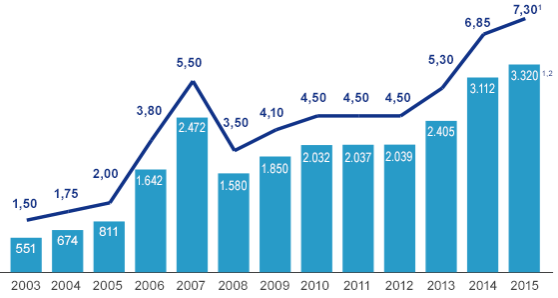 source: Allianz investor relations
Allianz is looking to pay out €7.30, which is equal to $8.25, per share this year. Allianz, which makes one dividend payment each year (as do most European companies), thus offers a dividend yield of 5.3% right now (using the ALIZF price of $156). This alone is a very attractive dividend yield for investors, but Allianz' dividend growth rate is good as well: The most recent dividend increase represents a 7% increase, and Allianz' management has stated that the company will look into paying out additional money at the end of the year (once every three years the company evaluates the cash it has set aside and not used for investments). With a 50% payout ratio and Allianz' strong balance sheet the company's dividend looks safe as well, and could easily grow further.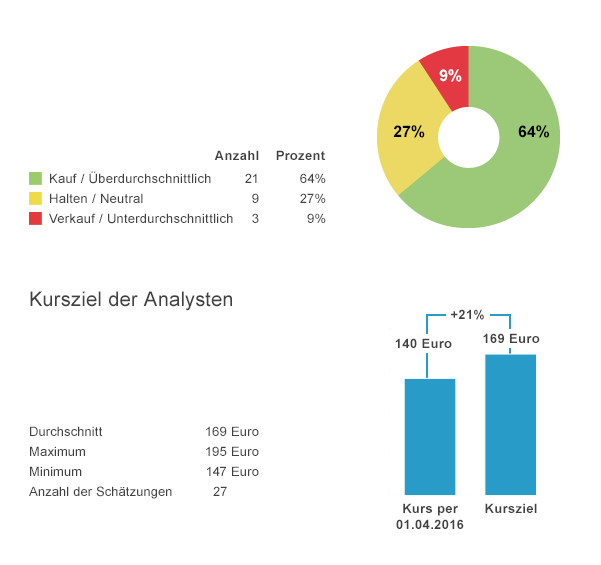 source: Allianz Investor Relations
According to the analyst consensus Allianz is attractive as well, 21 analysts rate Allianz as a buy, whereas only 9 analysts rate the company a hold and 3 analysts rate Allianz a sell. The target price implies more than 20% upside from the current price, the target price is $191. No analyst has a target price below the price Allianz is currently trading for.
Takeaway
Allianz reported good results for 2015, is trading at an attractive valuation and offers a strong dividend, which is growing at a compelling pace and at the same time is very safe, due to a low payout ratio and Allianz' strong balance sheet.
For income focused investors Allianz thus could be an interesting company right now.
Disclosure: I/we have no positions in any stocks mentioned, and no plans to initiate any positions within the next 72 hours.
I wrote this article myself, and it expresses my own opinions. I am not receiving compensation for it (other than from Seeking Alpha). I have no business relationship with any company whose stock is mentioned in this article.
Editor's Note: This article discusses one or more securities that do not trade on a major U.S. exchange. Please be aware of the risks associated with these stocks.