Earnings season starts in earnest this week with Alcoa (NYSE:AA) reporting after the bell on Monday. Following that, the big banks (NYSEARCA:XLFS) take center attention. To say that expectations are low would be an understatement. Brokerages have been steadily lowering earnings and revenue estimates for much of the last couple of months but I don't have a lot of confidence that the banks are going to be able to top even those depressed numbers.
To set the table, S&P 500 earnings are expected to drop over 9% from the same year ago period. That's way down from expectations of relatively flat earnings growth just three months ago.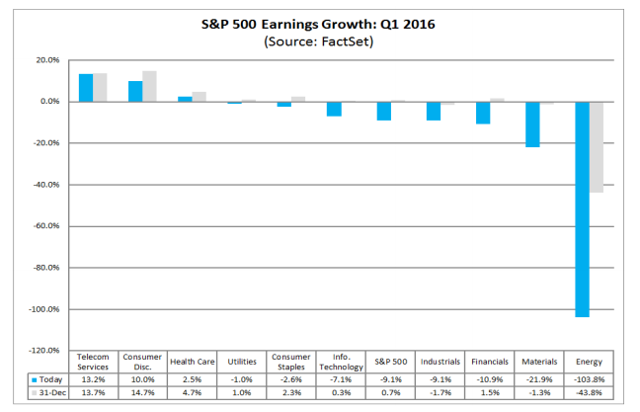 Click to enlarge
The energy sector (NYSEARCA:XLE) will lead the way with the biggest declines as expected but it will be far from alone. Estimates have been revised downward for all 10 major sectors, some significantly. The financial group (NYSEARCA:XLF) is now expected to deliver an 11% year over year decline.
The problem for shareholders is that those low expectations might not be low enough. The one impetus that was supposed to price share prices higher for the financials, a rising and steepening of the yield curve, hasn't happened and, in fact, it's gotten worse.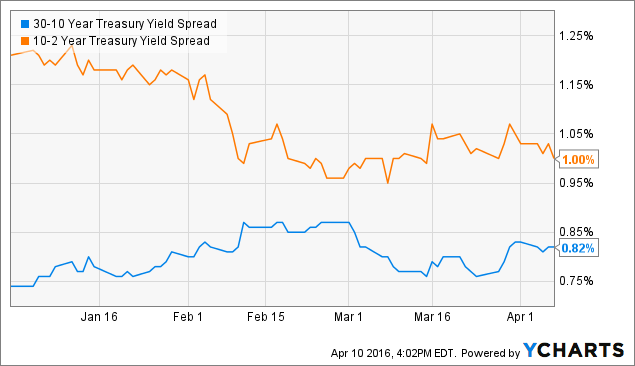 30-10 Year Treasury Yield Spread data by YCharts
The spread between 30-year and 10-year Treasuries has expanded somewhat but the spread between 10-year and 2-year Treasuries has narrowed considerably. Market expectations have softened already considering the prospects of future interest rates but they could soften further if the low-rate environment persists.
And there's evidence that it will. The Fed Funds futures market is pricing in just a 59% chance of a rate hike by the end of the year, much lower than the 75% chance we saw just a month ago. The best chance at seeing higher interest rates this year is the economy delivering reasonably strong GDP growth. But if the Atlanta Fed is correct, that's nowhere in sight.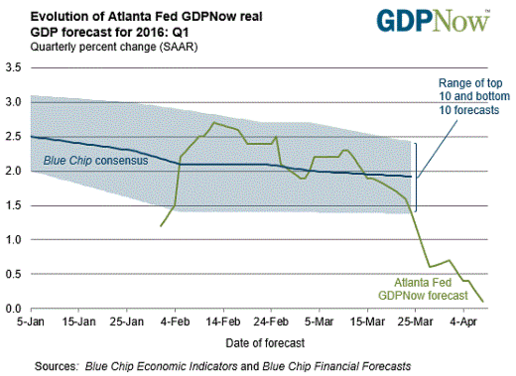 The Atlanta Fed has been steadily lowering its expectations for growth this quarter for the past month. While the prospects for financials were looking relatively promising when the GDP growth forecast was around 2.5%, they sure aren't if the economy grows at just 0.1% like it thinks it will now. Lower growth, four straight quarters of year over year earnings declines and persistent weakness in China and the eurozone are setting the table for missed earnings expectations in Q1 and lowered guidance for the remainder of 2016.
Jefferies (JEF) delivered its fiscal first quarter earnings report last month and could be providing a preview of the kind of results that the rest of the sector could deliver. The company called January and February "extremely challenging" and posted big drops in both revenue and earnings. Jefferies blamed the results in part on steep declines in trading revenue, a trend that is already being seen across the sector.
Conclusion
Many of the big bank stocks look cheap by the fundamentals but this will only really deliver value if they get a rate hike. If not, it could just be a matter of time before the fundamentals start deteriorating.
Current quarter estimates have been appropriately reduced but I think many estimates for the remainder of 2016 are still reflecting the Fed's forecast of two rate hikes for the rest of the year. Given the lack of economic growth, I think it's a coin flip if we'll even see one and, if that's the case, forward guidance has almost no choice but to start dropping as well.
JPMorgan Chase (NYSE:JPM) reports on Wednesday, Bank of America (NYSE:BAC), BlackRock (NYSE:BLK), PNC (NYSE:PNC) and Wells Fargo (NYSE:WFC) on Thursday and Citigroup (NYSE:C) on Friday.
Disclosure: I/we have no positions in any stocks mentioned, and no plans to initiate any positions within the next 72 hours.
I wrote this article myself, and it expresses my own opinions. I am not receiving compensation for it (other than from Seeking Alpha). I have no business relationship with any company whose stock is mentioned in this article.