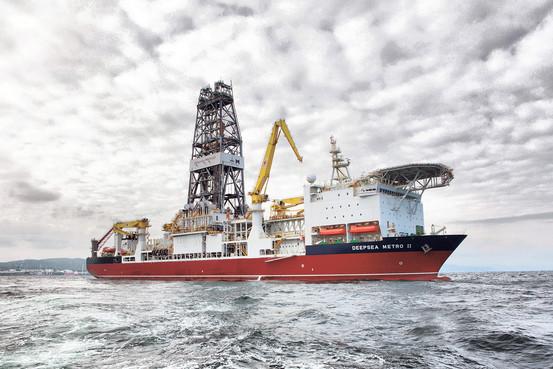 Source: Barron's
National Oilwell Varco's (NYSE:NOV) revenue and earnings have been ravaged by the rout in oil prices. To stem cash burn the company announced it was cutting its dividend by 89% from $0.46 to $0.05 per share:
National Oilwell Varco, Inc. announced today that its Board of Directors has approved a plan to reduce the Company's quarterly dividend to $0.05 per share in response to market conditions which continued to deteriorate through the first quarter of 2016.

Clay Williams, Chairman, President and CEO, commented, "We believe reducing the dividend is in the best interest of our company and our shareholders as we continue to work our way toward the bottom of this severe down cycle. Substantial decreases in 2016 E&P capital plans are driving activity levels to new record lows, resulting in significantly diminished demand for equipment and services.
Management highlighted that the free fall in the oil & gas E&P warranted the dividend cut. The fact that E&P has fallen so rapidly could portend that a recovery in capex could be just has rapid. However, analysts do not expect industry capex to increase until next year. 2016 could be a tough year for NOV.
What Does This Mean For Investors?
The news will likely impact investors in the following ways:
Removes An Important Catalyst For The Stock
In 2015 the company burned through $1.5 billion in cash. Share buybacks of $2.3 billion and dividends of $710 million did not help matters. The company's cash balance fell from $3.5 billion in 2014 to $2.1 billion last year.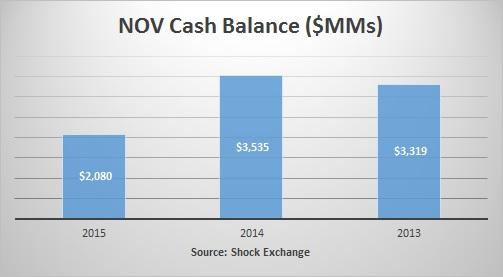 On my previous article I warned that a dividend cut was in the cards; however, bulls argued me down:
Commenter 1: Your title and opening remarks are false. You stated kiss the dividend goodbye as fact when it is only your opinion. NOV has not announced a dividend cut or elimination to date. If you state your opinions as such, you will have better credibility.

Commenter 2: Yeah right they're just a bunch of dummies who blew $3 billion on share repurchases and now have liquidity concerns. I don't think so. Keep waiting.
By my estimation, the company's annual dividend payments would decline from $762 million to about $129 million -- a savings of $633 million. This is a smart move on management's part and it helps preserve its $2.1 billion in liquidity. However, it could remove an important catalyst for the stock.
For certain investors, the dividend makes the ups and downs of the oil patch easier to stomach. This move could be their worst nightmare -- a decline in the dividend and a loss of principal. How far NOV falls after this announcement remains to be seen.
Q1 Results will Be Ugly
Management intimated that Q1 2016 revenue could fall approximately 20% compared to the $2.7 billion recognized last quarter. Analysts had been expecting revenue to fall 12% to $2.4 billion. A 20% fall off would follow an 18% sequential decline in Q4. Moreover, Q4 EBITDA margins fell to 12% from 16% in Q3; margins could fall into the single digits for the rest of 2016. That implies my $18 price target could go even lower.
In 2015 National Oilwell had cash flow from operations of $1.3 billion and cash outflow from investing of $514 million. That gave the company an $818 million cushion for dividends, share repurchases, etc. before liquidity fell. If oil & gas E&P remains low for the rest of the year, the company might not be able to cut capex fast enough to offset the decline in cash flow from operations. That's a long-winded way of saying its $2.1 billion liquidity could fall further, regardless of the dividend cut.
NOV is down nearly 5% in pre-market trading to $27.74 -- 35% above my valuation. I expect the stock fall even lower by the time Q1 earnings are announced. Continue to avoid NOV.
Disclosure: I am/we are short NOV.
I wrote this article myself, and it expresses my own opinions. I am not receiving compensation for it. I have no business relationship with any company whose stock is mentioned in this article.